Massive fire engulfs London high-rise, leaves at least 12 dead
At least 74 others were hospitalized.
— -- A massive fire engulfed a residential high-rise building in London on Wednesday, leaving at least 74 people injured and 12 dead.
The London Fire Brigade dispatched at least 40 fire engines, 20 ambulance crews and more than 200 firefighters in an effort to battle the conflagration, at the 24-story Grenfell Tower in West London.
Authorities said they are monitoring the stability of the charred structure, but that firefighters have managed to search "most" of the building for remaining people.
The Metropolitan Police Service confirmed the rising death toll at a press conference Wednesday night.
"This is an unprecedented incident," London Fire Commissioner Dany Cotton told reporters. "In my 29 years of being a firefighter, I have never, ever seen anything of this scale."
London's tragic Grenfell fire and aftermath
On June 14, 2017, a massive fire broke out at the Grenfell Tower apartment building in the Notting Hill neighborhood of London. At least 80 people died.<br></br> Witnesses described "horrible scenes" as 200 firefighters battled the inferno. Residents were trapped as flames engulfed the 27-story building from the second floor, and began traveling upwards.
Jeremy Selwyn/Evening Standard/Eyevine/Redux
As of 11:45 a.m. local time Wednesday, 64 people were transported to six hospitals across London for a range of injuries related to the fire, and 20 of them are in critical condition. An additional 10 people made their own way to hospitals, bringing the total of those treated to 74, according to London Ambulance Service director of operations Paul Woodrow.
"Over 100 of our medics have been working hard to respond to this incident, including ambulance crews, advanced paramedics, advanced trauma teams from London's Air Ambulance and those staff managing the incident in our special operations center," Woodrow said in a statement late Wednesday morning. "Our hazardous area response teams are also on scene, who carry specialist equipment, including breathing apparatus. We've been treating patients for a range of injuries as well as for smoke inhalation."
It is not known yet what caused the blaze, which firefighters continue to battle. The fire has left the building almost totally charred, and there were fears in the morning about the building's structural integrity, as it appeared to lean slightly to one side.
The tower, built in 1974, contains 120 apartments, according to its management company, Kensington and Chelsea Tenant Management Organisation.
One resident told ABC News that he woke up smelling smoke and thought his laptop was overheating. He said it seemed as if the fire had been burning for at least 30 minutes before the building's fire alarms went off.
The resident, who said he was initially told to stay in place, said he fled the building once he realized how thick the smoke was. Regrettably, he said, he was unable to carry his elderly father and fears that he may not have survived.
London Fire Brigade Assistant Commissioner Dan Daly said in a statement that "firefighters wearing breathing apparatus are working extremely hard in very difficult conditions to tackle this fire. This is a large and very serious incident, and we have deployed numerous resources and specialist appliances."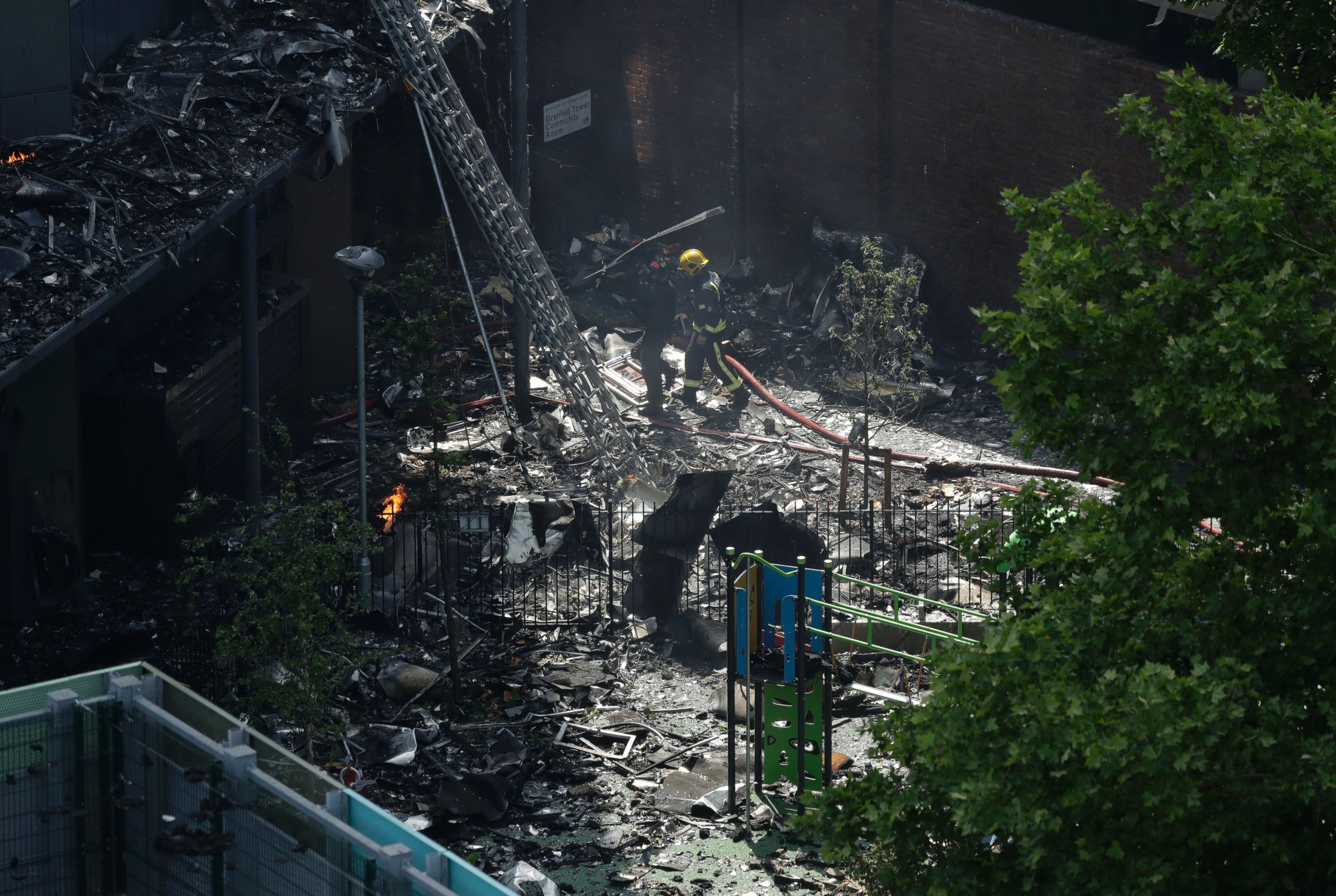 London Mayor Sadiq Khan said he was "truly devastated" and warned that the numbers of dead and injured could increase.
"My heart goes out to everyone affected. I am sad to confirm that we now know there have been fatalities and more than 50 people have been taken to hospitals," he said in a statement early Wednesday. "The fire service is dealing with a rapidly changing situation and these numbers [of dead and injured] are likely to rise."
The Metropolitan Police Service said that at 1:16 a.m. local time it received "reports of a large fire at a block of flats in the Lancaster West Estate, W11."
Some social media users posted photos and videos of the fire as it continued to rage after sunrise, and others posted images of loved ones who are unaccounted for.
"It looks very bad, very, very bad. I've never seen anything like this. It's just such a big fire," Tim Downey, an eyewitness, told the BBC early Wednesday. "It has burned through to its very core."
He said part of the building appeared to be "completely burned away."
"The whole building is just crumbling. It's just billowing black smoke," Downey said.
Another witness, Hanan, who gave only her first name, told ABC News that she managed to escape from the building's ninth floor and that she was worried about her brother, Abdul Aziz, and his family, who were on the 26th floor.
Some tenants previously complained about the upkeep of the tower, specifically warning about the fire risk. In November a residents' group, Grenfell Action Group, said that only a "catastrophic event" would expose the concerns it had about the building's landlord, according to a blog post from the group.
ABC News' Molly Hunter, Alexandra Faul and Joseph Simonetti contributed to this report.