150 arrested across France in 2nd night of riots after police fatally shoot teenager
Police stations, schools and town halls were "set on fire or attacked."
PARIS and LONDON -- Protesters set cars and buildings ablaze across France in a second night of violent unrest since police shot and killed a teenager in a Paris suburb.
French Interior Minister Gerald Darmanin took to Twitter on Thursday morning to condemn the "night of unbearable violence." He said 150 people were arrested around the country as police stations, schools and town halls were "set on fire or attacked."
"Support for the police, gendarmes and firefighters who face up with courage," Darmanin tweeted. "Shame on those who did not call for calm."
Later during a press conference, the interior minister announced that 40,000 law enforcement officers will be deployed nationwide on Thursday evening to quell potential violence. Some 5,000 of those officers will be mobilized in the capital and its inner suburbs, according to Darmanin.
While tensions remained highest in the Paris region, the rioting spread to other towns and cities across France on Wednesday night, including Lille and Rennes in the north and Toulouse in the south.
French President Emmanuel Macron called the violence "unjustifiable."
The previous night's unrest was concentrated in the Paris suburb of Nanterre, where the fatal shooting took place. Overall, 31 people were arrested, 25 police officers were injured and 40 cars were burned on Tuesday night, according to Darmanin. In response, the interior minister ordered the deployment of more than 2,000 law enforcement officers in the Paris region and around other big cities on Wednesday to "maintain order."
A 17-year-old driver was shot and killed by a police officer during a traffic check in Nanterre on Tuesday morning. The officer was subsequently detained on suspicion of manslaughter amid an ongoing investigation into the incident, according to the local prosecutor's office.
At a press conference on Thursday morning, the Nanterre prosecutor said the officer did not meet the requirements to discharge his weapon and will remain in custody awaiting trial.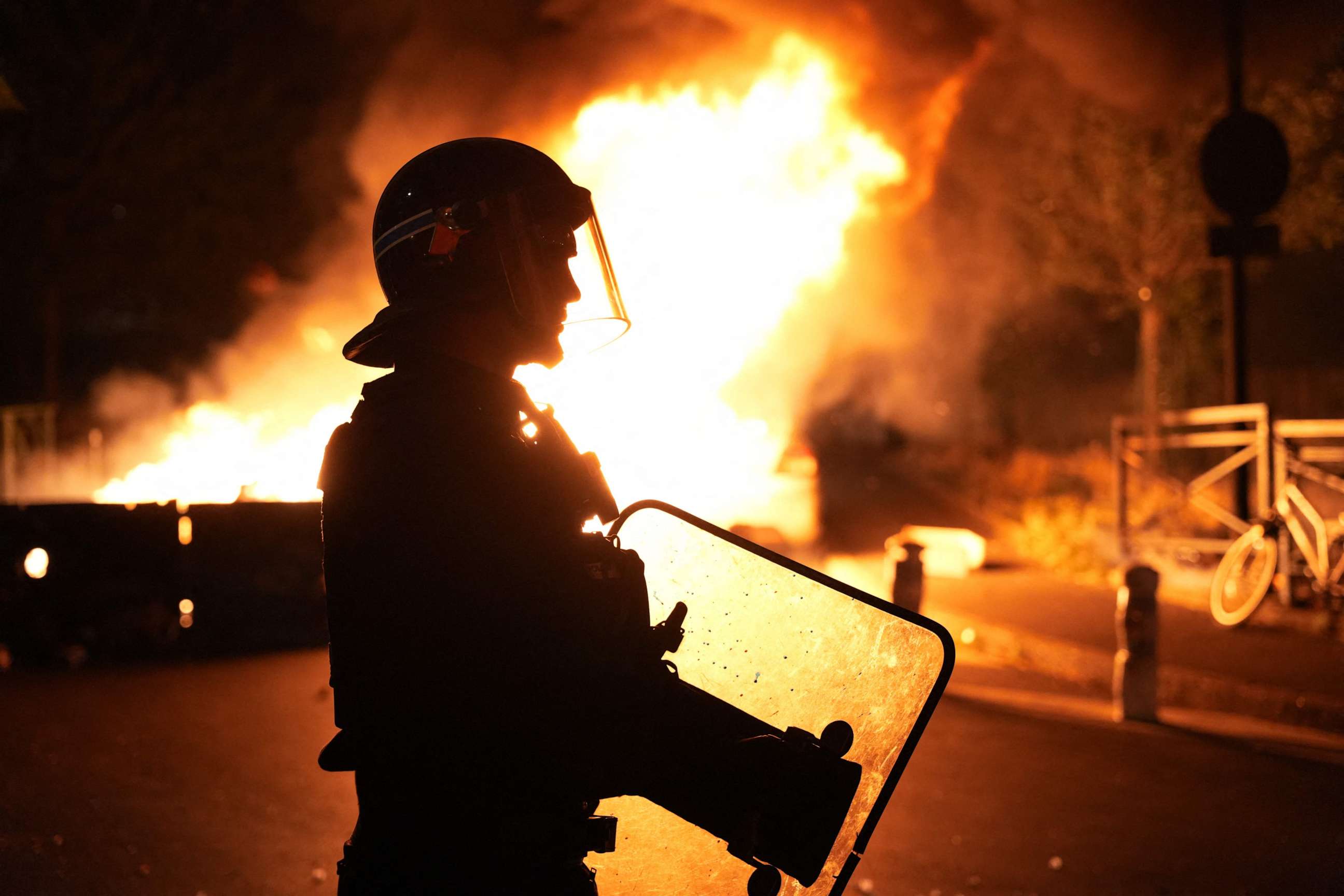 France's Inspectorate General of the National Police, which investigates allegations of police misconduct, is also conducting a probe into the fatal shooting.
Lawyers for the victim's family identified him as 17-year-old Nahel M. and said they intend to file complaints against the officer who fired the lethal shot and another officer who was at the scene.
Nahel's mother has called for people to join her in the streets of Nanterre on Thursday afternoon for a march. Nationwide protests are also expected to take place.
France's president and interior minister have both called for "calm" as authorities investigate the teen's death. Macron and Darmanin held a crisis meeting on Thursday morning, and all cabinet ministers have been asked to cancel their engagements in the upcoming days.