— -- Hijackers who took over a commercial plane from Libya and diverted it to the Mediterranean island of Malta have surrendered and are now in custody, according to Maltese officials.
A spokesman for Maltese Prime Minister Joseph Muscat told ABC News on Friday that the hijackers had departed the plane and surrendered to authorities. No passengers or crew were injured in the incident.
After conducting an extensive sweep of the airplane and searching the hijackers, Muscat told reporters that authorities recovered two pistols and a hand grenade. The prime minister subsequently posted on Twitter that "initial forensic exams" show these weapons to be replicas.
The hijackers have been detained and are being interrogated. Investigators are also interviewing the flight's crew and passengers to find out more information about what happened, according to Muscat.
The Afriqiyah Airways A320 flight was carrying 111 passengers, including a baby, and seven crew members when it was hijacked and diverted to Malta.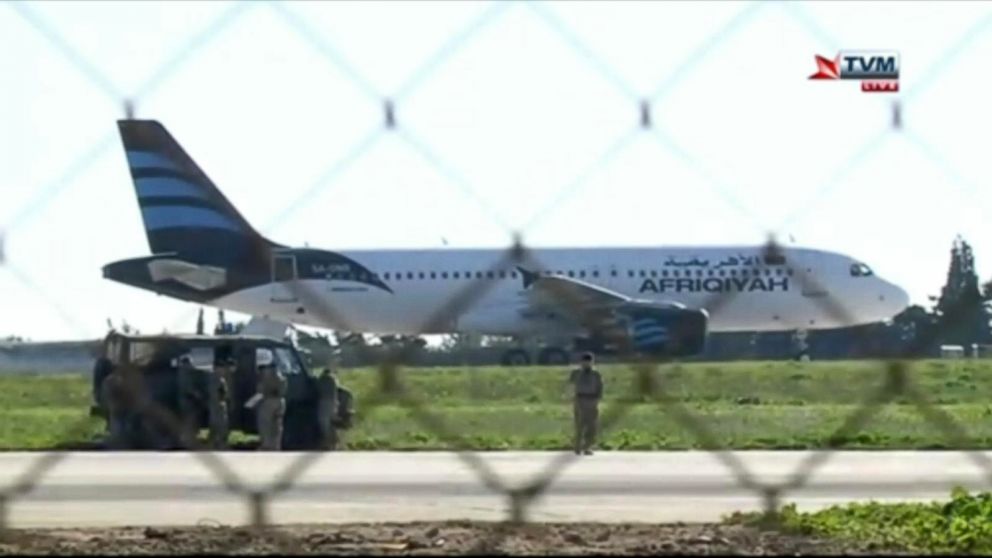 Little is known about the two hijackers, except that they were seated together toward the back of the plane when it took off from Libya. The hijackers threatened to blow up the flight unless it landed in either Rome or Malta, and the pilot chose the latter, Farrugia said.
The two hijackers are thought to be affiliated with Al Fatah Al Gadida, a group loyal to former Libyan leader and strongman Muammar Gaddafi, who was killed in 2011, according to Maltese foreign ministry spokesman Etienne St. John.
The incident began Friday morning local time. Maltese authorities were told a hijacked plane was en route to the airport and they made preparations on the ground.
A team of armed forces, police and security services at the airport talked directly to the hijackers through the air traffic control system. Malta's prime minister said the hijackers did not make any demands during the incident.
Flight data from the website flightradar24.com showed the Afriqiyah Airways flight taking off from Sebha in the interior of Libya with a destination of Tripoli.
ABC News' Lena Masri and Matthew McGarry contributed to this report.