— -- Hurricane Matthew, the strongest Caribbean storm in almost a decade, tore across the Bahamas today, with the coastal U.S. lying in its path as forecasters made a dire warning about some locations possibly being "uninhabitable for weeks."
Nearly two million people were under evacuation orders in Georgia, South Carolina and Florida, where residents braced for a possible impact from the storm, stocking up on supplies and boarding up homes. The National Weather Service has advised that "loss of life" and "immense human suffering" is possible from wind for those who do not take precaution for the storm.
"Catastrophic damage" is also a possibility, and the storm could "leave areas uninhabitable for weeks," the NWS announced Wednesday evening.
No other Atlantic storm on record has packed such powerful winds for such a prolonged period as Hurricane Matthew, which has claimed at least 16 lives after causing extensive damages in Haiti, the Dominican Republic and Cuba and bringing widespread torrential rain and flooding to the region.
The Category 3 hurricane slammed into the Bahamas with maximum sustained winds of 115 mph. Matthew is expected to become a Category 4 storm again before approaching Florida with winds up to 130 mph, according to an advisory issued at 11 p.m. ET Wednesday by the National Hurricane Center.
Nearly 3,500 tourists remain in the Bahamas. Up to 15 inches of rain and up to 15 foot storm surge is expected in the Bahamas from Wednesday through today.
The storm weakened from a Category 4 hurricane after plowing into Haiti and Cuba, where it left a trail of devastation. By nightfall on Tuesday, the powerful storm was blamed for at 10 deaths in Haiti, which appears to be the hardest-hit country. The U.S. military plans to send nine helicopters and 100 personnel to Haiti today to assist in aid efforts.
According to the United Nations, more than 377,000 people were evacuated in Cuba. And in Haiti, at least 350,000 people are in need of immediate assistance following the hurricane's deadly impact. There were reports of a powerful storm surge, violent winds and widespread flooding.
"In Haiti, the government reports that a number of people have lost their lives and estimates that at least 350,000 people need immediate assistance," UN secretary-general spokesman Stéphane Dujarric said in a statement.
Hospitals there are inundated with patients and are running short of necessities, including water. Raging floodwaters severed a key bridge linking the battered southern peninsula with the rest of the impoverished Caribbean nation, raising fears that the worst of the damage has yet to be discovered.
"Haiti is facing the largest humanitarian event witnessed since the earthquake six years ago," Mourad Wahba, the U.N. secretary general's deputy special representative for Haiti, said in a statement, referring to the devastating earthquake that killed some 200,000 people in January 2010.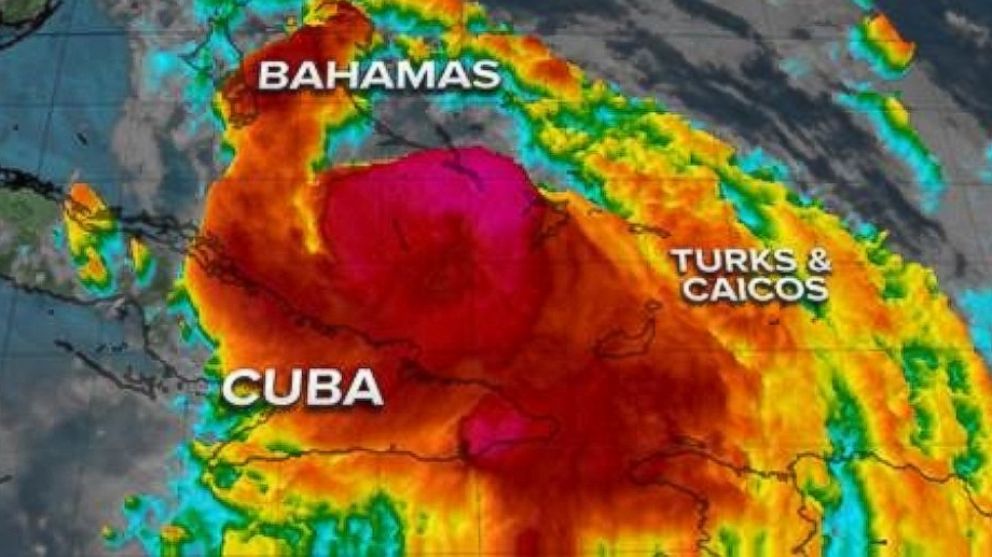 USAID administrator David Harden announced Wednesday a total of $1.5 million in aid to the Caribbean in response to Hurricane Matthew. The total includes $1 million of food aid in addition to $500,000 for the non-food items such as shelter, blankets, hygiene kits, household items, and water purification equipment. Harden said much of the aid will be provided through the Catholic Relief Services and the American Red Cross.
Following a briefing with his homeland security team at FEMA headquarters in Washington, D.C., today, President Obama told reporters Hurricane Matthew is "a serious storm, and we want everybody to take it seriously as well."
"Just remember that you can always rebuild," Obama said. "You can always repair property. You cannot restore a life if it is lost and we want to make sure that we minimize any possible loss of life or risk to people in these areas."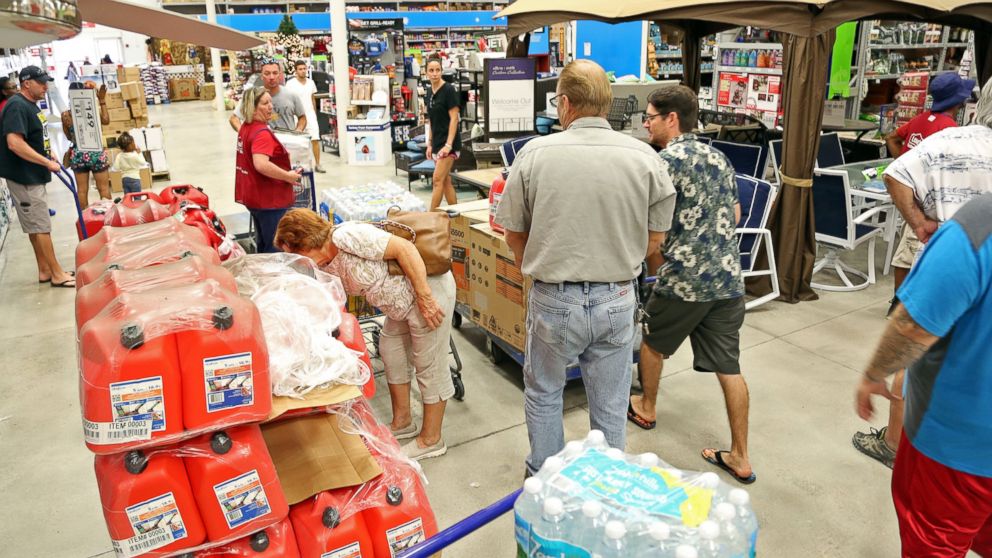 In Florida, a hurricane warning has been issued north of the Flagler/Volusia county line to Fernandina Beach, near the Georgia border. The coastal area north of Savannah River in Georgia to Edisto Beach, South Carolina is under a hurricane watch.
Destructive winds are expected in the Sunshine State, with major coastal flooding possible from Palm Beach to Fernandina Beach, as well as dangerous surf and rip currents. Some areas could see 10 inches of rain and a 5-foot storm surge.
The governors of Florida, Georgia, North Carolina and South Carolina have declared states of emergency, issuing stern warnings for millions of coastal residents to prepare to evacuate as Hurricane Matthew moves northwest at about 10 mph.
Florida Gov. Rick Scott said this could be the largest evacuation ever in the Sunshine State. Scott requested that President Barack Obama declare a pre-landfall emergency for the state and to provide government aid in the form of food, water and tarps. Scott also activated 2,500 members of the National Guard and suspended all tolls in the affected areas of the state, including the Florida Turnpike.
More than 200,000 Floridians are under mandatory evacuations while another 1.3 million are under voluntary evacuations. School has been canceled today and Friday for close to 2 million Florida school children.
Long lines at gas stations and empty shelves at grocery stores were reported in cities across the southeast U.S. as residents stocked up on supplies and prepared to flee. Many schools are also closed and people have boarded up their beach-front homes.
"The storm did slow down, and it did move somewhat, but we are not in stable territory yet," South Carolina Gov. Nikki Haley said at a news conference this on Wednesday.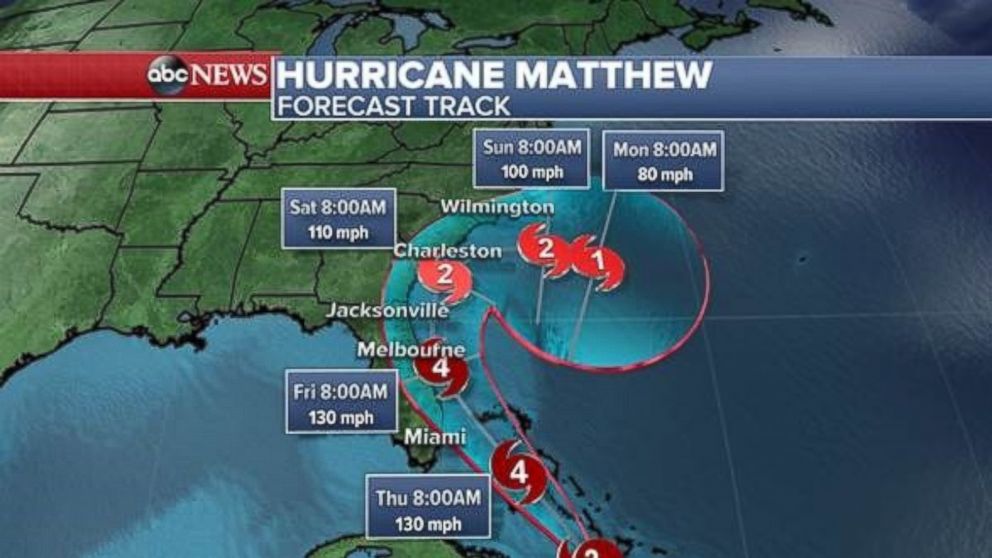 John Tecklenburg, the mayor or Charleston, South Carolina, pleaded with residents in evacuation zones to leave immediately, saying that those who do not evacuate may not receive assistance.
"We want you to evacuate," Tecklenburg said. "We do not want you to stay."
FEMA is urging residents in coastal communities to listen closely to state and local officials' guidance and to take evacuation orders seriously.
"This is a major hurricane that has the potential to cause significant harm to life and property. If instructed to evacuate, don't wait for the next forecast, evacuate," FEMA administrator W. Craig Fugate said.
Hurricane Matthew is expected to take aim at Florida's east coast tonight into Friday. The current forecast projects the storm will weaken as it touches the Carolinas on Saturday before heading back out to sea Sunday night.
"The path sharply turns east and out to sea without affecting the northeast coast," Golembo said. "Let's hope this holds."
By Friday night, Matthew will continue up the east coast, through Savannah, Georgia and Charleston, South Carolina.
ABC News' Max Golembo, Melissa Griffin, Alex Mallin and Ben Stein, Jason Volack contributed to this report. The Associated Press also contributed to this report.