July 22, 2014— -- Israel is determined to destroy or cripple Hamas' tunnel system that reaches into Israel before ending its military offensive.
So far the Israeli military uncovered 66 shafts leading into 23 tunnels, the Associated Press reported.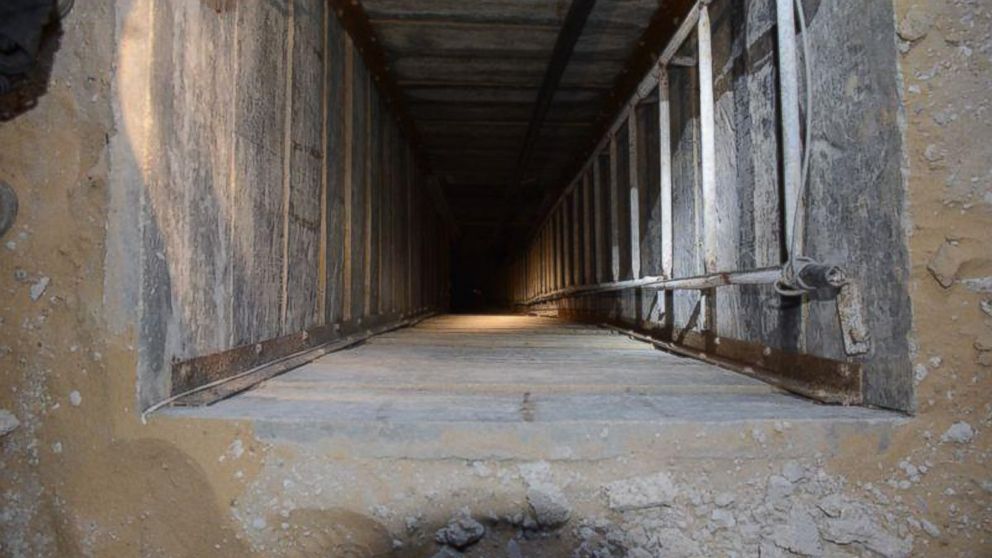 The Israel Defense Forces said that the tunnels "are made for kidnapping and murdering Israelis. That's why we are destroying them."
Hamas has twice used the tunnels to infiltrate Israel over the past weeks, including one foray in which fighters were dressed as Israeli soldiers. And in 2006, an Israeli soldier named Gilad Shalit was kidnapped and dragged into Gaza through a tunnel and help hostage for five years.
The tunnels, which can transport people and military supplies, begin in Gaza and open into Israel, were built by Hamas beginning in 2006, when the organization gained control of Gaza and sought to build an underground infrastructure to infiltrate Israel.
Footage of the tunnels can be seen in propaganda video distributed by Hamas, showing armed and masked members of the organization marching underground through a dimly lit shaft.
Palestine militants exploited the element of surprise, using tunnels to infiltrate Israel.
Built into a soft and sandy ground that is easy to dig, the tunnels are large enough to fit an adult with room to walk or for a cart on rails.
"Imagine a mining tunnel from an old movie," Arthur Hughes, a retired United States ambassador and scholar at the Middle East Institute explained to ABC News. "The tunnels between Gaza and Israel are like mine shafts. They are supported by wooden beams and are large enough for you to walk through them."
Hamas built Gaza's tunnel openings into civilian homes and other civilian areas, like schools.
"Hamas has put the tunnels in populated civilian areas," Philip C. Wilcox, a retired American diplomat and president of the Foundation for Middle East Peace told ABC News.
It is the threat of Hamas operatives using these tunnels to cross into Israel that prompted Israeli soldiers to search for and destroy tunnel openings in areas of Gaza with concentrated civilian populations.
"Inevitably there will be civilian causalities wherever the tunnels are," Wilcox said.
More than 600 Palestinians and 29 Israelis have been killed since the violence began on July 8.