— -- People around the world are expressing their solidarity for the people in Brussels on social media after terrorist attacks rocked the Belgian capital this morning.
The hashtags #JeSuisBruxelles and #PrayForBelgium have spiked across Twitter and other social media platforms.
Within Belgium, people are helping each other with the hashtags #IkWilHelpen or #PorteOuverte, offering safe places to stay or free rides.
France, which is still recovering from its deadly terrorist attacks on November 13, 2015, has shown particular solidarity with its neighbor. The City of Paris has changed the image for its official Twitter account to a Belgian flag and Paris Mayor Anne Hidalgo announced that the Eiffel Tower will be illuminated in the colors of Belgium's flag.
]/>
The French newspaper Le Monde published a series of touching cartoons that have gone viral.
https://twitter.com/hashtag/Bruxelles?src=hash
The beloved children's cartoon character Tintin, from the "The Adventures of Tintin," by Belgian cartoonist Georges Remi, has also become a symbol of hope and solidarity for people in support of Brussels.
President Obama as well as presidential candidates Bernie Sanders and Hillary Clinton have also released statements emphasizing American solidarity for Brussels.
Dubai's Burj Khalifa, the world's tallest skyscraper, showed Arab support for the people of Brussels by projecting the colors of the Belgian flag onto its walls.
A boy holds a sign expressing his solidarity with Brussels near the Greek-Macedonian border at the makeshift refugee camp.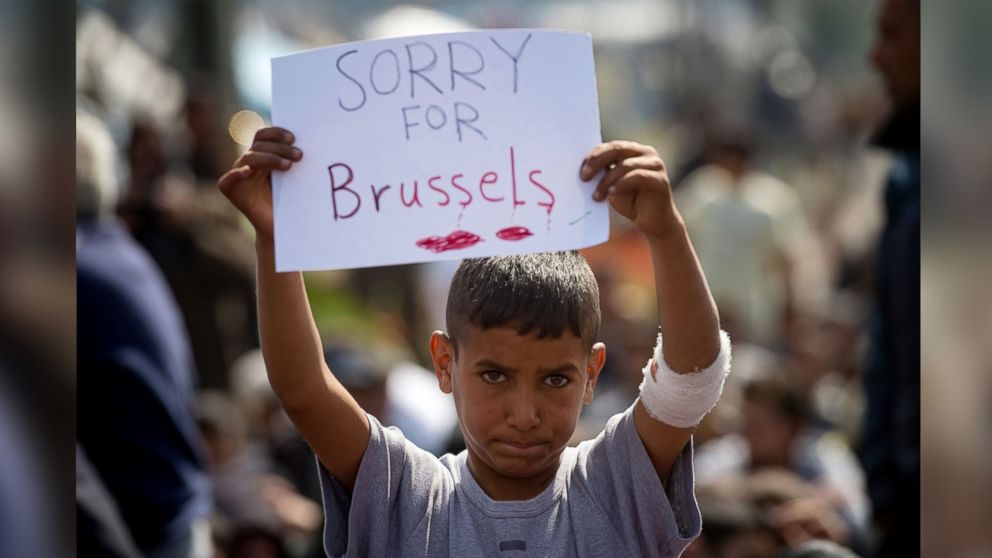 Facebook has also relaunched its Safety Check button, which was used after the Paris Attacks and allows Facebook users in Brussels to "check in" and let loved ones know that they are safe.