The headlines get more lurid with each passing day. Friday's Israeli paper Maariv declared on its front page: "Dubai Plans Arrest Warrant for Netanyahu."
Thursday the head of the Dubai police investigation, General Dahi Khalfan Tamim, said he was almost certain Israel's intelligence organization Mossad was responsible for the assassination of Hamas leader Mahmoud al Mabhouh. It is well-known in Israel that all such operations by Mossad must receive final approval from the prime minister.
One Israeli columnist and authority on Israel's intelligence organizations says that all of Mossad's foreign operations similar to the one it is accused of in Dubai are carried out by a special unit called Kidon, Hebrew for dagger.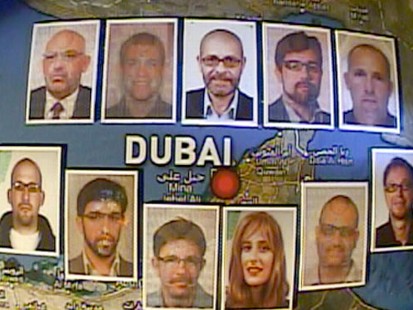 The unit consists of a few dozen men and women who receive rigorous and specialized training including unarmed combat, weapons training, high-speed driving of both cars and motorcycles, and the field craft of trailing suspects without detection.
Kidon operatives only work on short contracts of a few years because the work is so stressful. The agents regularly undergo extensive psychological evaluations to check their mental wellbeing.
"It is 99 per cent, if not 100 per cent sure that Mossad is standing behind the murder," Tamim told a Gulf newspaper.
He confirmed that 11 so-called Red Notices have been issued by Interpol for the arrest of the 11 suspected assassins uncovered by his investigation.
He said the head of Mossad, Meir Dagan, should also be arrested if it was proved that Mossad carried out the hit. He added that identities of five further suspects would soon be revealed along with other details.
Meanwhile despite the continuing official silence over the affair in Israel, analysts believe no lasting damage will be caused by the diplomatic fallout.
One told the Haaretz newspaper Friday: "Israel is not the only country dealing with this phenomenon. All western states threatened by terror use similar methods, hence the silent agreement and understandings between them."
Friday's London Daily Mail even claims that despite the public criticism British authorities received a tipoff from Israel that British passports were going to be used in a Mossad operation, something the British Foreign Office denies.
The paper quotes what it calls a reliable source saying a serving Mossad agent told him: "The British Government was told very briefly before the operation was going to happen. There was no British involvement and they didn't know the name of the target. But they were told these people were travelling on UK passports."
Back in Israel there is widespread public support for Mossad's secretive foreign operations. Hitting out at the country's enemies far from Israeli territory is part of the popular mythology surrounding the Mossad.
Mossad Head Meir Dagan Credited for Aggressive Tactics
The diplomatic fallout over the use of foreign passports and the apparent exposure of the hit team is however causing some criticism.
Dagan has been head of Mossad for seven years and is credited with instituting a more aggressive policy.
Leading columnist Gideon Levy, writing in Haaretz, asserts: "Dagan has just been given another year on the job, his eighth. Why? Partly because he is a specialist in liquidation."
Dagan is described as a soft-spoken but ruthless former paratrooper who was close to the former Israeli prime minister and war hero Ariel Sharon. His leadership of Mossad has caused tension inside the organization and his style contrasts sharply with his more diplomatic predecessor Ephraim Halevy.
One former Mossad staffer says, "Dagan is not the kind of man to care about angering a few people to get the job done. He is what you call a one man show."