— -- Turkey's interior minister said today it's "highly possible" that the three attackers who carried out a deadly attack at Istanbul's international airport were foreigners.
No one has claimed responsibility for the attack, but the interior minister said earlier today that "all findings show it's ISIS."
And CIA Director John Brennan said today the attack "bears the hallmarks" of ISIS' "depravity."
The comments came one day after the Ataturk International Airport attack, which left 42 people dead and 238 others injured, according to Istanbul Gov. Vasip Sahin.
The governor's office said the death toll rose from 41 to 42 today after a woman wounded during the assault died at an Istanbul hospital.
Turkish officials said the attack was carried out by three people who arrived at the airport in a taxi and blew themselves up after opening fire.
Thirteen foreigners were among the dead, Turkish officials said, including three dual Turkish citizens. Five of the foreign victims were from Saudi Arabia, and the others were from elsewhere in the Middle East and Asia, officials said.
No Americans were on Turkish authorities' list of foreign nationals who died, and no U.S. military personnel were among the injured or killed, a defense official said.
After the attack, anxious friends and family members of the victims congregated at Istanbul's Bakirkoy Hospital, where the injured were taken.
"You can hear that people are wailing here," Serdar Tatlisu, a relative of a victim, told The Associated Press. "We cannot cope anymore. We can't just stay still. We need some kind of solution for whatever problem there is."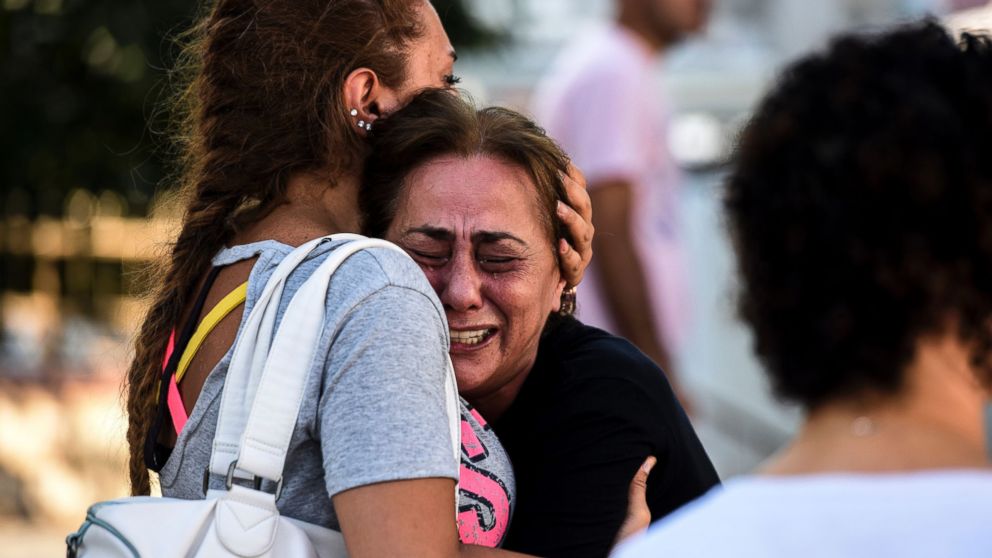 While victims' loved ones descended on the hospital, Turkish officials scrambled to restart operations at the country's largest airport.
It resumed departures today at 2:20 a.m. local time.
Ataturk is the world's 11th-busiest airport, handling 61.8 million passengers last year.