Terror at Nairobi Mall: Kenyan President Vows to Defeat Terrorists
The attackers held several dozen people hostage.
September 21, 2013, 11:43 AM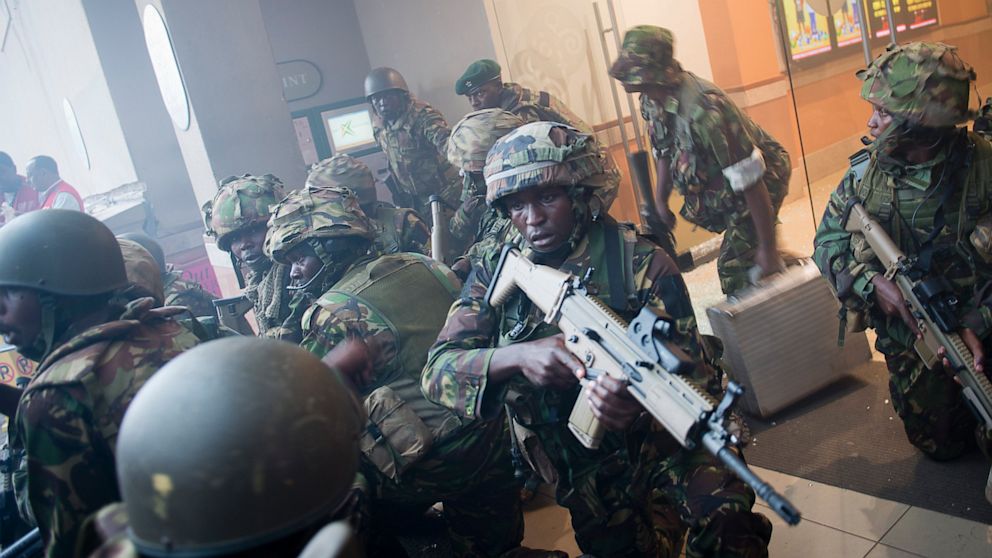 JOHANNESBURG, Sept. 21, 2013— -- A casual morning at the mall today turned into a siege of terror for unsuspecting shoppers in Nairobi, Kenya, when attackers dressed in black and wearing facemasks and vests loaded with grenades sprayed the unsuspecting crowds with bullets from AK-47s.
"They just came in and threw a grenade. We were running and they opened fire. They were shouting and firing," said Jay Patel who was on an upper floor of the mall when the shooting began.
Frightened shoppers fled the mall crying and clutching their small children. At one point mall guards used shopping carts to wheel out wounded children.
The gunmen were still holed up in the mall late this evening, along with an unknown number of hostages.
Two Kenyan army special forces units moved inside as the stand-off stretched into its ninth hour, while police and military surrounded the huge shopping complex.
Kenyan president Uhuru Kenyatta, speaking in a nationally televised address today, said that at least 39 people were killed and at least 150 others were injured in the terror attack.
"The despicable perpetrators of this cowardly act hope to intimidate, divide and cause despondency amongst Kenyans," Kenyatta said. "We have overcome terrorist attacks before. In fact we have fought courageously and defeated them within and outside our borders. We will defeat them again."
According to a U.S. official, eight to 12 gunmen may have initiated their attack by dropping grenades from a second floor balcony of the Westgate Mall before opening fire.
There were 30 American citizens, including embassy personnel, in the mall at the time of the attack, but they have all been evacuated and are accounted for, the official said. The are no reports of deaths among Americans.
Three Americans have been reported injured and were at a local hospital, the official said.
An American citizen's father has been killed, but the father was not an American citizen, according to the official.
The wife of a USAID Foreign Service National was also killed, the official said.
A local hospital was overwhelmed with the number of wounded being brought in hours after the attack, so they had to divert them to a second facility.
Initially it was believed the gang were armed robbers but it soon became clear the attackers were targeting non-Muslims.
"The gunmen told Muslims to stand up and leave. They were safe, and non-Muslims would be targeted," said witness Elijah Kamau who was shopping in the mall.
State Department Deputy Spokeswoman Marie Harf said U.S. officials were closely monitoring the situation.
"We condemn this senseless act of violence that has resulted in death and injury for many innocent men, women, and children. Our condolences go out to the families and friends of all victims. We have reports of American citizens injured in the attack, and the U.S. Embassy is actively reaching out to provide assistance," Harf said in a statement.
The gunmen hit one of the most upscale places in Nairobi.
The Westgate Mall is a destination for Kenya's elite. It bills itself as the city's premier mall, boasting that it offers customers a "first world interior" and a "safe and serene environment." It was opened in 2007 and has more than 80 stores.
"We are treating this as a terrorist attack," said police chief Benson Kibue, adding that there are likely no more than 10 attackers involved.