By the time slain Washington Post columnist Jamal Khashoggi disappeared inside Saudi Arabia's consulate in Istanbul, his fears that he might be detained -- or worse -- for his criticism of the kingdom had been allayed, his grieving fiancée told ABC News in her first American media interview.
Just days before that fateful visit it was a different story. Khashoggi worried he might end up in jail like so many other Saudi journalists when he first went to the consulate unannounced on Sept. 28 to request documents he needed to get married.
"He did not want to go to the consulate," his fiancée Hatice Cengiz said. "He thought it was a risk to go."
"He thought of the possibility of them capturing him," she added. "He didn't want to face the consequences of his political views."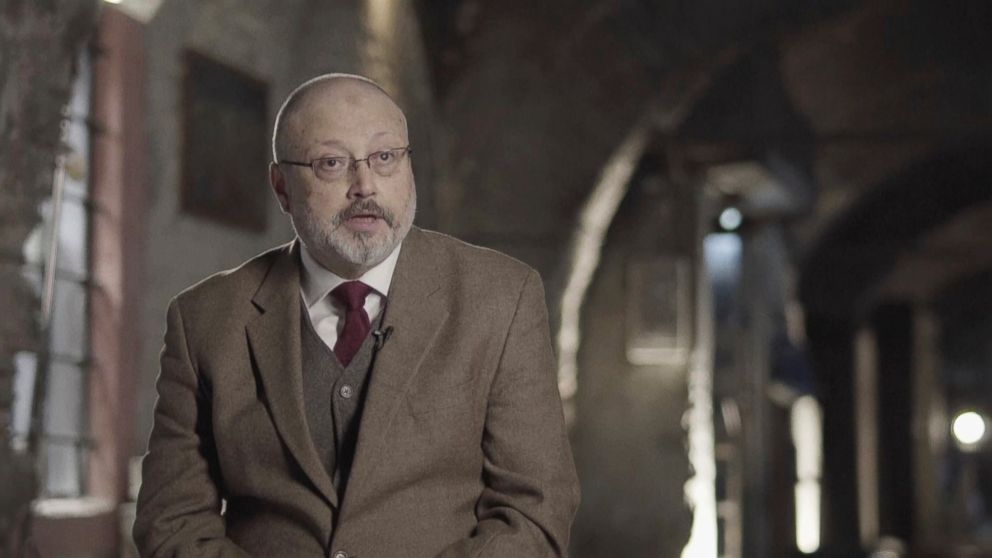 Those fears dissipated, however, and Khashoggi told his fiancée that he was pleasantly surprised by the warm reception from consulate employees during the visit.
He did not want to go to the consulate. He thought it was a risk to go.
"He was very pleased with their nice treatment and hospitality," Cengiz said, noting that Khashoggi had been "homesick" in self-imposed exile and felt an "emotional connection" with his countrymen when he was at the consulate.
"At that point he mentioned how unnecessary it was to worry," she said.
The couple felt they had little reason to fear the worst when they returned four days later to retrieve that document on Oct. 2.
"Naturally, after the first positive visit we had no reasons to think that there would be any sort of danger," Cengiz said.
"Our second visit was full of hope and it was the last step to our union," she said. "We were going to get the official paper and we were going to get married and continue rest of our lives together."
It was soon clear that that trust was misplaced.
After weeks of speculation and numerous leaks from the Turkish government indicating the writer had been murdered, Saudi officials finally admitted -- 17 days after his disappearance -- that Khashoggi had died inside the consulate during an "altercation."
'Naturally, after the first positive visit we had no reasons to think that there would be any sort of danger.
Crown Prince Mohammed Bin Salman subsequently condemned the killing as a "heinous crime that cannot be justified."
While members of the crown prince's inner circle were implicated in the plot, Saudi officials have denied allegations that the crown prince was involved or gave the order.
As international pressured mounted, the head of the Saudi investigation, Attorney General Sheikh Saud al-Mojeb, eventually acknowledged that the killing appeared "premeditated."
Khashoggi's body has yet to be found.
"We still don't know where Jamal's body is," Cengiz said. "There is no explanation about this. He did not have a funeral yet. This is not acceptable in Islamic rules."
"This is our last duty to fulfill," she said.
Hours passed while Cengiz waited with growing trepidation for Khashoggi outside the consulate on the day he went missing.
When he did not emerge after the building had closed, she began to worry but said she never imagined he had been killed.
Their love affair was only six months old.
"Meeting such a well-established journalist and being in close contact with such a personality gave me unbelievable sense of strength," she said. They first met at a conference on the Middle East, she said. Khashoggi had attended as a speaker and she as a researcher.
She wanted to interview him and he graciously agreed, she told ABC News. "I was really honored and proud when this powerful, great journalist and author got into contact with a researcher like me and agreed to do the interview, and immediately a warm dialogue started between us immediately got started."
Soon their relationship deepened.
"He is a very respectful, very modest and very sincere person – very far from being arrogant and disdainful," she said. "He has a big heart."
When he proposed, she said she readily accepted.
"I was honored," she said. "Besides the feelings of love and respect I felt honored. I could name it as a heightened sense of self-confidence. I mean, I felt so lucky and I felt so wonderful."
When the formal marriage plans got underway, the couple visited the Saudi consulate in Turkey and planned to return four days later. Those four days were the last she would ever spend with him.
During those 17 days in limbo, Cengiz said she desperately hoped that Khashoggi was still alive.
When reports began to circulate of a planeload of Saudis arriving in Turkey the day her fiancée disappeared and leaving the same night, her fears intensified.
"I didn't want to believe," she said. "That was the first day I said to myself perhaps there could be a tragedy. I wanted to believe that he was alive until the end."
It wasn't until Saudi officials confirmed his death nearly three weeks after his disappearance that her loss truly sunk in.
"When Saudi officials accepted the responsibility, then I believed it happened."
"In reality, I started to believe that he was dead. It was too late now," she said. "A lot of time passed by."
Cengiz called on President Donald Trump to help ensure the investigation into Khashoggi's murder is genuine.
"The President of the United States has to look at this from the point of view of humanity and consider it an international tragedy, and it should come before international politics and diplomacy," she said.
Asked whether she was concerned that politics would ultimately triumph over truth, she simply replied, "yes."