PYEONGCHANG, SOUTH KOREA -- The main attraction at the PyeongChang Winter Olympics, which officially kicks off Friday, will undoubtedly be its 102 sporting events.
But almost as popular will be the sideshow that is Kim Yo Jong, the sister of North Korean leader Kim Jong-un, who will be the first member of North Korea's ruling family to visit South Korea since the end of the 1950-53 Korean War. Kim Yo Jong will be part of a North Korean delegation led by the country's nominal head of state, Kim Yong Nam.
She will be going straight to Pyeongchang for the opening ceremony and not attending a reception hosted by South Korean President Moon Jae-in, but she is scheduled to have lunch with him on Saturday before she leaves on Sunday.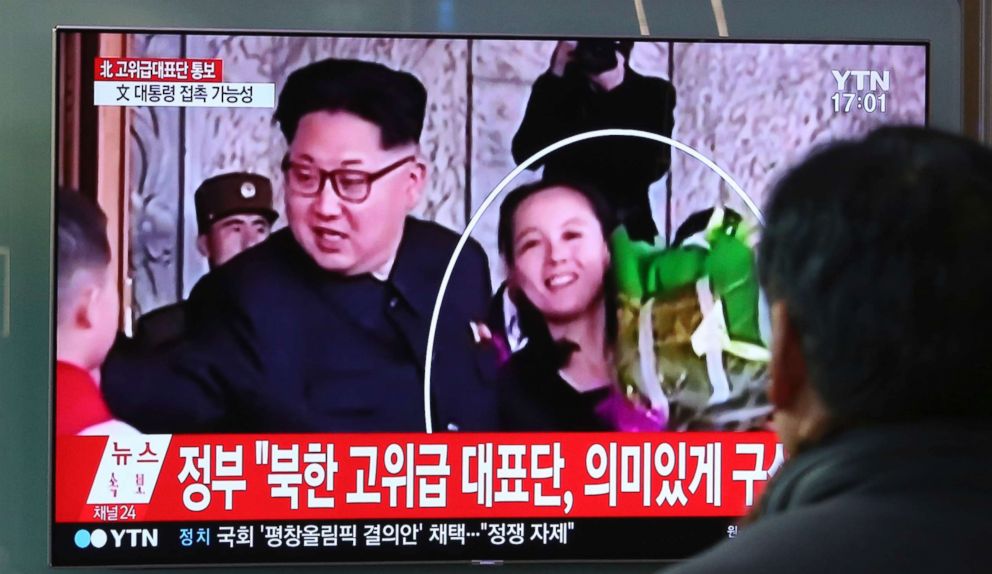 But who is this virtually unknown woman, who has been shrouded in a North Korean veil of secrecy? And when did she first appear on the North Korean stage?
Well, flash back to 2011, when North Korean leader Kim Jong-il died. A young woman was spotted moving about at the official funeral ceremonies, standing very close to Kim's son and heir Kim Jong-un and the inner circle of official. Not surprisingly, she caught North Korean watchers' attention.
Who was this woman? After all, she had never been seen on North Korean television or any of the communist country's media.
There were wild guesses about her identity, but one of the most believable theories was that she could be the youngest child of Kim Jong-il. The late ruler was known to have had a "fourth wife," which had led to rumors that she may be their offspring.
During the years since Kim Jong-il's funeral, analysts paid close attention to any signs of this mystery woman on North Korean television, which is a crucial source that offer hints of information on what goes on inside the hermit kingdom.
Once in a while, she would appear behind Kim Jong-un on a stadium peeking onto the stage during state events, or walking around freely near Kim Jong-un and his wife while they toured the nation's various monumental spots. Her free-spirited body language was in sharp contrast to elder officials and soldiers who stood solid stiff and extremely courteous in front of their new leader.
Such appearances were enough to gain confidence among North Korean analysts that she must be a younger sister of Kim Jong-un, sharing the same mother, Ko Yong-hui. It was then ascertained that it was Kim Yo Jong.
There was no question that she would have much influence on her brother, keeping such close proximity in state affairs.
Kim Yo Jong, believed to be around 30 years old, seemed to move closer to the center of power after her uncle was executed and her aunt disappeared from formal photos in 2013. Television news reports at times showed the young Kim lining up senior officials.
Kim Yo Jong and Kim Jong-un are believed to be particularly close because they attended the same private school in Switzerland, and since they are close in age, they overlapped while at school.
"She lived in the embassy under an alias with her brother," Michael Madden, a North Korean expert who runs a leadership-watch blog and contributes to Johns Hopkins University's Korean Studies site, told ABC News. "They were portrayed as the children of the domestics, the maid and the gardener."
Konghan Oh, a senior fellow at the Brookings Institute, said the sister has had special privileges.
"She's been given a lot of opportunities to travel," Oh said, adding that she was once spotted with her mother on a shopping trip in Paris shortly before her mother died of breast cancer in 2004. Yo Jung was last seen overseas in 2011 when she allegedly attended an Eric Clapton concert with her older brother, Jung-chul, in Singapore.
Kim Yo Jong's first "official" public confirmation of identity was made in 2014. She had accompanied her brother in voting for the Supreme People's Assembly. News broadcasters for the first time referred to as a "senior official" of the Workers' Party Central Committee.
She later was named vice director of the Workers' Party's Propaganda and Agitation Department. Main responsibilities were to idolize and garner public support for the national leader.
Kim Yo Jong then quickly rose to power, marking her seat in the Workers' Party's central committee in 2016. She was promoted last October to first vice-director of the powerful Organization and Guidance Department. She is now in charge of state security overlooking senior officials in the party and military.