London mayor on mosque attack: 'Terrorism is terrorism'
Police say a van hit Muslim pedestrians shortly after midnight.
— -- London Mayor Sadiq Khan said Monday's attack at a mosque in North London was intended to "divide communities" and "make us stop leading the lives that we do."
"Terrorism is terrorism," he told reporters. "It doesn't matter whether you're inspired by a perverse force of Islam — a perverse version of Islam — or you're inspired by some other motives to try and terrorize others. The intention is the same."
Eyewitnesses interviewed by ABC News said people were gathered outside the mosque after prayers when a van rammed into them.
The attack occurred just after midnight prayers outside the Muslim Welfare House near the Finsbury Park Mosque. One person who had been receiving first aid beforehand died at the scene, but it is unclear at this time whether he died as a result of the attack.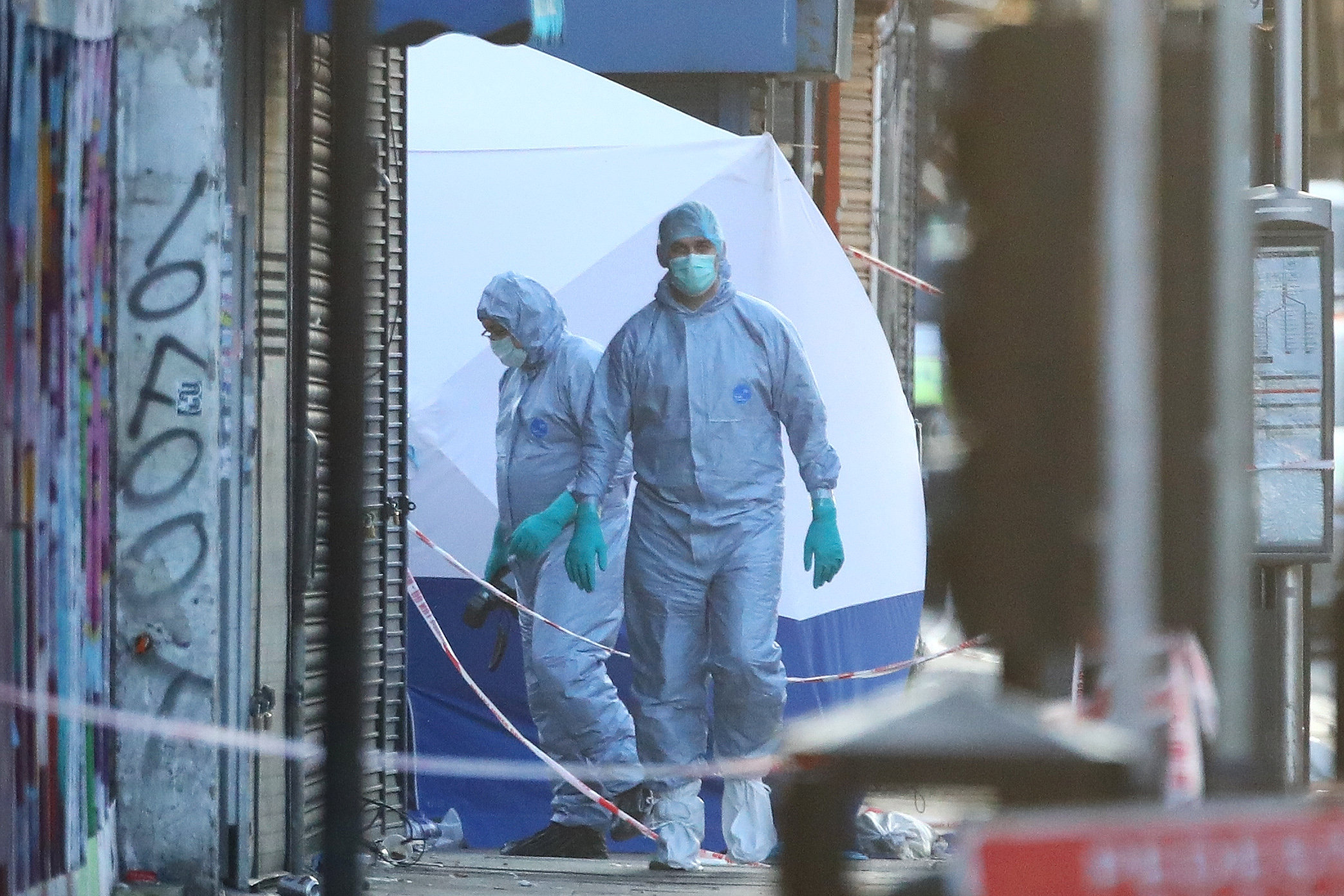 At least 11 people were injured, and the London Ambulance Service said in a statement today that it took nine people to three hospitals in the city and treated others at the scene for minor injuries.
A 47-year-old man has been arrested for attempted murder and on suspicion of terrorism offenses, police said in a statement. He was taken to a South London police station, where he remains in custody, according to police.
Metropolitan Police Commissioner Cressida Dick said the episode was "quite clearly an attack on Muslims."
She later told reporters, "The people in the Muslim community attending prayers will see their police protecting them in the coming days and nights."
Prime Minister Theresa May called the episode, which mirrored other high-profile terrorist attacks in which vehicles were used as weapons, "every bit as sickening as those that have come before."
Khan said there has been a spike in hate crime, including against Muslims, since the London Bridge attack on June 3. Seven people died, and dozens more were injured in that assault, which authorities said was committed by three men and for which ISIS claimed responsibility.
The U.S. State Department said in a statement, "The United States strongly condemns last night's attack that appears to have targeted Muslim worshippers in London."
"The United States stands in solidarity with the United Kingdom in the face of this terrorist attack and emphasizes our shared resolve to counter the plague of terrorism," State Department spokeswoman Heather Nauert added.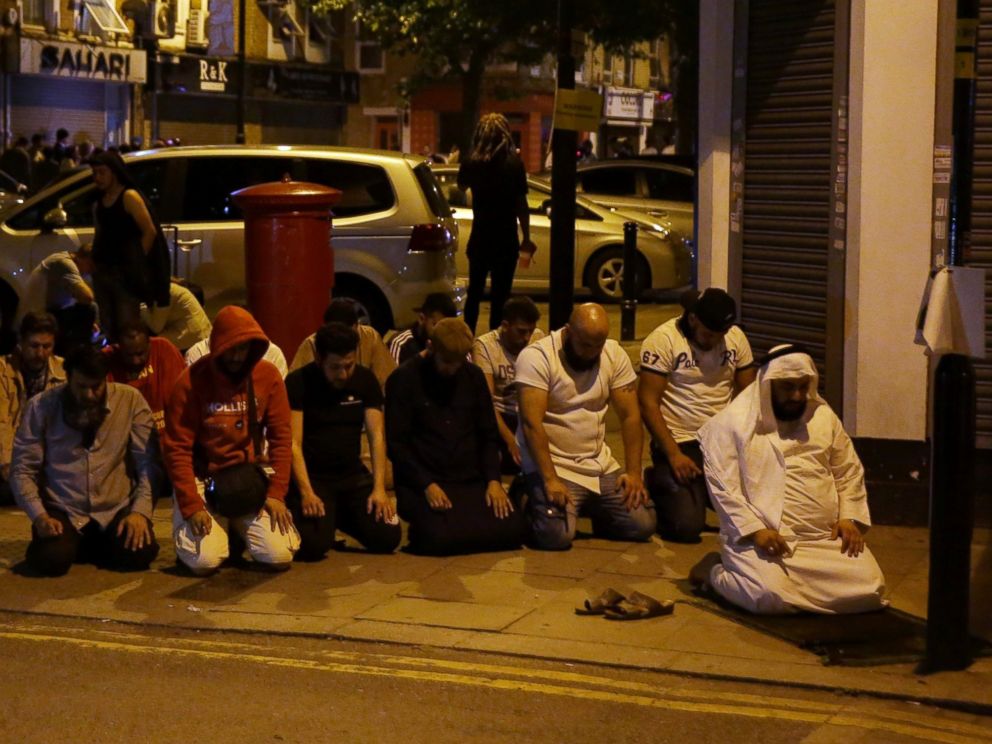 A man identified as Jermain Jackman told the BBC the sidewalks were "packed with people walking home" when the attack occurred.
"It was a van that mounted the pavement as men and women were leaving the mosque to go home to their families and friends and their loved ones," he said.
The Muslim Council of Britain called it a "terror attack" and the "most violent manifestation" of Islamophobia.
"During the night, ordinary British citizens were set upon while they were going about their lives, completing their night worship," the Muslim Council said in a statement. "Muslims have endured many incidents of Islamophobia" over the past weeks and months.
"We urge calm as the investigation establishes the full facts and in these last days of Ramadan pray for those affected and for justice," the statement concluded.
Shortly after the episode, Khan referred to it as a "horrific terrorist attack" and "a deliberate attack on innocent Londoners, many of whom were finishing prayers during the holy month of Ramadan.
"While this appears to be an attack on a particular community, like the terrible attacks in Manchester, Westminster and London Bridge, it is also an assault on all our shared values of tolerance, freedom and respect," he said in a statement.
White House press secretary Sean Spicer said today that President Trump was receiving updates on the attack in London and that the administration was in frequent contact with British officials.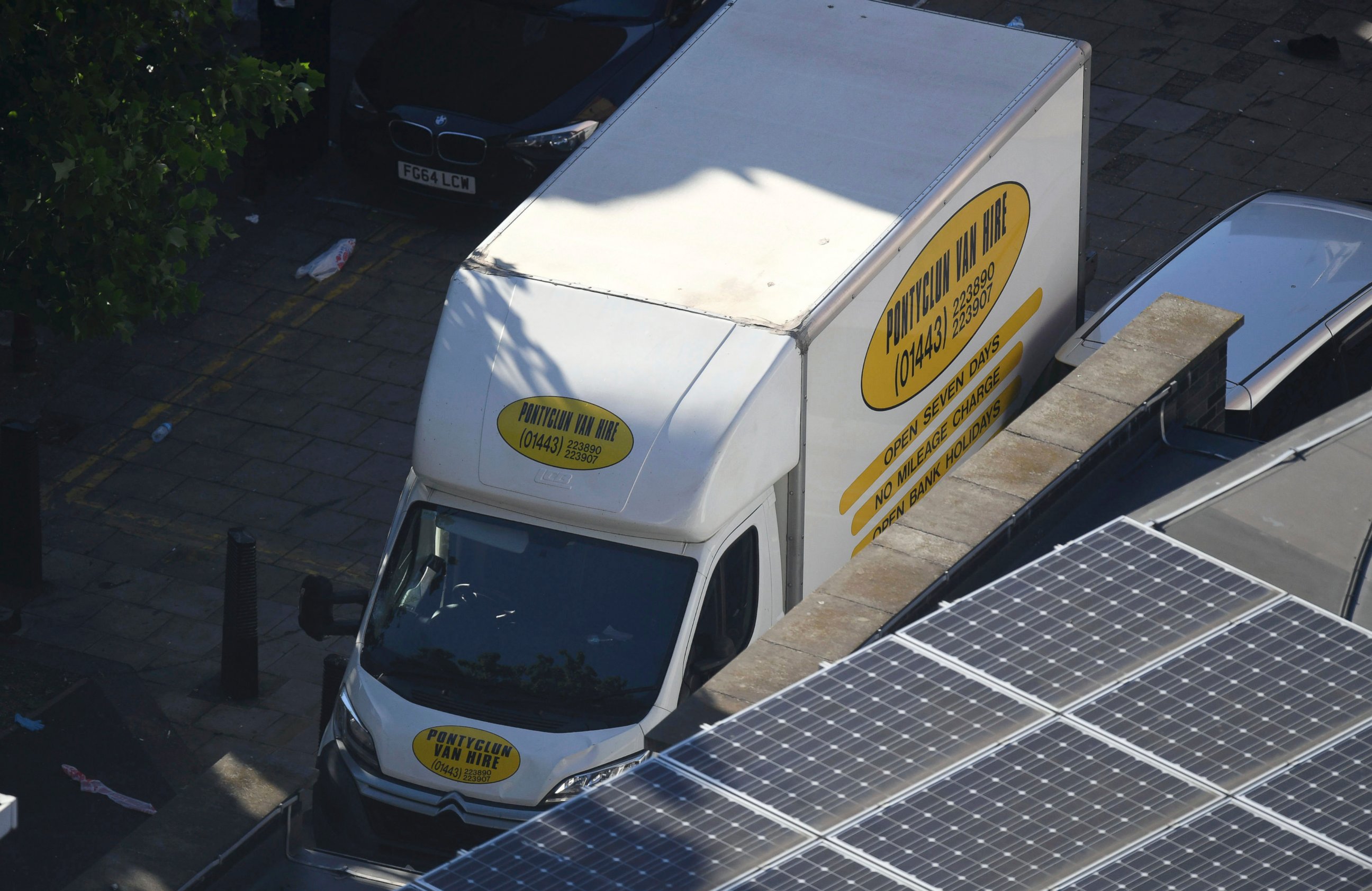 A mosque with a complicated history
Monday's violence apparently targeted Muslims near the Finsbury Park Mosque.
The mosque, which opened in 1988, is where Abu Hamza, an Egyptian cleric and a believer in Islamic fundamentalism and militant Islamism, once preached.
He was convicted in federal court in Manhattan and sentenced to two consecutive life sentences for terrorism-related charges in 2015.
A violent year for the United Kingdom
Monday's episode is the fourth such terrorist attack to strike the U.K. in 2017.
In the attack on London Bridge on June 3, a van rammed pedestrians on the bridge, then continued to nearby Borough Market, where three men exited the vehicle and stabbed several people, according to authorities. The three suspects — identified as Khuram Shazad Butt, Rachid Redouane and Youssef Zaghba — were shot dead by police.
There was an attack at an Ariana Grande concert in Manchester on May 22, in which a suicide bomber, Salman Ramadan Abedi, killed more than 20 people and left dozens of others injured, according to authorities.
An attack at Westminster Bridge in London on March 22 killed five people, including a police officer, and injured dozens of others. Khalid Masood, the alleged attacker, was shot and killed by a police officer.
Alexander Meleagrou-Hitchens, the research director of the program on extremism at George Washington University, told ABC News after the London Bridge attack that defending against terrorist attacks in the modern era is particularly challenging.
"Stopping everyone who rents a van or buys a long knife is really difficult," he told ABC News. "Once that person is on the road, it's just very hard to stop them."
ABC News' Joshua Hoyos, Rex Sakamoto and The Associated Press contributed to this report.