— -- The death toll from a powerful, 8.1-magnitude earthquake in Mexico rose to at least 61, and damage was extensive, with hundreds of buildings toppled in several states.
Mexican President Enrique Pena Nieto called the quake off the southern Pacific coast just before midnight Thursday strongest the country has seen in a century.
Hardest-hit was Juchitan, Oaxaca, where 36 people died and a third of the city's homes collapsed or were uninhabitable, Nieto said late Friday in an interview with the Televisa news network.
In downtown Juchitan, the remains of brick walls and clay tile roofs cluttered streets as families dragged mattresses onto sidewalks to spend a second anxious night sleeping outdoors. Some were newly homeless, while others feared further aftershocks could topple their cracked adobe dwellings.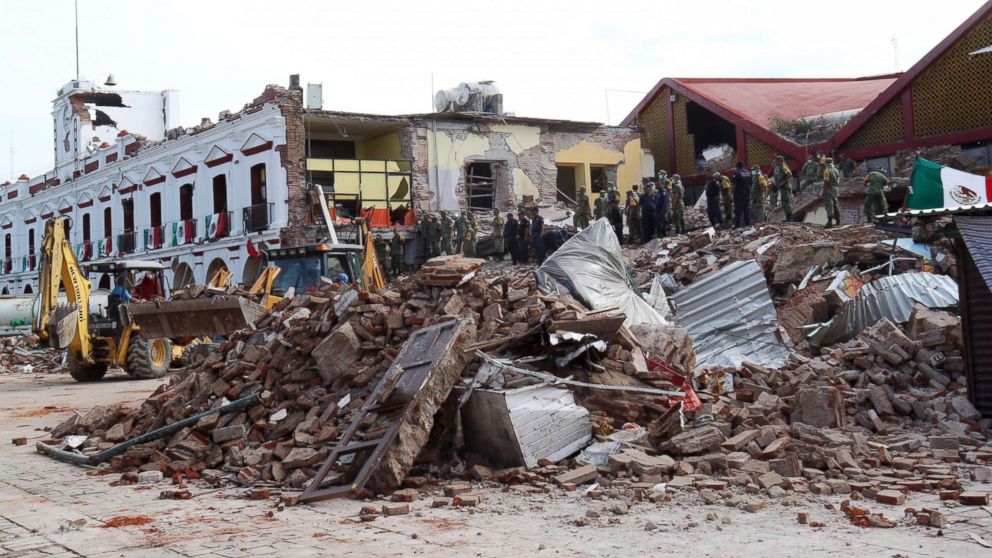 "We are all collapsed, our homes and our people," Rosa Elba Ortiz Santiago, 43, who sat with her teenage son and more than a dozen neighbors on an assortment of chairs, told The Associated Press. "We are used to earthquakes, but not of this magnitude."
Pena Nieto said in a series of tweets on Friday that more than 200 people had been injured and more than 260 aftershocks had hit the country since the initial quake.
Next to Ortiz, 47-year-old Jose Alberto Martinez said he and family members have long been accustomed to earthquakes. So when the ground started moving, at first they simply waited a bit for it to stop — until objects began falling and they bolted for the street.
"We felt like the house was coming down on top of us," Martinez told the AP, accompanied by his wife, son and mother-in-law.
Now, he didn't feel safe going back inside until the home is inspected. Right next door, an older building had crumbled into a pile of rough timbers, brick and stucco, while little remained of a white church on the corner.
Rescuers searched for survivors Friday with sniffer dogs and used heavy machinery at the main square to pull rubble away from city hall, where a missing police officer was believed to be inside.
The city's civil defense coordinator, Jose Antonio Marin Lopez, said similar searches had been going on all over the area.
Teams found bodies in the rubble, but the highlight was pulling four people, including two children, alive from the completely collapsed Hotel Del Rio where one woman died.
"The priority continues to be the people," Marin said.
Pena Nieto said authorities were working to re-establish supplies of water and food and provide medical attention to those who need it. He vowed the government would help rebuild.
"The power of this earthquake was devastating, but we are certain that the power of unity, the power of solidarity and the power of shared responsibility will be greater," Pena Nieto said.
Power was cut at least briefly to more than 1.8 million people, and authorities closed schools in at least 11 states to check them for safety.
The Interior Department reported that 428 homes were destroyed and 1,700 were damaged just in Chiapas, the state closest to the epicenter.
"Homes made of clay tiles and wood collapsed," said Nataniel Hernandez, a human rights worker living in Tonala, Chiapas, who worried that inclement weather threatened to bring more structures down.
"Right now it is raining very hard in Tonala, and with the rains it gets much more complicated because the homes were left very weak, with cracks," Hernandez said by phone.
The Associated Press and ABC News' Jose Cohen, Rachel Katz and Will Gretzky contributed to this report.