— -- A surface-to-air missile struck a Malaysia Airlines plane carrying 298 people that went down Thursday in Ukraine near the Russian border, a U.S. official told ABC News.
The official said U.S. intelligence and analysis of the situation determined that it was a single missile that struck the Boeing 777-200 aircraft while at cruising altitude. It is unclear whether the missile was fired from inside Ukrainian or Russian territory and who fired it, the official added.
Malaysia Airlines Flight MH17 was traveling from Amsterdam to Kuala Lumpur with 283 passengers and 15 crew members. The airline had earlier said there were 280 passengers.
The pro-Russian separatists who control the area where the flight crashed have agreed to allow investigators safe access to the crash site to recover bodies and gather evidence, according to a statement from the Organization for Security and Co-operation in Europe.
Live Updates: Malaysia Airlines Plane Crashes in Ukraine
PHOTOS: Malaysia Airlines Flight MH17 Downed in Eastern Ukraine
Malaysia Airline Plane Downed in Ukraine, Witness Says 'Bodies Everywhere'
Speaking in Detroit, Vice President Joe Biden said the plane had "been shot down, not an accident. Blown out of the sky."
"We see reports that there may have been American citizens on board," he added. "Obviously, that's our first concern. We're working every minute to try to confirm those reports as I speak."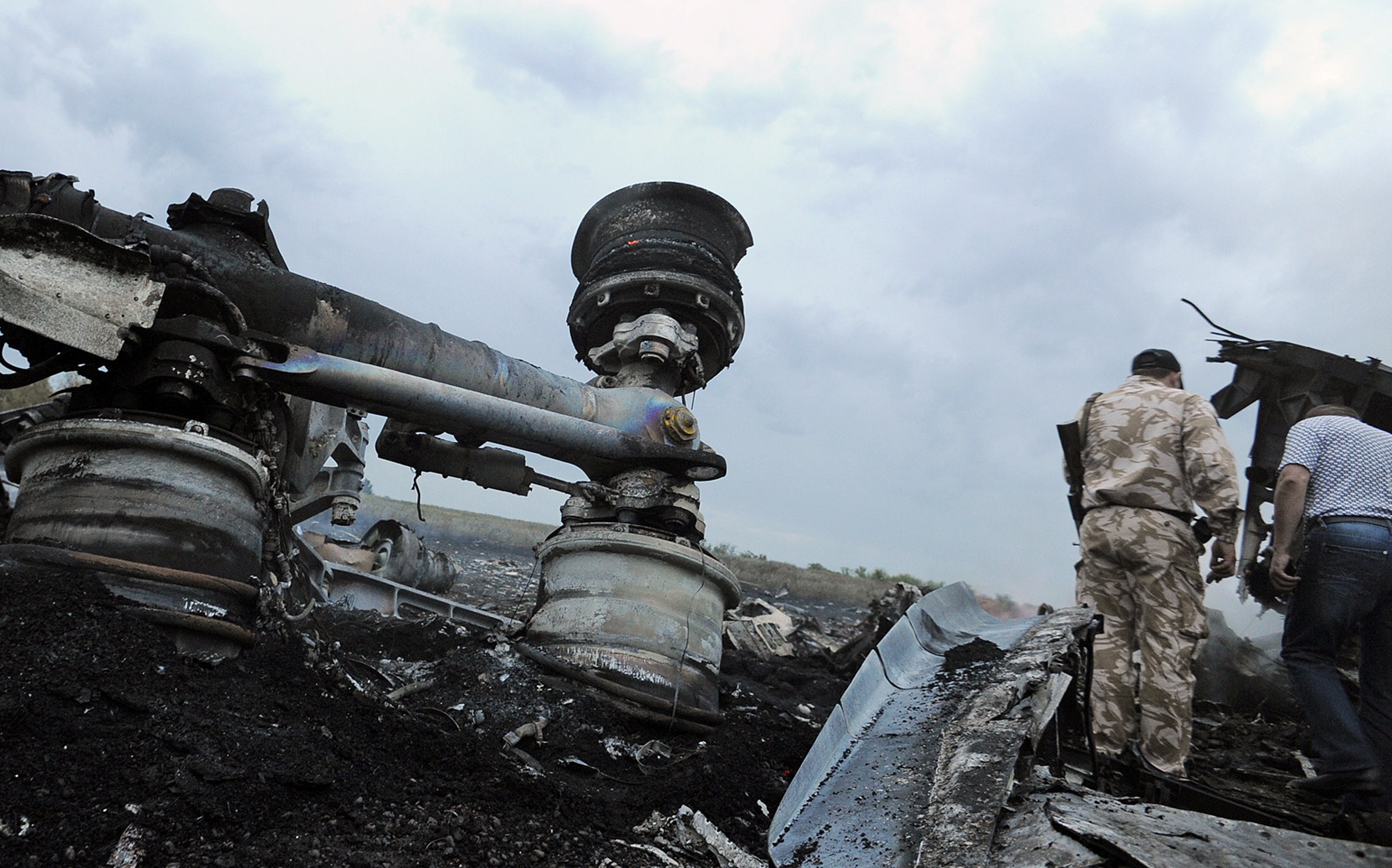 It remains unclear if Americans were on board the flight. Officials said that 154 passengers were Dutch. In addition, according to the latest numbers released by the airline, 43 were Malaysian, 27 Australians, 12 Indonesians, 9 British, 4 Belgians, 4 Germans, 3 Filipinos and 1 Canadian. Nationalities of 41 other passengers remain unknown at this time.
Malaysia's Prime Minister Najib Razak said the plane did not make any distress call. He said the route had been deemed safe by the International Civil Aviation Organization despite the ongoing fighting in Ukraine.
"If it transpires that the plane was indeed shot down, we insist that the perpetrators must swiftly be brought to justice," he added.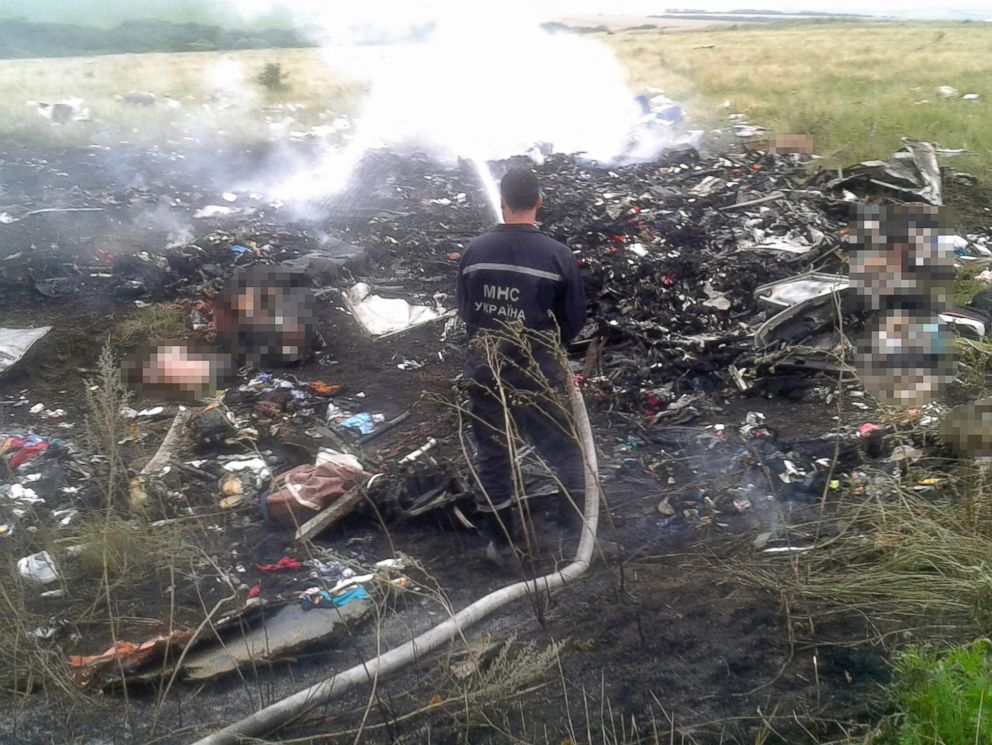 Earlier today, Ukrainian officials said a Russian missile shot down the passenger jet. Ukrainian authorities told U.S. Embassy officials that everyone was "believed dead" and that debris was spread out over a 10-mile path near the town of Hrabove in the district of Shakhtars'k.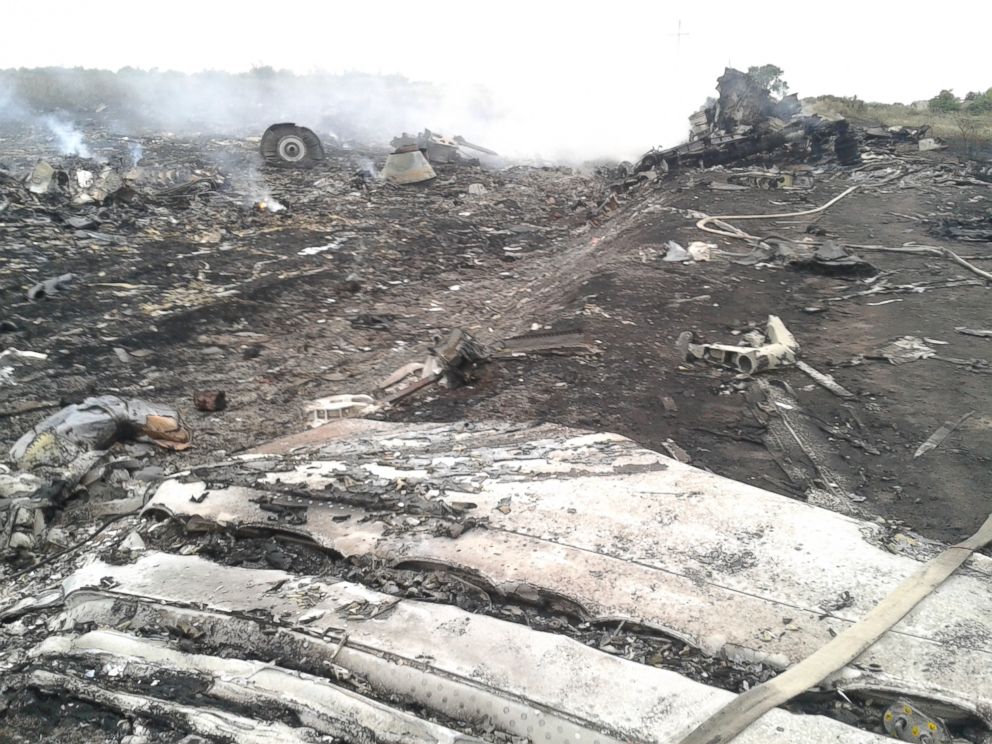 A statement from the Foreign Ministry in Kiev claimed the plane had been "shot down."
"According to the General Staff of Ukrainian Armed Forces, the airplane was shot down by the Russian Buk missile system as the liner was flying at an altitude of 10,000 meters [33,000 feet]," the statement added. "Ukraine has no long-range air defense missile systems in this area. The plane was shot down, because the Russian air defense systems was affording protection to Russian mercenaries and terrorists in this area. Ukraine will present the evidence of Russian military involvement into the Boeing crash."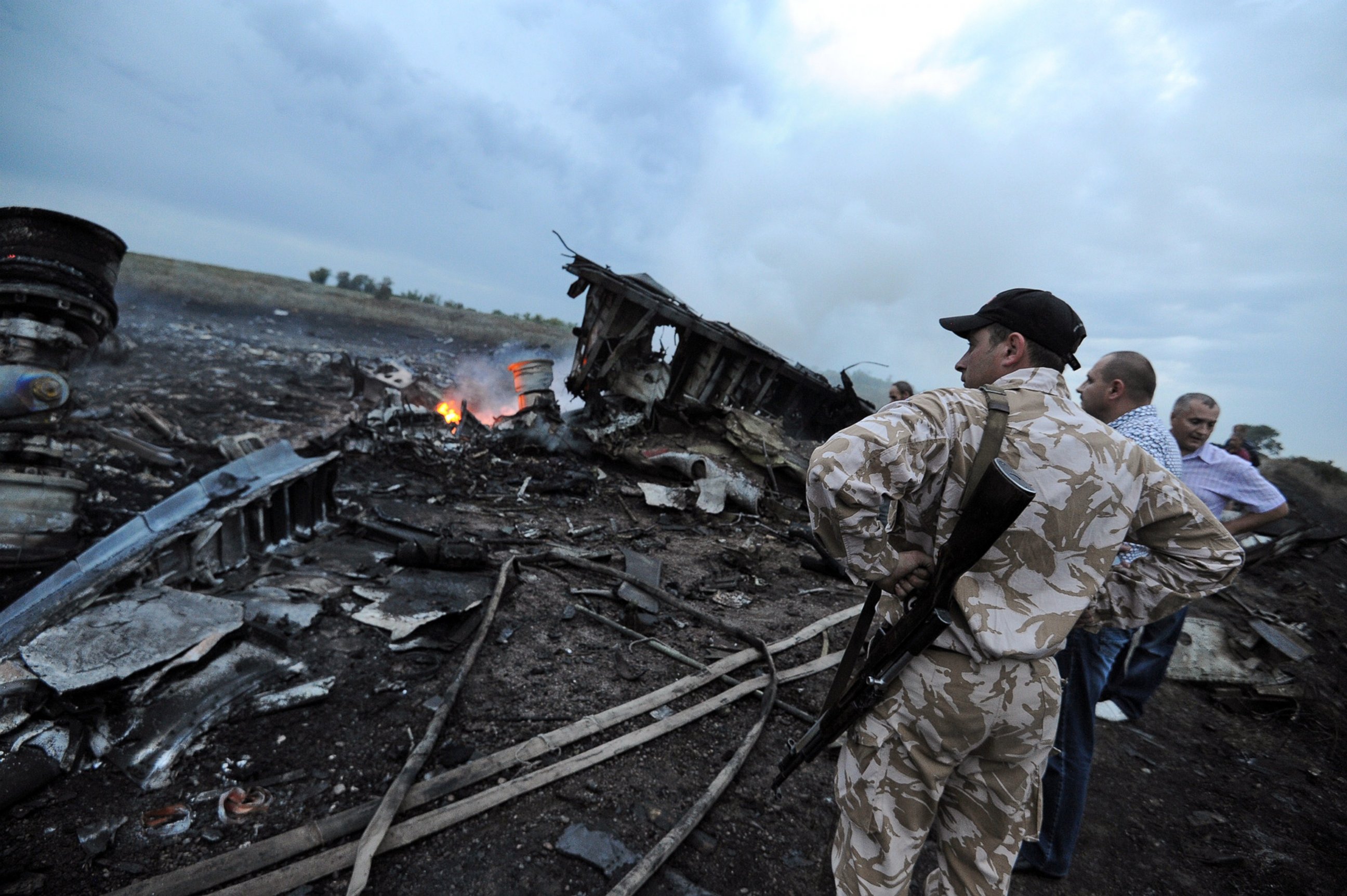 Ukrainian President Petro Poroshenko later added, "We are not calling it an accident, or a disaster, but an act of terrorism."
The plane had left Amsterdam at 12:15 p.m. (local time) and was estimated to arrive in Kuala Lampur International Airport on Friday at 6:10 a.m. (local time), according to Malaysia Airlines.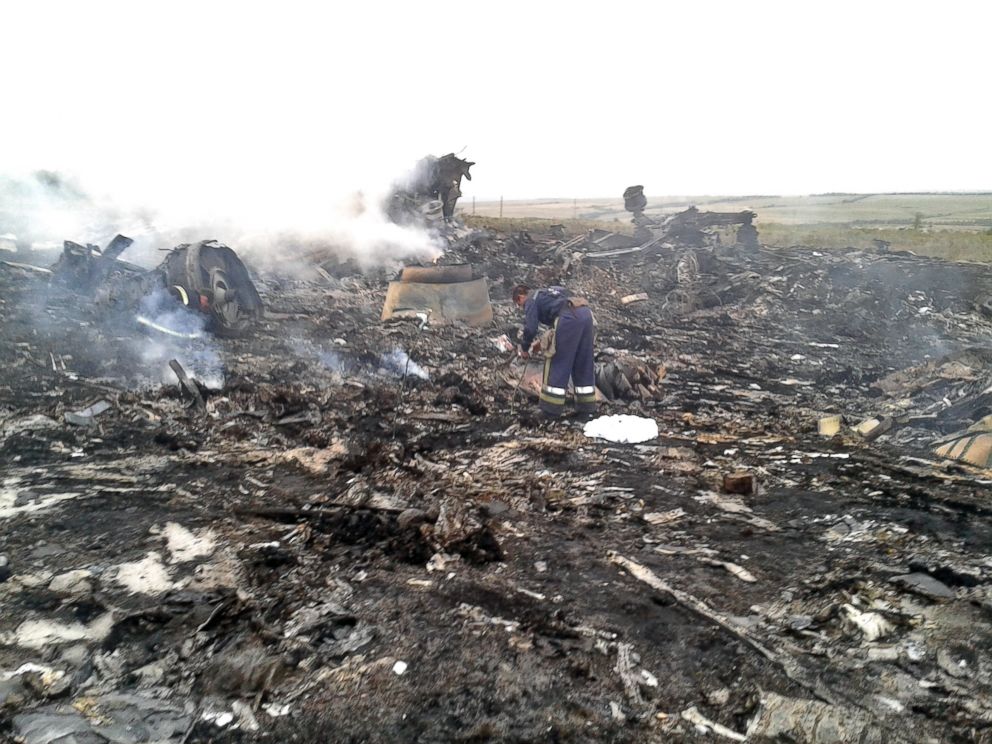 In a tweet soon after the plane went down, Russian President Vladimir Putin said, "Condolences to Malaysian Prime Minister Najib Razak in connection with the crash of a passenger aircraft in Ukraine."
A Kremlin statement said Putin opened a meeting with his economic advisers by calling for a moment of silence over the crash.
"This tragedy would not have happened if there were peace on this land, if the military actions had not been renewed in southeast Ukraine," he said. "And, certainly, the state over whose territory this occurred bears responsibility for this awful tragedy."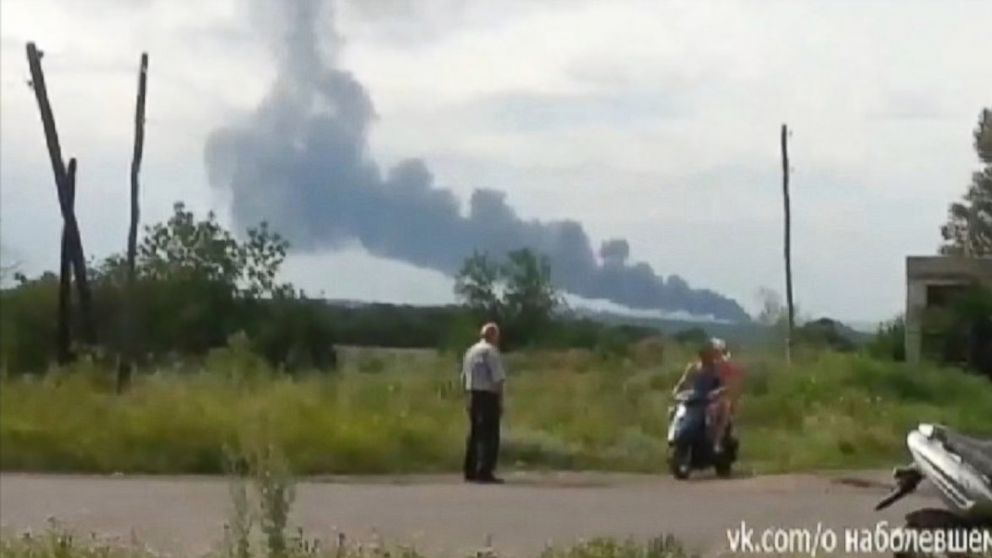 President Obama, at an event in Delaware this afternoon, said, "Obviously, the world is watching reports of a downed passenger jet near the Russia-Ukraine border. And it looks like it may be a terrible tragedy. Right now, we're working to determine whether there were American citizens on board. That is our first priority, and I've directed my national security team to stay in close contact with the Ukrainian government."
Obama added that the U.S. "will offer any assistance we can to help determine what happened and why. And as a country, our thoughts and prayers are with all the families of the passengers, wherever they call home."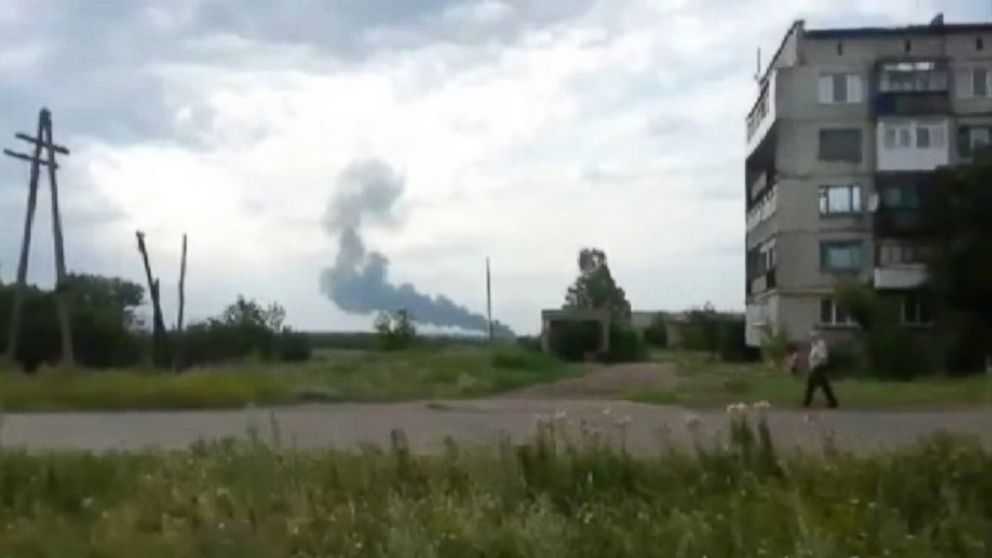 At Schiphol Airport in Amsterdam, grieving family members gathered as airline officials briefed them.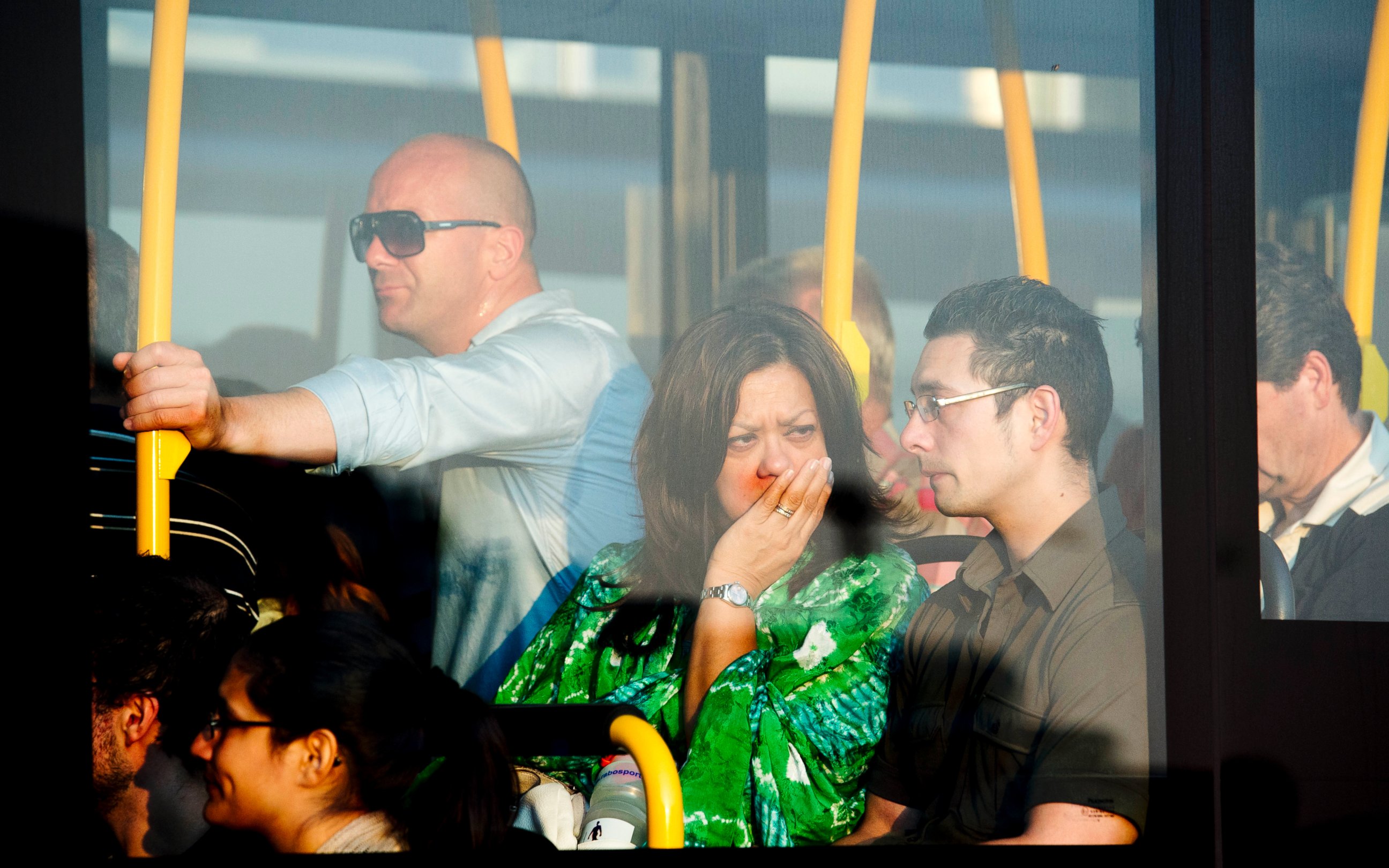 Officials said family members will be flown to Kiev.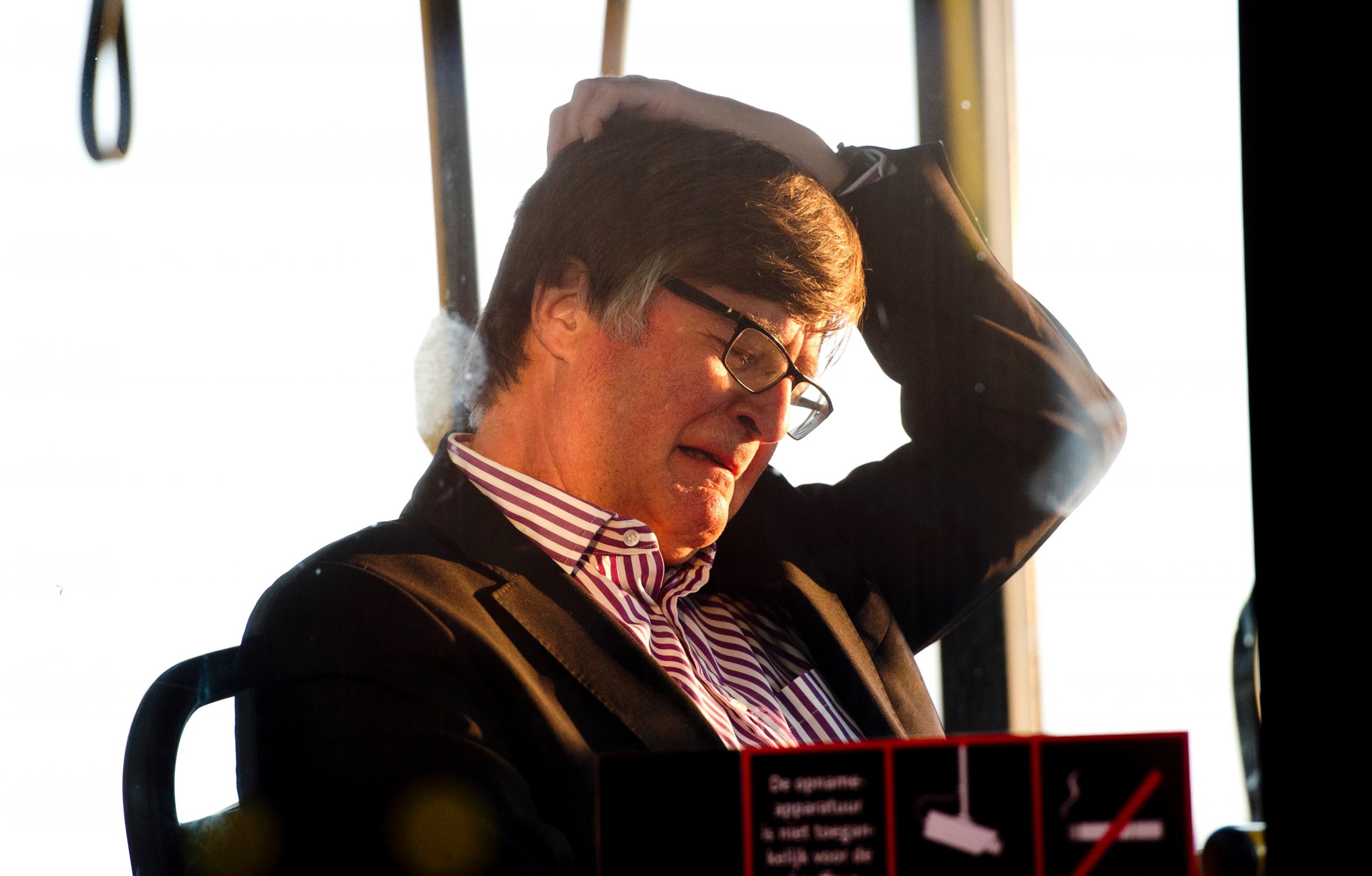 This is the second Malaysia Air plane to be involved in a crash this year.
On March 8, Malaysia Air Flight MH370 vanished with 239 people on board after it took off from Kuala Lampur bound for Beijing. Malaysian officials said the plane disappeared somewhere in the Southern Indian Ocean, but no wreckage has ever been recovered.
Get real-time updates as this story unfolds. To start, just "star" this story in ABC News' phone app. Download ABC News for iPhone here or ABC News for Android here.
Get the Latest on the Ukraine Plane Crash at the ABC News Live Blog
If you're on a mobile device, click here to see the live blog.