— -- The deadly hostage situation in Mali is over, hours after gunmen took 170 people, including U.S. citizens, captive at the Radisson Blu Hotel in Mali's capital city of Bamako.
Mali has declared a 10-day state of emergency following attack.
Here is a closer look at how the attack, which left at least 27 dead, unfolded.
Inside The Hotel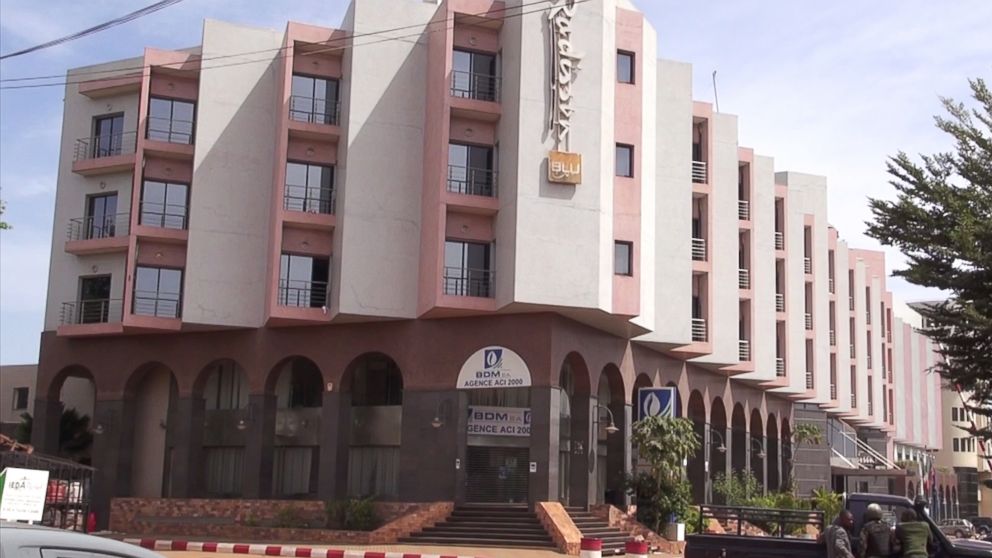 Gunmen "stormed the hotel with AK47s around 7a.m.," said Olivier Salgado of the United Nations Stabilization Mission in Mali, and "security forces from Mali were deployed around the hotel" immediately. Radisson Blu said there were 170 hostages when the situation started.
Freelance journalist Katarina Hoije, who was at the scene, told ABC News that the hotel was popular with Westerners and many agencies, including U.N. peacekeepers, stay there regularly.
Hotel receptionist Tambacouye Diarra told ABC News, "The gunman ran after me and shot about 10 times at me."
"I saw people getting shot and injured people being carried out of the hotel," Diarra said.
The Rescues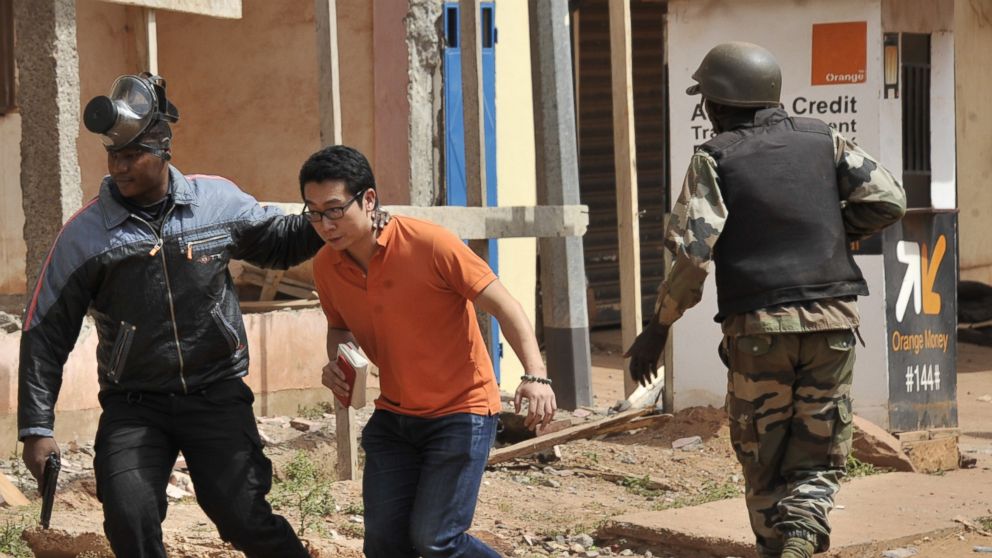 More than seven hours after the incident began, a U.S. defense official said the hostage situation was over.
There were 22 military and civilian U.S. Defense Department personnel in Bamako, including five at the Radisson Blu hotel at the time of the attack, according to a defense official. Everyone was accounted for and there were no reports of injuries, the official said.Some of the five U.S. military personnel in the hotel, including civilians and service-members, hid and avoided being seized by the gunmen, a defense official said.
One U.S. servicemember outside the hotel stepped in to help first responders move civilians from the hotel to secure locations, as Malian forces worked to clear the hotel of hostile gunmen, the defense official said, adding that U.S. forces did not directly participate in the operation.
Another U.S. servicemember helped at the Joint Operations Center, which was set up to respond to the attack.
Six U.S. citizens were rescued from the hotel, according to the U.S. Africa Command.
National Security Council Spokesperson Ned Price said the U.S. is continuing to coordinate with U.S officials to verify the location of all American citizens in Mali.
Also among those in the hotel were three U.N. personnel, who are safe, according to Salgado, as well as Air France and Turkish Airlines crew members, who were also safe, according to the airlines.
The Victims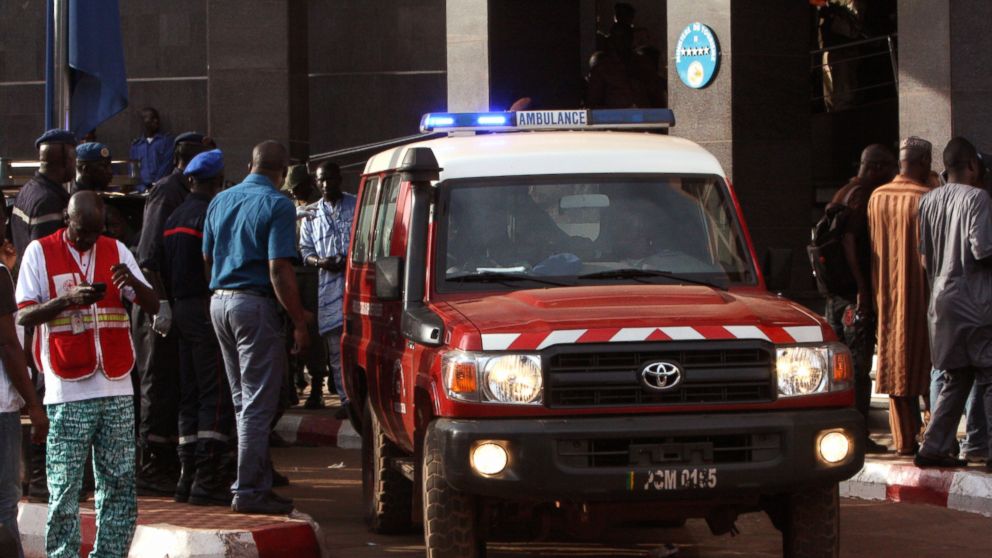 At least 27 people are dead, according to the United Nations.
A Belgian member of Parliament, Geoffrey Dieudonné, was among those killed, Belgium's regional Parliament said. Dieudonné was training officials from Mali's Parliament. The Parliament said the precise circumstances of his death are not yet known.
There were at least three attackers, security officials in Mali told ABC News.
Salgado said two attackers were killed. The total number of attackers was not immediately clear.
Salgado said of the gunman, "They came to kill, not to take hostages."
France's History With Mali
France, the former colonial power in Mali, launched airstrikes in Mali two years ago to prevent the establishment of a terrorist state after armed groups linked to al Qaeda took over vast stretches of Mali. French involvement in Mali eventually morphed into a larger operation that involved ground troops and French special forces. At its height, 4,000 French soldiers were largely successful in helping Mali push the al Qaeda-linked rebels out of the country.
As the hostage situation unfolded, French President François Hollande said that he told Mali's president that France was "available to give the special forces the help they need."
Hollande added, "I would like to ask all French nationals currently in sensitive countries to take all the necessary precautions."
NSC spokesperson Ned Price said the U.S. stands with Mali "and others in the region fighting the terrorist groups that seek to undermine Mali's efforts to build a durable peace following the crisis in 2012 and 2013." Price said the U.S. is prepared to help Mali investigate "this tragic terrorist attack."
ABC News' Ali Ehrlich contributed to this report.
Get real-time updates as this story unfolds. To start, just "star" this story in ABC News' phone app. Download ABC News for iPhone here or ABC News for Android here.