— -- Months of bitter fighting between the Ukraine military and pro-Russian separatists may be nearing an end as the presidents of Ukraine and Russia are both openly talking about the prospects of a ceasefire.
The graphic above shows how, over the past month and a half, the Ukrainian military had been steadily shrinking the rebel's territory until the pro-Russia rebels launched a new offensive.
Ukraine Ceasefire Plan Proposed by Russia's President Putin
Obama to Talk Ukraine, Militants With Euro Leaders
US Ground Troops to Train in Ukraine Next Week
A flurry of recent clashes have now turned the rebel's attention to the coast, causing alarm in towns that had previously been considered far from the battle zones.
The momentum switched dramatically last week when pro-Russian separatists made a sudden push, expanding their enclaves around Donetsk and Luhansk and opening a new front further south by seizing the coastal city of Novoazovsk.
The city is more than 50 miles south of the region where the majority of the fighting had been taking place.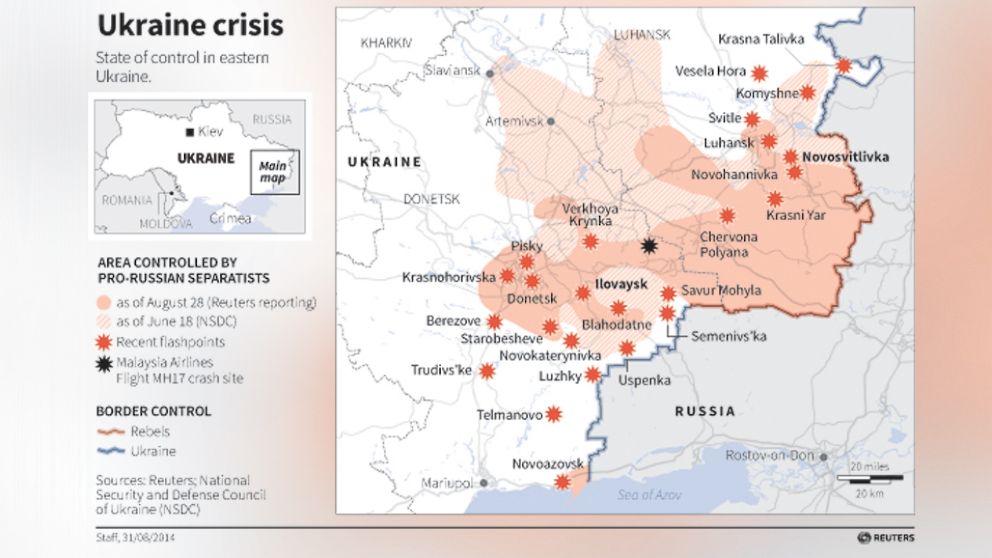 The separatists were able to go on the offensive, according to the Ukraine government and NATO officials, because Russia sent its troops across the border to ensure the rebels weren't defeated. Russia denies the accusation.
In spite of Russia's denials that they have troops in Ukraine, NATO announced the creation of a force of 4,000 troops who will be ready to address Russia's "aggressive behavior," NATO Secretary General Anders Fogh Rasmussen said Monday.
The chances of an end to the shelling that has taken a terrible toll on civilians emerged after a phone call between Russian President Vladimir Putin and Ukraine President Petro Poroshenko.
Putin has now proposed a seven point plan for a permanent break in the fighting, which includes the pro-Russian forces to halt their advances and for Ukraine's military to pull back out of artillery range.