Marines Missing on Helicopter After Nepal Quake Could Last Weeks on Supplies, Experts Say
Experts: Helicopter missing in Nepal was well-equipped for a survival situation.
— -- The U.S. helicopter that went missing this week after an earthquake in Nepal with six U.S. Marines and two Nepalese service members on board was well-equipped for a survival situation, according to information provided by the U.S. Pacific Command.
"The aircraft itself is equipped with a first aid kit, fire extinguisher and a radio," Major David Eastburn, a spokesman for U.S. Pacific Command, told ABC News. "The survival radio, flares, signal strobes, signal mirrors, water, water purification tablets, survival blanket, knife, rope and other survival equipment are all carried on the individual crew members' vests."
In addition, Marine air crews are typically equipped with other survival items, including cold-weather clothing, fire starters, a compass, a flexible saw and a tourniquet -- and the helicopter that went missing on a relief mission in Nepal Tuesday may have had those items, as well, according to Eastburn.
The helicopter also is believed to have been carrying an unknown quantity of tents and rice the crew intended to deliver to Nepalese villages still suffering from the earthquake that rocked Nepal Tuesday.
While no one knows what happened to the missing helicopter, survival experts believe that if it crashed and the crew members survived, they would stand a good chance of staying alive long enough to be rescued.
"They can survive for a couple of weeks, as long as they have water and shelter," Sean Burch, who has hiked across Nepal and who that country honored as a goodwill ambassador for aid work in 2011, told ABC News.
Two UH-1Y Hueys, two MV-22 Ospreys, one Indian MI-17 and three Nepalese helicopters have searched for the missing UH-1Y Huey, but have not yet located it.
Burch wasn't surprised to hear that search crews had yet to identify a crash site.
"With the Himalayas, it's very difficult to see," he said, noting the mountain range's steep terrain and hard-to-spot corners.
But, he added, "They could still be alive."
"These are Marines, they aren't average tourists," Burch said.
Christopher Nyerges, author of "How to Survive Anywhere," believes that in a survival situation, teamwork and communication are often more important than actual survival gear, things he believes Marines excel at.
"The Marines are trained for trouble," Nyerges said.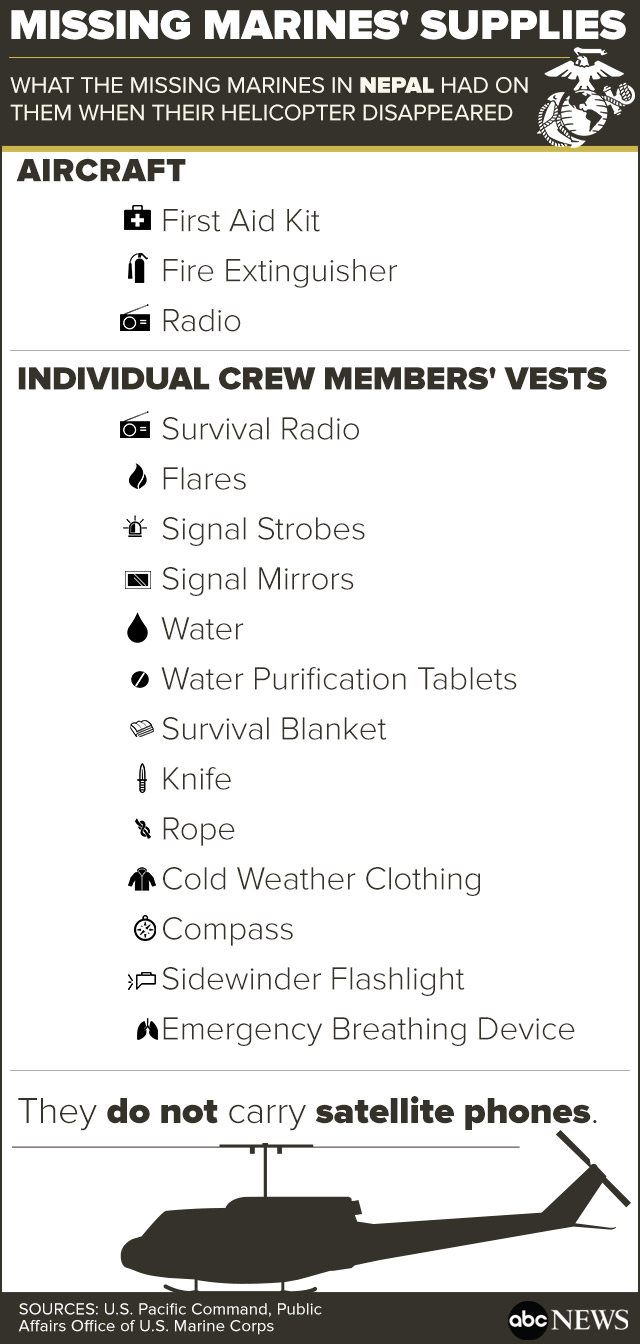 ]/>