'Catastrophe': Experts fear dramatic consequences from Ukraine dam collapse
Ukraine is investigating a possible case of "ecocide."
The collapse of Ukraine's Kakhovka dam has left behind vast quantities of beached fish, contributing to fears of an environmental disaster along the country's Dnipro River.
Video verified by ABC News showed large quantities of beached fish lying on the depleted shoreline of the Dnipro River.
In a video posted to Telegram by Andriy Yermak, head of Ukraine's presidential office, a man's voice can be heard stating that the date is June 7 and that his location is "Mar'yans'ke, Dnipropetrovsk region." ABC News geolocated the video to Mar'yans'ke, which lies on the Kakhovka reservoir around 65 miles upstream from the dam.
The dam and hydro-electric power plant in Russia-occupied southern Ukraine breached early Tuesday, prompting mass evacuations and fears of widespread ecological devastation with Ukraine accusing Russia of committing an act of "ecocide."
Russia has denied responsibility for the collapse, instead blaming Ukraine.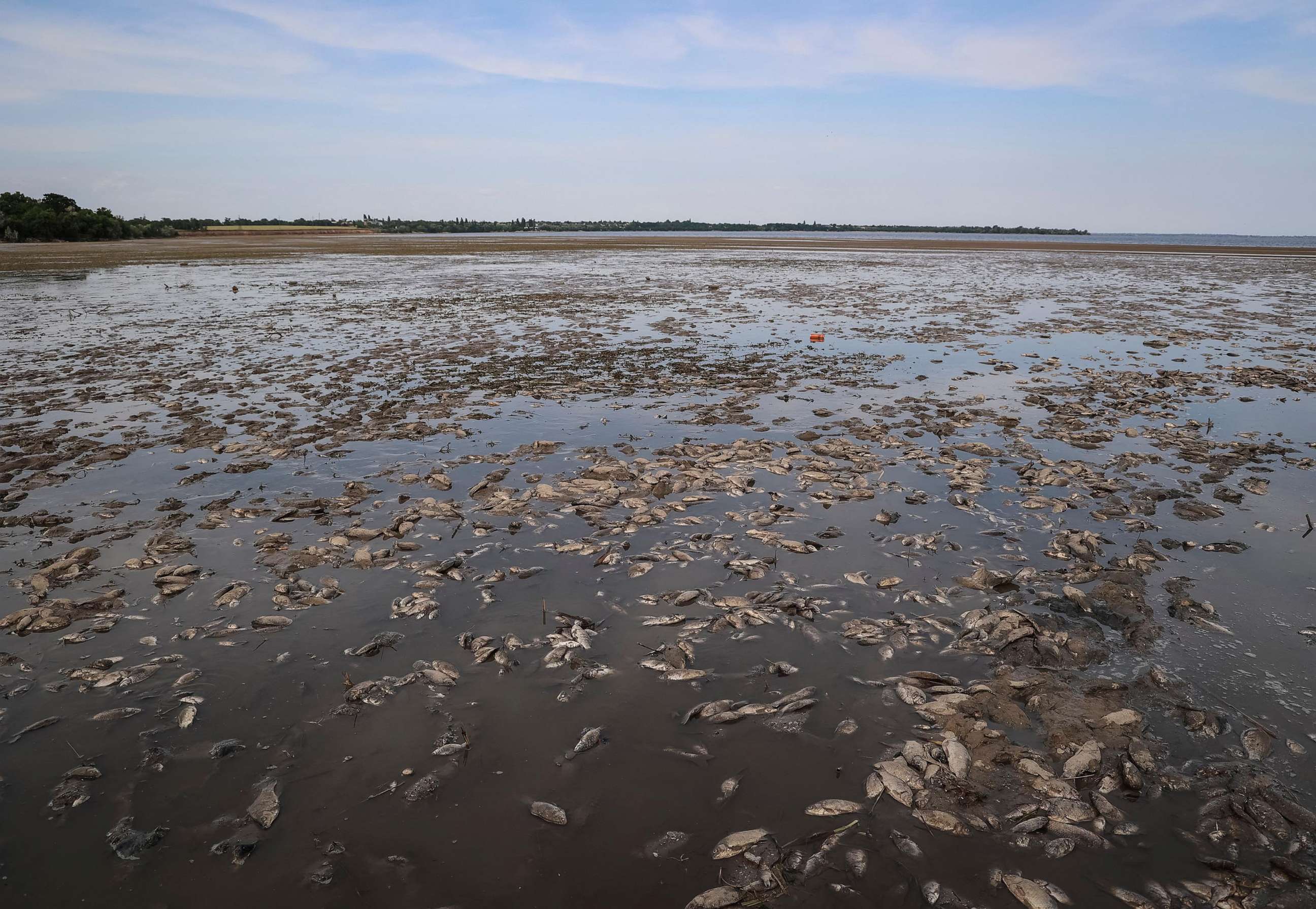 The area of Ukraine's southern Kherson region beneath the dam continues to reel from extreme flooding, but upstream of the dam, water levels have sharply receded in the Kakhovka reservoir feeding the river.
Roman Novitskyi, who studies fish at Ukraine's Dnipro State Agrarian and Economic University, told ABC News he was "not surprised" by the videos.
"Unfortunately this is exactly the kind of development we expected," Novitskyi told ABC News. "The Kakhovka reservoir is shallow, so as soon as the water recedes, large areas are immediately drained."
"In the video," Novitskyi said. "I see a lot of crucians, gobies, carps— valuable species of fish."
"This shows damage is being done to the fishery," he added.
Novitskyi said the Kakhovka reservoir contains some 10-15,000 tons of fish, while the smaller Dnipro reservoir to the north contains at least 4,000 tons of fish.
Contamination fears
Yevhen Korzhov, a hydrologist from Ukraine's Kherson State Agrarian and Economic University, told ABC News that the summer temperatures worsen the health risks from the dam breach, with living matter breaking down faster and in turn further contaminating water supplies.
"In the coming months, we will observe the deterioration of the quality of drinking water and the infection of fish, birds and aquatic animals," Korzhov said.
Korzhov said that early calculations suggested some 3,600 square kilometers of water in southern Ukraine were at risk of contamination.
The Ukrainian Ministry of Public Health on Wednesday informed residents to expect "a plague of fish," warning residents against collecting fish owing to the risk of botulism and intestinal infection.
And in a post on the messaging app Telegram, Ukraine President Volodymyr Zelenskyy warned that hundreds of thousands of people who normally rely on the Kakhovka reservoir have been left without access to clean drinking water.
Claims of 'ecocide'
Kateryna Polianska, an ecologist from the Ukrainian Environment People Law NGO told ABC News that the dam collapse will bring widespread habitat disruption to important national parks such as the UNESCO- protected Black Sea Biosphere Reserve, and even on the wider region including Romania, Georgia, Turkey and Bulgaria.
"This will change the population of birds and fishes in the region. It will destroy their breeding systems," Polianska said.
"It is a huge catastrophe for the ecosystem. It is so very hard. It's our nature, it's our Ukraine," she added.
Ukraine's country's public prosecutor told Reuters on Tuesday that it is investigating a possible case of "ecocide" in connection with the collapse of the dam.