After six days, 100,000 hours of work and hundreds of searched acres, the United Kingdom's hunt for an alleged gunman continues. Raoul Moat, 37, is suspected of three shootings that left one man dead and a police officer critically injured in Northern England. He has been on the run since Saturday and believed to be a threat to the general public.
"I want to stress that we have the resources and resilience to deal with this situation," said Northumbria Police temporary Chief Constable Sue Sim during a news conference on Thursday.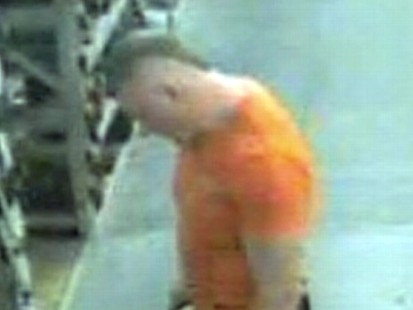 The Northumbria Police have searched throughout the week for Moat, with officers, special forces and search dogs scouring the rural countryside near the town of Rothbury. London's Metropolitan police snipers and 20 armored cars from Northern Ireland joined the search.
"The searches in this area have proved a particular challenge due to the open farmland and dense woodland and officers are continuing in their efforts today. I'd like to reassure the public that we are doing everything possible to locate Moat and bring this investigation to a conclusion," temporary Deputy Chief Constable Jim Campbell said in a press release.
Moat, the father of three, allegedly shot his ex-girlfriend Samantha Stobbart, 22, at her parents' home and killed her partner Chris Brown, 29, on Saturday. The following day, he shot police officer David Rathband, 42, in his patrol car outside of Newcastle.
Rathband is still in critical condition, while Stobbart is currently recovering in the hospital.
Moat is also a suspect in the armed robbery of a Fish and Chips restaurant on Monday. After demanding cash from the restaurant staff, the robber escaped on foot.
"I think he has access to ammunition. He is probably on his own," Northumbria Police's Detective Chief Superintendent Neil Adamson told the BBC.
Adamson also said he had a "gut feeling" that Moat was still in the Rothbury area, where police have focused their search.
Police received a tip from Moat's ex-girlfriend Yvette Foreman, 35, that Moat was familiar with the Rothbury landscape because they had often camped in that area when they were dating during their early twenties.
'I Won't Stop Till I'm Dead.'
Rothbury farmer Jessica Taylor saw smoke from a campsite near an abandoned farm on Tuesday.
"I thought it was suspicious and went to the police," Taylor told the Daily Mirror. "I thought it could be him, so I didn't want to up there. It's very scary."
Moat's campsite was found by police Wednesday in a secluded spot outside of Rothbury. Police seized the tent and some personal items, among them an 8-page hand-written letter to Stobbart. In the letter, Moat said that he believed Brown was a police officer. This belief was, in fact, unfounded.
This was the second letter recovered by the police during the investigation. The first, discovered on Monday, indicated that Moat desired to wage war on the police.
The note read: "The public need not fear me but the police should as I won't stop till I'm dead."
Moat was released from prison on July 1, after serving an 18-week sentence for assault. Prior to the manhunt, he had been arrested 12 times for seven different offenses.
Stobbart's sister Kelly told the Daily Mirror that Moat, a bodybuilder, was also addicted to steroids, which have been linked to aggressive behavior.
"He's been taking steroids as long as I've known him. He's addicted and it gives him violent mood swings. He's also on antidepressants and used to be a drug dealer, so God knows what he takes," she said.
But those who knew him well have trouble believing his murderous quest.
"He is not my son," Josephine Healy, Moat's mother, told The Sun. "I just don't recognize him as my son. My son was loving, non-violent.
"If I could speak to him now, I would say he would be better off dead."
Assisting the Offender
Police arrested Karl Ness, 26, and Qhuram Awan, 23, on Tuesday in connection with Moat's disappearance. The two men were arrested when found wandering around the streets of Rothbury. Originally believed to be hostages, Ness and Awan are believed to have helped Moat hunt for police officers. The two men appeared before magistrates in Newcastle on Thursday and face charges for conspiracy to commit murder and possessing a firearm with intent.
Wilson told ABC News that two more people were arrested on Wednesday on suspicion of assisting an offender.
Moat's murderous rampage comes on the heels of that of Derrick Bird, who killed 11 and injured 12 people before killing himself in Cumbria on June 2.
The Northumbria Police is looking to the public for help in the investigation. They have offered a £10,000 reward for information that directly leads to Moat's capture.