Nepal Earthquake: Death Toll Jumps Over 2,100
The earthquake struck near Kathmandu, Nepal's capital.
— -- Rescue crews were racing to pull survivors from the rubble this evening after a powerful earthquake struck Nepal, even as officials said the death toll had soared over 2,100.
The earthquake hit about 50 miles northwest of the capital of Kathmandu just before noon local time, according to the U.S. Geological Survey. The magnitude-7.8 quake toppled temples and triggered an avalanche on Mt. Everest.
At least 2,100 people have been killed, the Nepal Interior Ministry told ABC News on Sunday.
More than 1,000 others were injured, said the country's finance minister, Ram Sharan Mahat.
At least 51 were also killed in India, 17 in Tibet, two in Bangladesh and two Chinese citizens died at the Nepal-China border.
Sanjay Karki, country director of Mercy Corps in Nepal, said the ground was still shaking and there were predictions that another strong quake could come.
"The hospital has been overflooded with casualties," Karki said. "People just emptying their houses and you know, coming to open spaces, with blankets, with the children and all."
According to the United Nations, nearly 5 million people were impacted by the earthquake, which was believed to be the worst earthquake in Nepal in more than 80 years.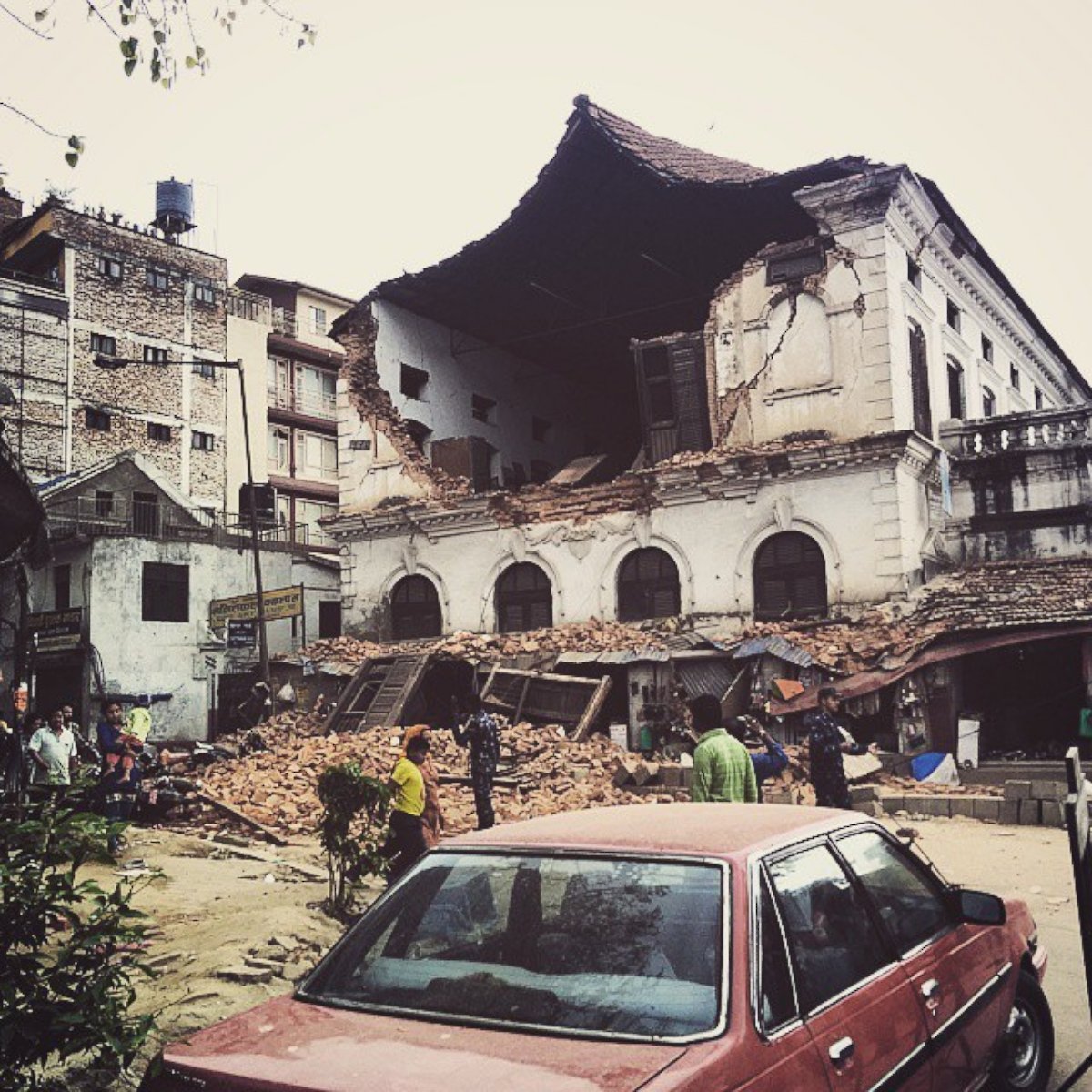 Abigail Hunter, an American traveling in Bhaktapur, saw people pulling others out of buildings and using motorbikes and small trucks as makeshift ambulances. The earthquake reduced many of the temples inside the city about 30 minutes away from the capital to rubble, she said, adding that she saw "lots of people praying to the actual temples" as aftershocks hit the city.
"The streets are littered with bricks, debris, loads of dust," said Hunter, the sister of an ABC News employee. "[It] was hard to see during the earthquake with all the dust."
A magnitude-6.6 aftershock hit about an hour after the initial earthquake and smaller aftershocks followed in the region for hours.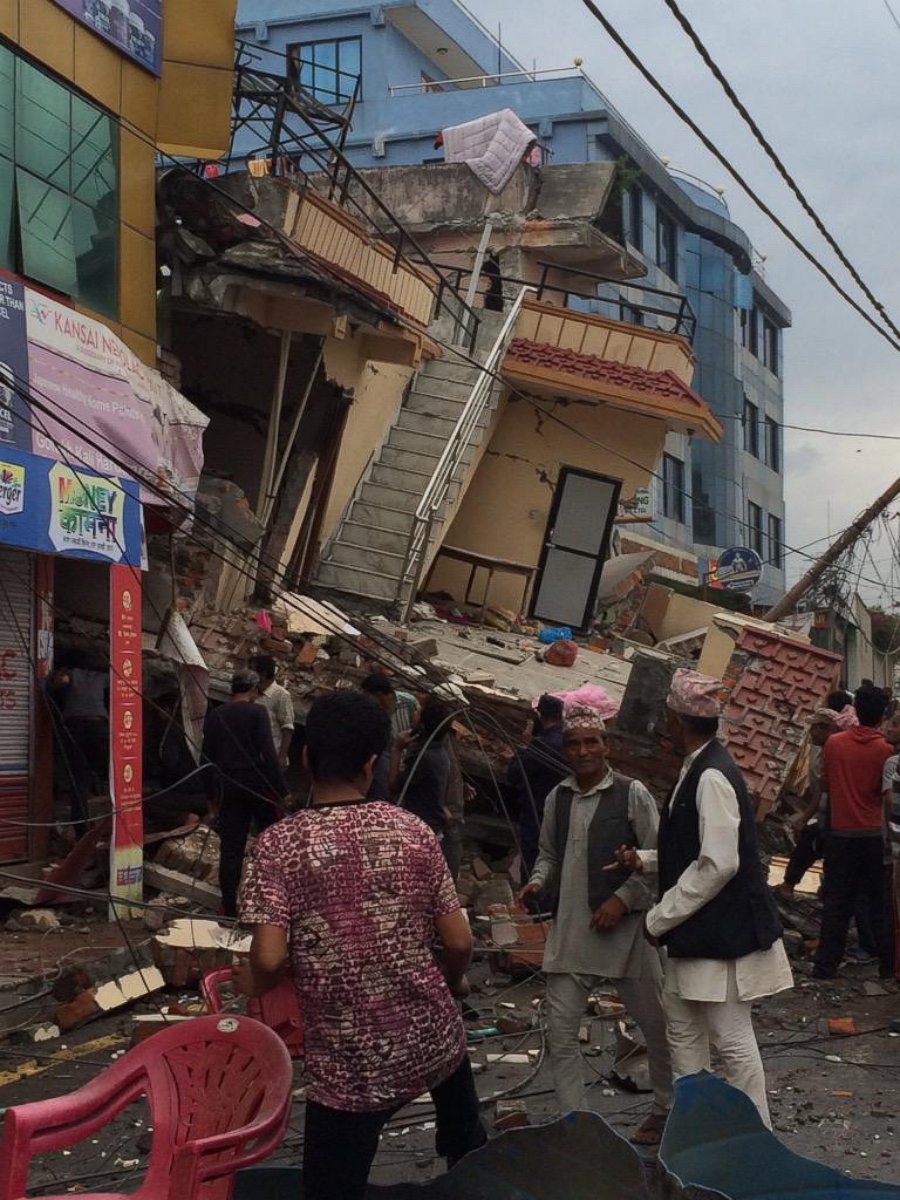 Hunter said she watched as families ran to their homes to see if anyone was still inside.
"Everyone was very scared," she said. "Lots of crying, families trying to find each other."
Ayal Weiner-Kaplow, another American visiting Bhaktapur, said water wasn't flowing in the city and most of the remaining food was dried junk food and crackers. He said he wandered around in search for something to eat until he came upon a restaurant.
"A restaurant owner filled us up -- all of our bottles -- and gave us potatoes, bread, and chicken, refused payment adamantly," he said. "I was actually moved to tears."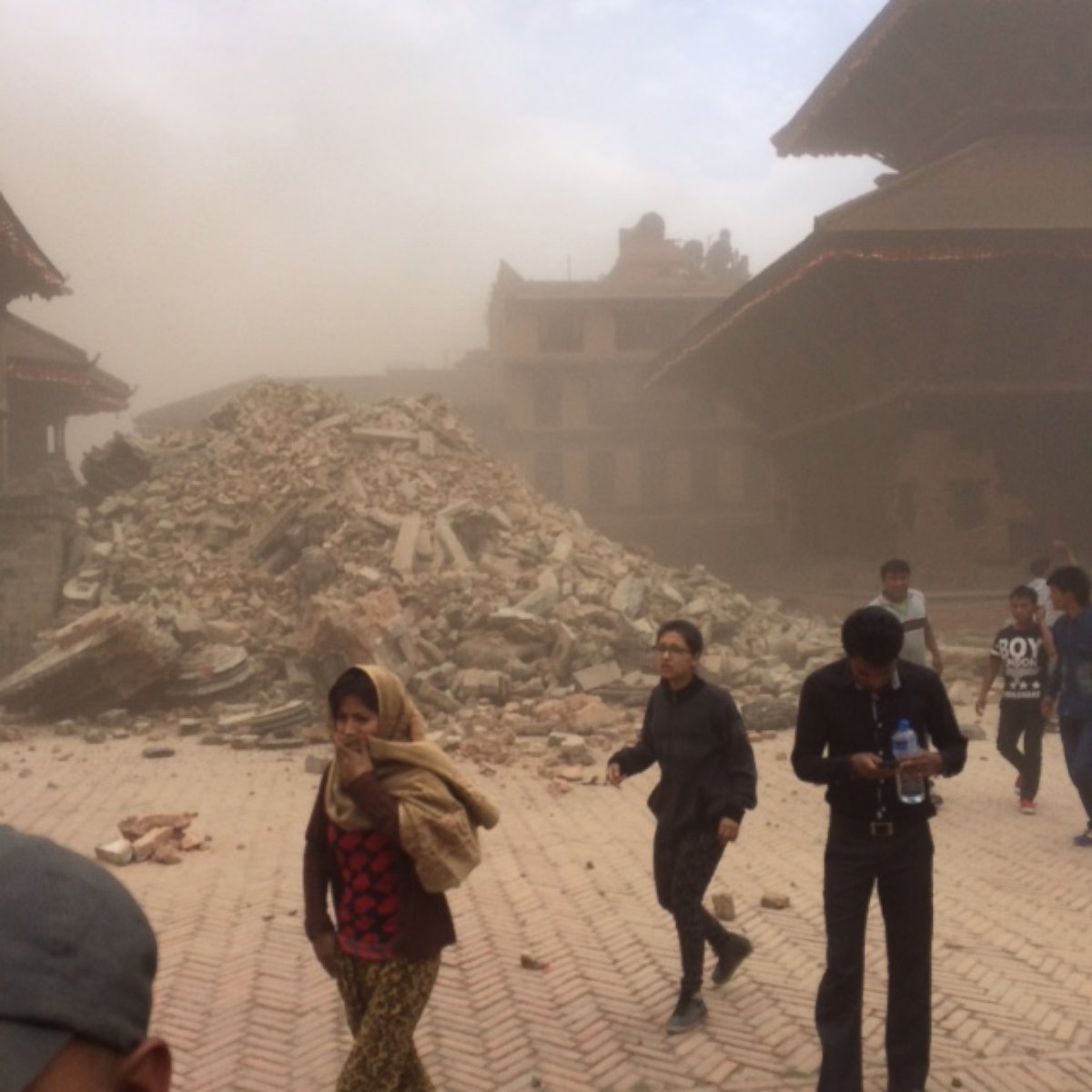 Weiner-Kaplow said most Nepalis were planning to sleep outside tonight, believing their homes were unsafe if another earthquake struck.
The quake also killed 34 in India, six in Tibet, two in Bangladesh, and two on the Nepal-China border.
The quake also triggered an avalanche on Mt. Everest that killed at least 10 climbers and guides and injured many more.
David Arvan, who was set to climb Mt. Everest, said he immediately realized it was an earthquake, after having felt quakes before living in California.
"We sought shelter under a concave boulder until it subsided," he told ABC News by email. "Some people were crying in fear during all the rumbling."
Azim Afif, a climber from Malaysia, was at a base camp when the quake hit and everything in his tent starting shaking.
"We go out and we see a big snowstorm coming to us," he said, adding that he saw "white, nothing else than white."
"We are very lucky to survive," Afif said.
The U.S. government is providing $1 million in assistance, according to the U.S. Embassy in Nepal. Disaster relief teams are en route.
Secretary of State John Kerry said in a statement, "To the people in Nepal and the region affected by this tragedy we send our heartfelt sympathies. The United States stands with you during this difficult time."
The Pakistan Army also said it is sending relief teams.
ABC News' Jon Williams, Rym Momtaz and The Associated Press contributed to this report.