Nikki Haley to UN on North Korea's nuclear program: 'Enough is enough'
The American envoy to the U.N. said Kim Jong Un is "begging for war."
September 4, 2017, 2:03 PM
— -- U.S. Ambassador to the United Nations Nikki Haley told the Security Council today that its incremental approach toward getting North Korea to stop its nuclear program has failed.
"To the members of the Security Council, I must say, enough is enough," she said at an emergency Security Council meeting, which was called in response to North Korea's sixth and strongest nuclear test, on Sunday. "We have taken an incremental approach, and despite the best of intentions, it has not worked."
"The time has come to exhaust all diplomatic means to end this crisis," Haley said. "Only the strongest sanctions will enable us to solve this problem through diplomacy."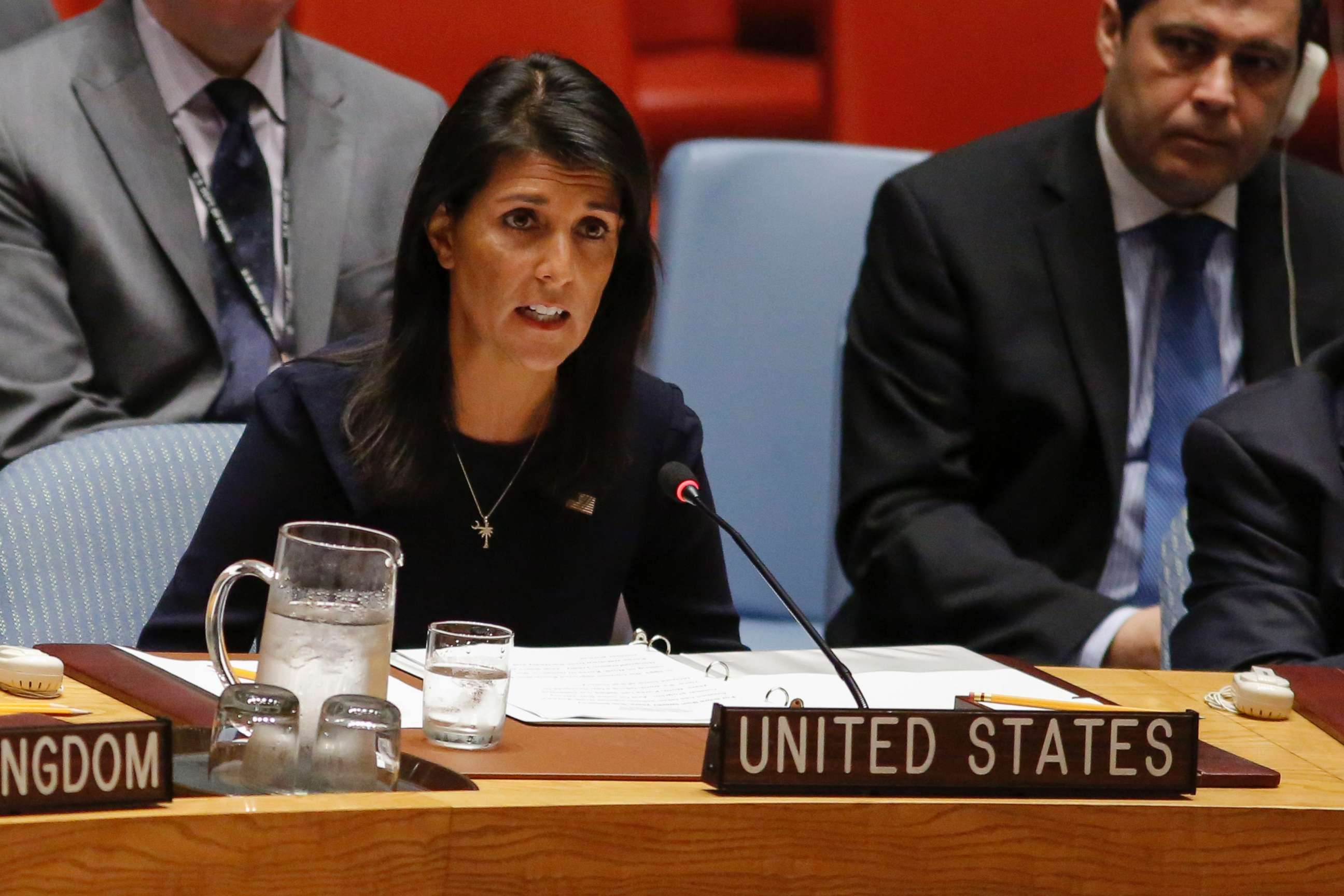 North Korean leader Kim Jong Un is "begging for war," she said. "The stakes could not be higher. The urgency is now."
Haley appeared to back up statements by Treasury Secretary Steve Mnuchin and President Donald Trump calling for sanctions against any countries that do business with North Korea.
"The United States will look at every country that does business with North Korea as a country that is giving aid to their reckless and dangerous nuclear intentions," she said.
The Security Council emergency meeting was called at the request of the U.S., Japan, France, the U.K. and South Korea after North Korea's test of what it claimed was a hydrogen bomb that could be loaded on an intercontinental ballistic missile.
It was the second such meeting in less than a week about North Korea's persistent tests of missiles and nuclear weapons.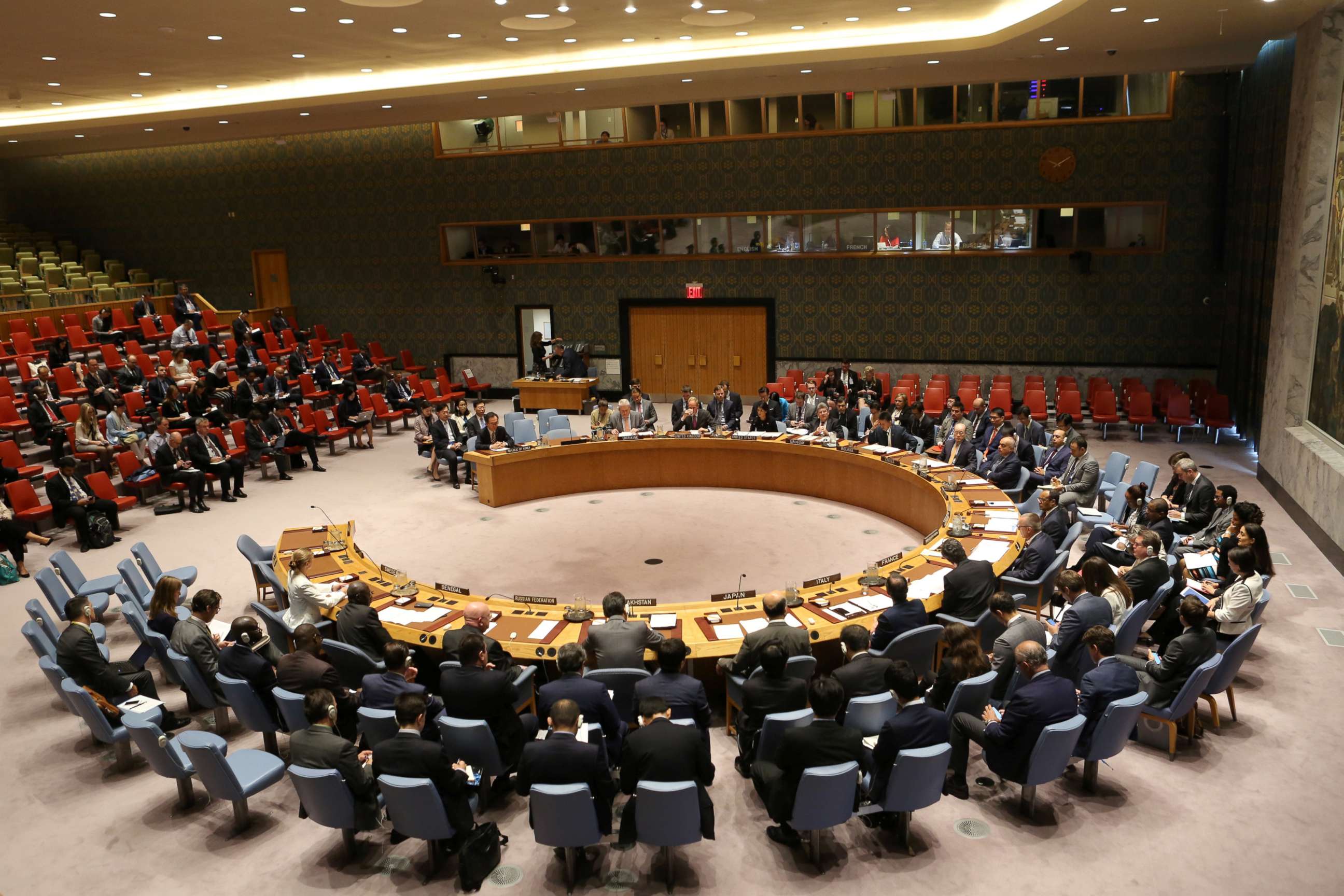 South Korea warned today that its neighbor to the north is preparing to launch a ballistic missile.
South Korea's primary intelligence agency, told one of the country's lawmakers about the potential launch, according to the Yonhap News Agency, based in South Korea.
A news reader for a North Korean state-run television announced the purported hydrogen bomb test early on Sunday, saying it was ordered by Kim Jong Un. The broadcaster called it a "complete success," adding that the "two-stage thermonuclear weapon" had "unprecedented" strength.
A U.S. intelligence official told ABC News on Monday, "We're highly confident this was a test of an advanced nuclear device and what we've seen so far is not inconsistent with North Korea's claims"
The explosion was the most powerful of North Korea's six nuclear tests so far. Hydrogen bombs are stronger than the atomic bombs America dropped on Hiroshima and Nagasaki in Japan during World War II.
'Unfair' threats to cut off trade
China, a trade partner of North Korea, pushed back earlier today against the any threat of sanctions over Pyongyang's nuclear weapons program.
"What is definitely unacceptable to us is that on the one hand we work so hard to peacefully resolve this issue and on the other hand our interests are subject to sanctions and jeopardized," Chinese Foreign Ministry spokesman Geng Shuang said at a news briefing. "This is unfair."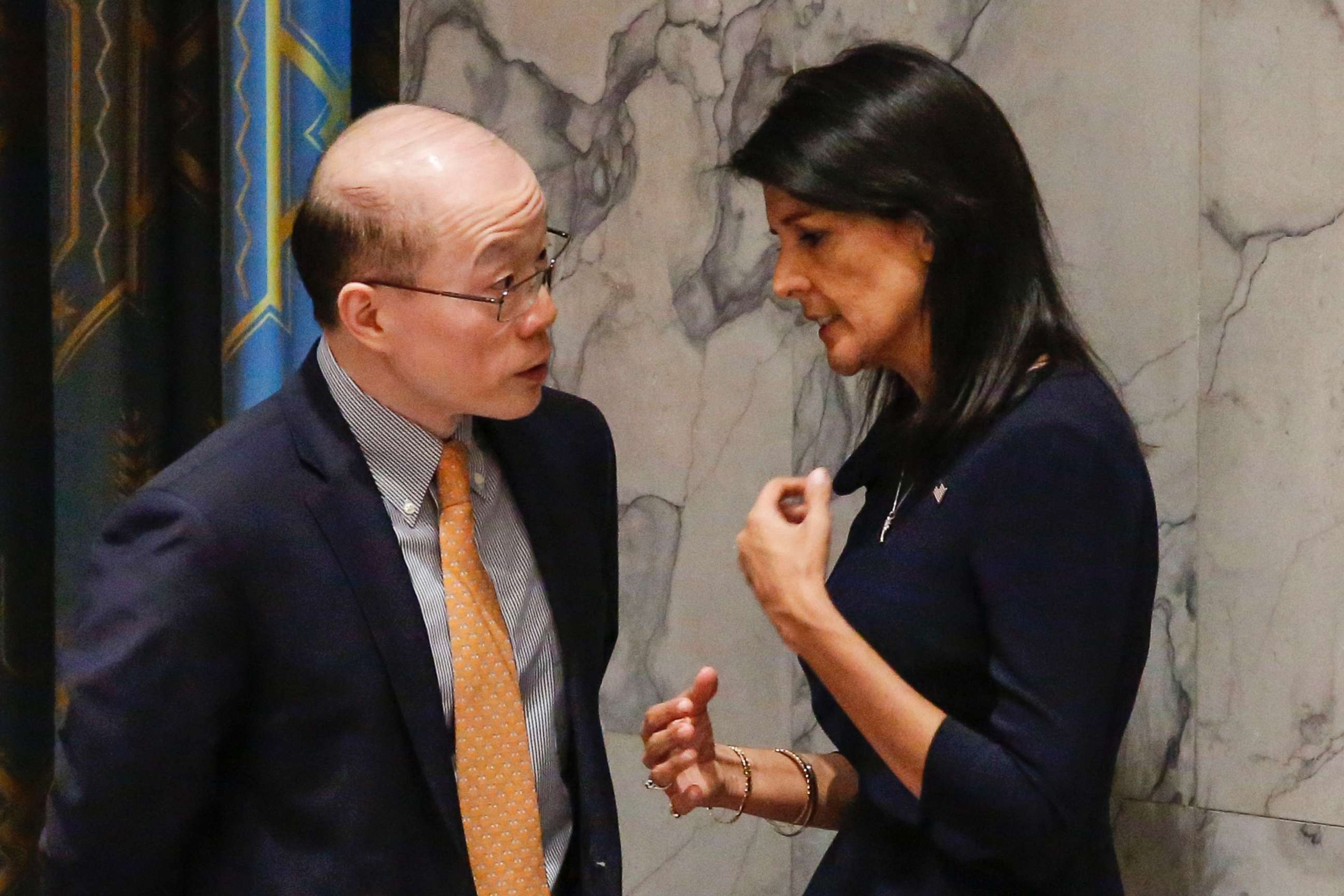 Mnuchin on Sunday morning announced possible U.S. sanctions against North Korea's trading partners.
"We've already started with sanctions against North Korea," Mnuchin said on "Fox News Sunday." "But I'm going to start a sanctions package to send to the president, for his strong consideration, that anybody that wants to do trade or business with them would be prevented from doing trade or business with us."
Mnuchin added that the U.S. will work with allies and China toward taking more forceful steps to cut off North Korea from the global economy.
Trump backed up Mnuchin's words later on Sunday, saying on Twitter, "The United States is considering, in addition to other options, stopping all trade with any country doing business with North Korea."
Other leaders from around the world have condemned North Korea's most recent nuclear test.
ABC News' Luis Martinez contributed to this story.