Surrounded by imposing walls and with around-the-clock security, the tony Silver Woods Estates in Pretoria seem like an oasis from violent crime for some of South Africa's most affluent citizens, among them, Oscar Pistorius.
Interested in
?
Add as an interest to stay up to date on the latest news, video, and analysis from ABC News.
Despite living in one of the most exclusive residences in the country, the Blade Runner testified at his murder trial today that it had been hardwired into him since his youth that he should always be on the defensive against crime.
He's not alone. Pistorius' trial, which even has its own television channel, has sparked a conversation about the culture of crime and gun ownership in South Africa.
He is charged with shooting his girlfriend Reeva Steenkamp through a locked bathroom door before dawn on Valentine's Day 2013. He claims that he mistook his girlfriend for an intruder.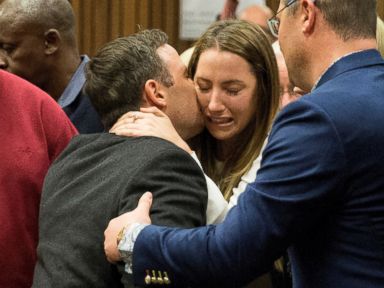 At the time of Steenkamp's death, Pistorius had several more guns on order. His trial also includes charges for accidentally discharging a gun in a restaurant and firing a gun through the sunroof of a car.
The country's latest crime statistics, which cover 2012-2013, show an increase in murder, attempted murder, armed robberies and sexual offenses, according to Africa Check.
Among the 16,259 murders reported in South Africa was that of Reeva Steenkamp, Pistorius' girlfriend. Pistorius, 27, is being tried for murder in Steenkamp's death.
The country's murder rate also increased to 31.3 per 100,000 people, according to Africa Check, which reflects an increase of 2.8 percent.
"After a long period of decreases in serious and violent crime, these are the worst figures we have seen in 10 years," Gareth Newham, a director at the Institute for Security Studies, said in a statement.
There are an estimated 12.71 licit and illicit firearms per 100 people in South Africa, according to GunPolicy.org, and many people, like Pistorius, own weapons for self-defense.
By comparison, GunPolicy.org reports that there are 6.7 firearms per 100 people in the United Kingdom.
While South Africa's gun ownership rate is high, it doesn't come close to the United States, where there are enough guns, both licit and illicit, to arm the entire population, according to GunPolicy.org.
In talking about his childhood, Pistorius said his mother slept with a firearm tucked inside a padded bag underneath her pillow.
"She often got scared at night. We didn't live in the best of areas. There was a lot of crime. She would call the police, call us to her room and we would wait for the police to arrive," he said.
The Blade Runner, who owned several guns and said he used to sleep with one, said he thought Steenkamp was an intruder and he feared for his life when he shot her through a bathroom door.
Pistorius' attorney sought to prove the athlete had an acute awareness of crime occurring to others and framed his questions around his past experiences.
Twice, Pistorius testified, he intervened to rescue someone who was being attacked, using his gun to scare off a trio of men beating a cab driver with rocks, he said.
Pistorius also recounted a 2009 boat accident that left him with a smashed face and forced doctors to put him in an induced coma.
"I was a lot more vigilant of losing my life after that. I became quite fearful, I became quite withdrawn," he said.
Now, with his freedom on the line, Pistorius said he never wants to touch a gun again. Still fearful, he said he instead now has a security man stand outside his door.