— -- Just hours after the public got its first look at Tashfeen Malik, a new photo and some new information emerged overnight about the background of the female San Bernardino, Calif. shooter, a mother-turned-killer who officials increasingly believe was the mastermind of the horrific attack.
The photograph, taken from around the time of Malik's college days in Pakistan between 2007 and 2012, is the second that has become public. Friday evening ABC News published the first, and in both the young woman has her hair covered and looks unsmiling into the camera.
Law enforcement officials told ABC News that while there is no hard evidence that Malik was the leader of a terrorist conspiracy, she is increasingly becoming the focus of investigators as the shooting's possible "mastermind." Her purported skill in wielding one of the assault-style weapons, for instance, led counter-terrorism analysts to assess that she "had some training."
Investigators are also examining any possible digital footprint from the couple, attempting in part to determine if Farook had any social media connection to a known American ISIS recruiter named Mohamed Hasan who uses the online handle "Miski," federal authorities said today. Originally from Minneapolis, Minn., the FBI fugitive is thought to be living overseas. He was previously linked to a failed ISIS-inspired plot in Texas this May.
Tashfeen Malik: Born in Pakistan, Grows Up in Saudi Arabia, Kills in America
Tashfeen Malik was born in Pakistan, but moved to Saudi Arabia when she was just four years old, according to an official close to the Saudi Arabian government. Overnight a family friend of the Maliks in Pakistan told ABC News her father, Gulzar Malik, was an engineer who spent most of his career in Saudi Arabia. He was known for helping the poor and building a mosque in his neighborhood, the family friend said. He was also an ultra-conservative Salafist Sunni who held strong anti-Shia views.
Tashfeen Malik moved back to Pakistan at least by 2007, attended Bahuddin Zakri University in Multan and stayed until 2012, according to a Pakistani intelligence official. She was said to be a brilliant student and was not known to have religious or political affiliation while there.
When it comes to how Tashfeen Malik met Syed Rizwan Farook, her future U.S.-born husband and killer accomplice, the family friend provided new but conflicting information. Friday an attorney for Farook's family said that the couple met on a dating website, a version of events that Malik purportedly gave to U.S. consular officials when applying for a visa in 2014, according to a U.S. government document obtained by ABC News. U.S. officials had said it's possible the couple met in Saudi Arabia in 2013, but it's certain that after Farook took a nine-day trip to Saudi Arabia in July 2014, he returned to the U.S. with Malik in tow. They were married in the eyes of U.S. law a month later.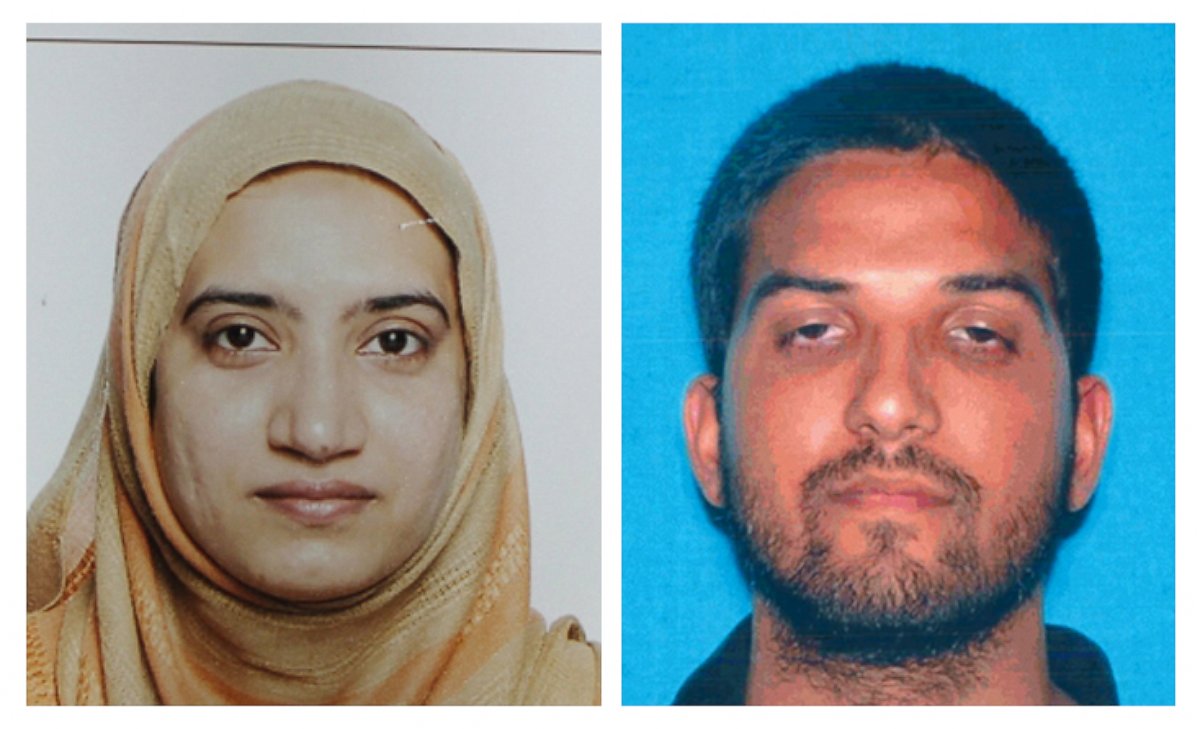 But the family friend, who said he's known the Malik family for years, said Malik and Farook were first connected by family, rather than the internet. He told ABC News that a relative of Farook's father worked with Malik's father and that Farook and Malik may have met as early as 2009.
A step-aunt of Malik's in Pakistan told The Associated Press she understood Malik had grown to be more zealous in her faith over the last three years, changing from western clothes to the hijab and more conservative burka. However, the woman also said she had never actually met Malik and that her immediate family and Malik's were not on speaking terms. A professor at the college Malik attended until 2012 told The Washington Post he remembered her wearing a "complete veil" and being a "religious-minded student."
Malik came to the U.S. in 2014 on what is known as a "fiancé" visa, which allows an American fiancé to petition for his or her partner's temporary entry before marriage. Malik received her Green Card this summer, U.S. officials said.
Six months ago, the couple had a baby daughter and named her according to a naming convention more common to Arab families, rather than in the typical Pakistani manner.
How Malik purportedly became radicalized enough to post the alleged pledge of allegiance to ISIS and help kill more than a dozen people in a quiet California town is still a mystery.
Investigators are also still puzzling over Malik's exact role ahead of the San Bernardino shooting -- whether she may have radicalized Farook, whether it was the other way around, or whether this was an act of radicalism at all.
"I don't know the answer, whether she influenced him or not. Being a husband myself, we're all influenced to an extent. But I don't know the answer," FBI Special Agent David Bowdich told reporters Friday.
In addition to Malik's suspected "training," an online dating profiled set up by Farook years ago indicated he too had experience with firearms -- among his hobbies, he listed shooting "target practice."
The FBI announced Friday it was treating the investigation as one into an "act of terrorism," but no official motive has been determined.
An official close to the Saudi Arabian government said that Saudi intelligence officials did not have Malik on any of their watch lists and she did not appear to have any link to extremists in the region. Neither Malik or Farook were on the FBI's radar in the U.S., officials said.
Friday lawyers for the Farook family cast doubt on the reports of the ISIS pledge and said that there hasn't been any real evidence that the couple has any "extremist tendencies."
"None of the family knew of him as being extreme, aggressive or having any extreme religious views," one of the attorneys said.
The other noted that Malik was very soft-spoken and conservative -- so much that Farook's brothers never saw her face, due to the full burqa she always wore in public.
As the FBI continues to investigate, Nada Bakos, a former CIA analyst, told ABC News she would not be surprised if Malik had been ISIS-inspired. "Terrorism is not gender-specific," she said.
A recent report by George Washington University's Center for Cyber and Homeland Security said that of the 71 individuals arrested in the U.S. since March 2014 with purported ties to ISIS, 10 were female.
Bakos, whose work with the CIA concentrated on al Qaeda in Iraq (AQI), the precursor to ISIS, told ABC News she often tracked female extremists for the Agency and noted that AQI infamously used a female suicide bomber in a failed suicide attack in Jordan in 2005 – the woman had hidden a bomb under her dress, but it failed to detonate.
"Men don't have a monopoly on terrorism or conducting violent acts," she said. "At this point, in the evolution of terrorism, it wouldn't be surprising to see a woman take an operational role."
Malik, 29, and Farook, 28, were killed Wednesday in a shootout with police less than two miles from the mass murders at the Inland Regional Center in San Bernardino. After news broke of Malik's alleged pseudonymous pledge to ISIS's leader, a media group affiliated with ISIS released audio and text statements hailing the two as "soldiers of the Caliphate" and "supporters," but the terror group did not take responsibility for playing any operational role in the attack and today only mentioned it in the audio message as part of a kind of news roundup.
ABC News' Justin Fishel contributed to this report.
[Editor's Note: An ABC News report on Tashfeen Malik published Friday said Malik provided a nonexistent address to U.S. officials when she applied for the fiancé visa. Local residents since said the version of the address provided is not precise but the family does own a house in the neighborhood.]