— -- Pope Francis is cleaning out his closets and raffelling off items that range from a hat to a Fiat car he never used.
The pope's raffle of items that were given to him will end this Thursday when the winning numbers will be announced on the Vatican website. But you can only buy tickets at the Vatican.
The pope is raising money for the poor through the raffle that was first publicized by a poster that went up at the Vatican around November.
Among the 13 items are a new four-wheel-drive Fiat Panda, a leather suitcase, a Homero Ortega Panama-style hat, an espresso coffee machine, watches and bicycles the pope has received.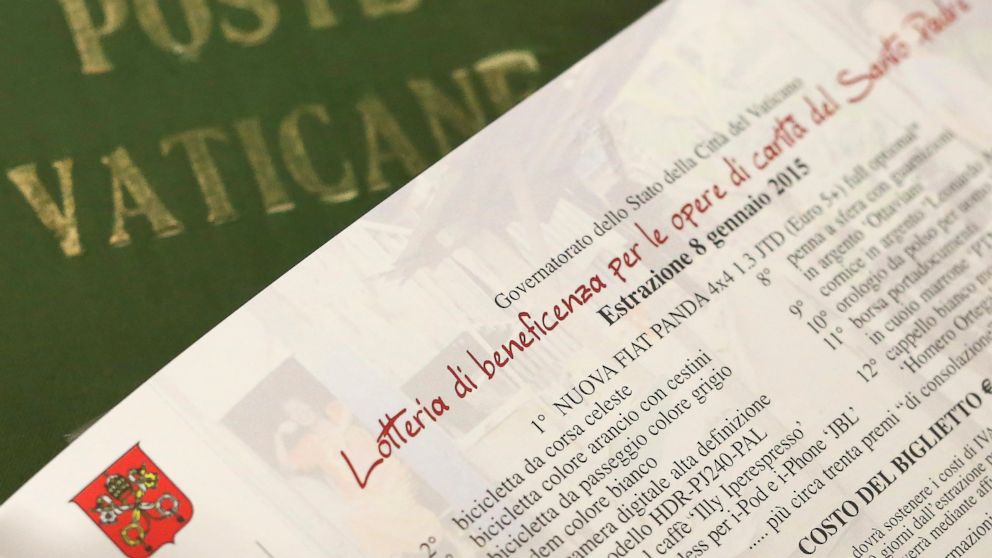 The Fiat car that the pope is raffling is not his famous white "Popemobile," which is a 1984 Renault 4.
In addition to the 13 items listed, there are more than 30 unspecified "consolation prizes." It's not clear who gave the raffle items to Pope Francis.
Tickets for the raffle cost 10 euros, which is about $12 these days, thanks to the falling value of the European currency.
Aiding the homeless and the poor has been a frequent topic of conversation with the pope, who received 400 sleeping bags with the seal of the Vatican sewed on as his birthday present. They were distributed to needy in Rome.
It is the pope's initiative to make headlines. Last month he was credited with being crucial in the thaw of U.S.-Cuba relations.