Pope Francis restates Catholic Church is for everyone, including LGBTQ+ people
"The Lord is clear," the pope insisted on Sunday in Portugal.
LISBON, Portugal -- In one of the most iconic moments coming out of World Youth Day, Pope Francis called on the hundreds of thousands gathered before him to yell back at him that the Catholic Church is for "todos, todos, todos" -- everyone, everyone, everyone.
"The Lord is clear," the pope insisted on Sunday. "The sick, the elderly, the young, old, ugly, beautiful, good and bad."
Taking questions from reporters aboard his flight back to Rome after a five-day trip to Portugal, the pope was asked how he could reconcile his "todos" message with the fact that LGBTQ+ people are excluded from the sacraments. The pope answered the Church has laws, but is still a place for everyone.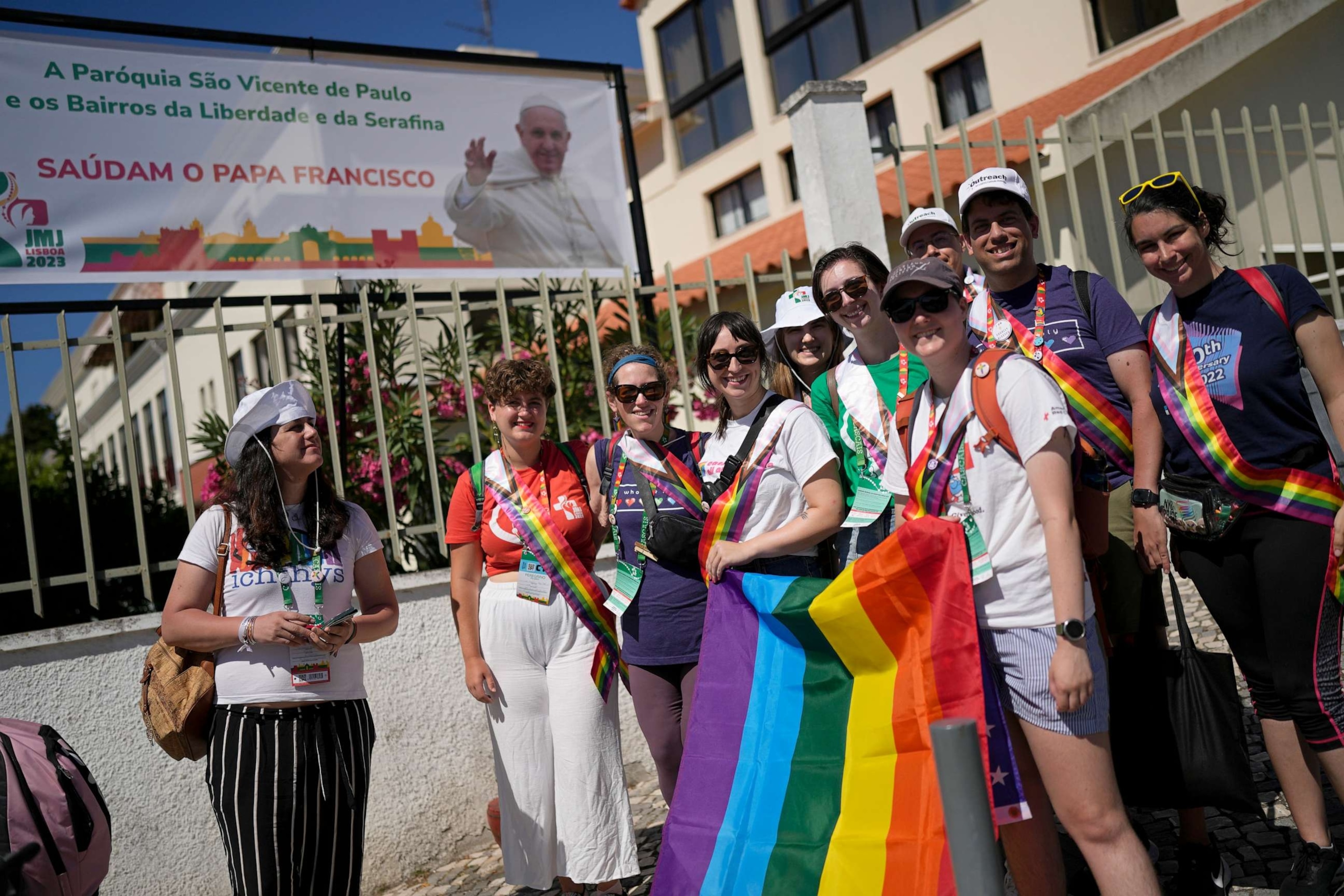 Pia Held, who travelled from Germany, was among those fighting for better treatment of LGBTQ+ people within the church, bringing a rainbow flag to the massive evening prayer service held on Saturday in Lisbon's Parque Tejo.
"Some people come up to me and hug me and say thank you for representing this," she said, describing other pilgrims' reactions to the flag. "And then other times you get people praying for you, because it's sin or making faces, crossing their heart because they think it's evil."
Held described an incident during which another pilgrim grabbed ahold of her flag and broke into pieces, bringing her to tears.
"The attack wasn't towards me, but towards this group of people," she said, explaining she's not gay herself. "And now I feel like I gotta step in and make it my fight. My faith tells me that everyone is loved, everyone is welcome."
Held says the Pope's "todos" message really resonated with her.
She "felt like that spoke directly to me. I felt so alone, and then when he said the church is for everyone, I felt like yes, I was right. What I did, and what I keep doing is exactly what we are supposed to do as Christians," she said.
On his first day in Portugal, the pope also met with 13 victims who were sexually abused as children by members of the Catholic Church.
"Speaking with abused people is a very difficult experience," the pope said as he reflected on the encounter. "But it also does me good, not because I like to listen, but because it helps me take on their load."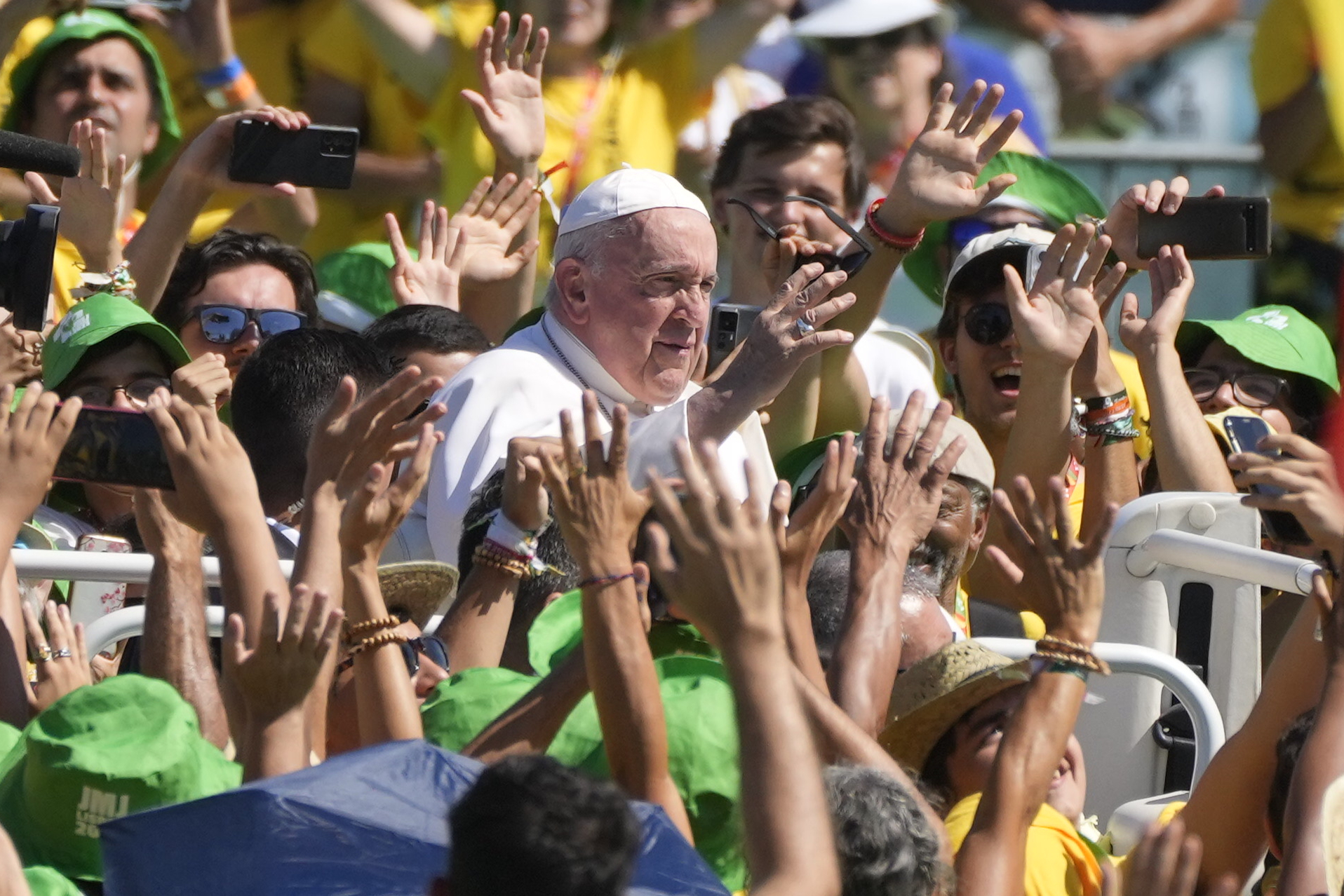 He added the Church needs to "grab the bull by its horns" when it comes to child sex abuse.
The pontiff also shot down speculation that his eyesight was failing him, after he repeatedly abandoned his lengthy prepared remarks for shorter, off the cuff speeches. The pope told reporters he was just trying to connect with young people, who have a shorter attention span. He joked the homily can at times be akin to "torture."
This was the 86-year-old's first trip since he underwent abdominal surgery in June.
While the pope met with 15 young Ukrainians on Thursday, he faced some criticism for not taking a stronger stance in support of Ukraine.
One group of young Ukrainians who spoke with ABC News before mass on Sunday said they were disappointed, that they were hoping to see more from the pope -- and specifically for the pontiff to condemn Russia by name.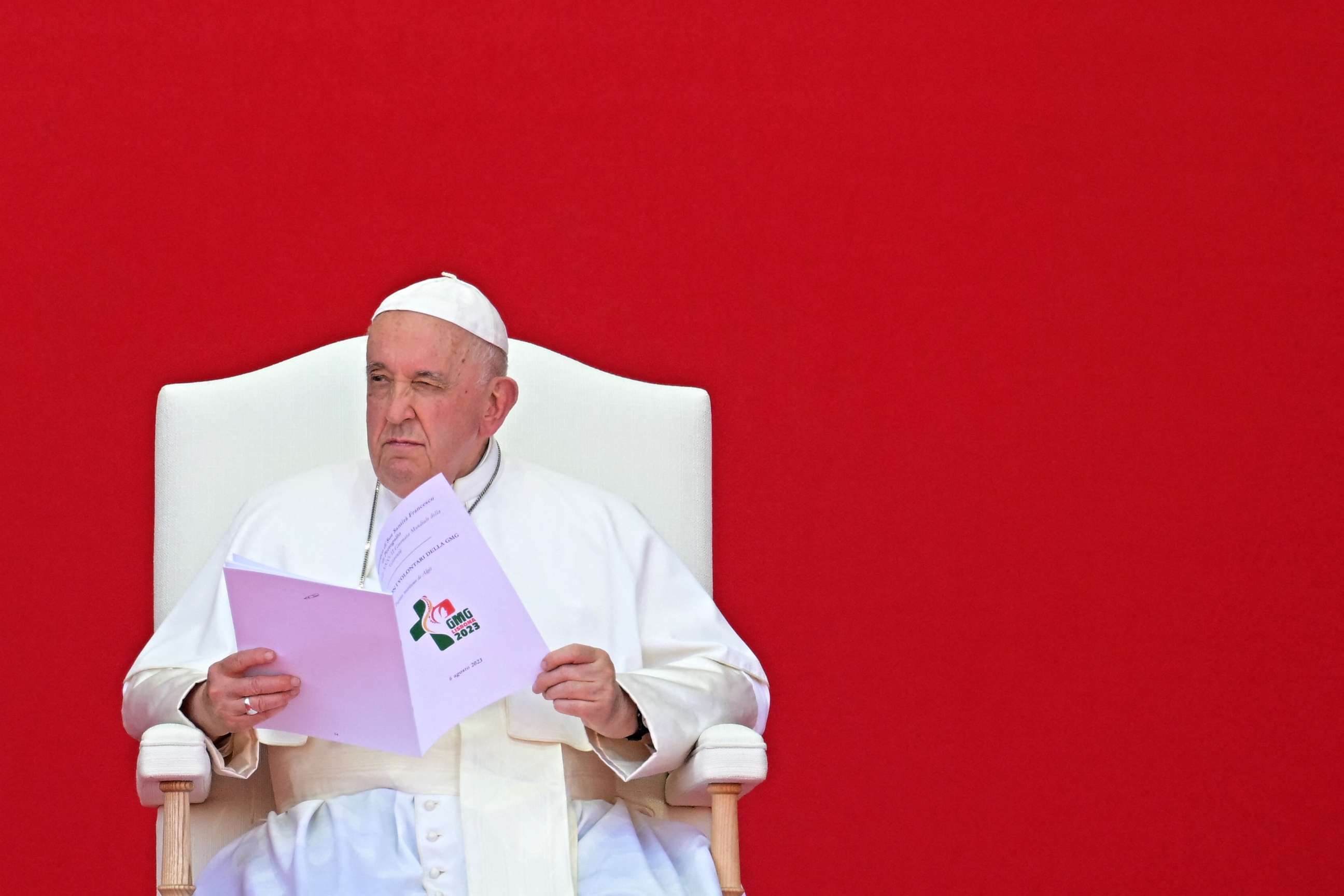 "In thinking of this continent, I feel great sorrow for beloved Ukraine, which continues to suffer greatly," the pope said, speaking to the crowd in his native Spanish before a noontime prayer and blessing.
He added, "Friends, allow me also, now an old man, to share with you young people a dream that I carry within: it is the dream of peace, the dream of young people praying for peace, living in peace and building a peaceful future."
Aboard his plane, the pope defended his approach, telling reporters he had privately prayed for peace, that he just didn't "advertise" it.
Local officials say over 1.5 million people attended the World Youth Day closing mass presided over by Francis on Sunday.
The pope said he'd host a Youth Jubilee in Rome during Jubilee Year which is set for 2025, ahead of the next World Youth Day in Seoul, South Korea, in 2027.
"This is a beautiful sign of the universality of the Church and the dream of unity to which you are witnesses," he said.
As the pope arrived home on Monday, he made the customary visit to the Basilica of St. Mary Major, Vatican officials said. He paused in prayer before the icon of the Virgin Salus Populi Romani, then then returned to the Vatican.