SEOUL, South Korea -- Pope Francis started his five-day visit to South Korea by making a public speech in English for the first time and riding inside a compact Kia hatchback.
The pope read a 10-minute speech in English at the Presidential office in Seoul, noting Korea's lack of peace, challenges facing solidarity and reconciliation, and the need to educate the young. Although he did not directly mention North Korea, the references were clear, with his speech following an address by South Korean President Park Geun-hye, who dedicated most of her message slamming the North.
"Catholics in North Korea had been stripped of their assets, religious leaders kidnapped and murdered," she said at the welcome ceremonial speech. The South Korean government is "trying best to follow the road of peace, instead of war and nuclear weapons," she stressed.
"We trust the pope's wish is also a denuclearized Korean peninsula," she said.
Pope Francis Stops to Pick Up Hitchhiker
Pope Francis Is Esquire's 'Best Dressed Man of 2013'
Pope Francis Renews Passport as Jorge Mario Bergoglio
Before the pope's arrival, North Korea test-fired three short-range projectiles from Wonsan, the North's eastern coast. Two more were fired after he landed. The projectiles flew about 135 miles, according to the Ministry of Defense. North Korea this year has conducted an unusually high number of artillery tests expressing anger over joint military exercises between the United States and South Korean forces.
Excitement and anticipation is high in the streets of Seoul with images of the pope decorating roadside banners and subway stations, mega-size welcome posters hanging from buildings and Korean television stations broadcasting his every public moment.
Pope Francis, 77, has been studying his English to communicate better with the English-speaking Asians without a translator, according to a news release by the preparatory Committee of the Papal Visit to Korea. He sent a video message in English to the Philippines last year, but never a public speech.
"English is the only universal language that he could communicate with people in Asia," said Lionel Jensen, Associate Professor of East Asian Languages and Cultures at University of Notre Dame.
"It's a symbolic gesture, making an overture to connect with the Asian youth, but it does put an enormous amount of pressure on him that his English is understandable."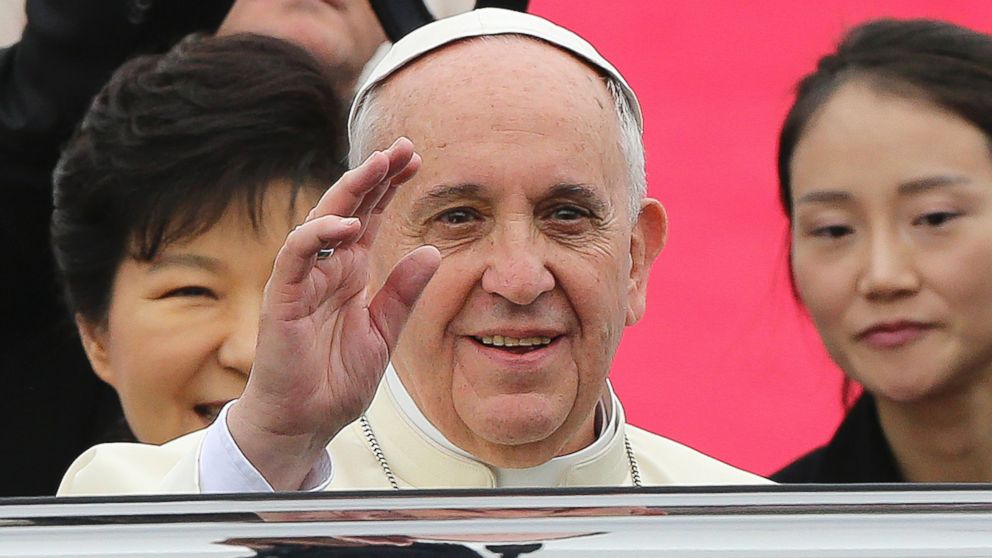 Unlike his predecessors Pope John Paul II and Benedict XVI, who fluently spoke eight and seven languages, respectively, Pope Francis normally speaks Italian at public appearances, at times – but rarely – his mother tongue, Spanish. In his biography, El Jesuita, written by Sergio Rubin, he had admitted difficulties in learning phonetics of English words because he is "tone deaf."
For South Koreans, it was the pope's choice of a modest, locally made Kia Soul car that fascinated the public rather than his new attempt at an English speech. The papal ride from the airport to the city was broadcast live, showing images of the entourage in the dark gray car escorted front and back by dozens of luxury SUVs and police motorbikes.
"It was just funny, how he climbed into a tiny car like a cat going for a small cozy space," said Kim Ji-hwan, a journalism student in Seoul. "It's humbling and at the same time respectful. The Korean Protestant priests at mega-churches ride Mercedes-Benz."
The five-day papal visit is tightly-scheduled, with the pontiff expected to travel more than 620 miles. He plans to meet with children; relatives of the 300 victims, mostly school children, from the sunken Sewol ferry in April; the disabled; immigrants; as well as officials.
He is to meet about 6,000 children Friday and answer questions at the Asian Youth Day event in Solmoe, 64 miles south of Seoul.
The main reason for his visit is the beatification of 124 martyrs on Saturday at the heart of Seoul city, Gwanghwamun.
More than 5.4 million, or 11 percent of the Korean population is Catholic, growing at a dynamic pace, especially after Saint John Paul II travelled here twice in 1984 and 1989. The Christian faith "was born in a very particular way" in South Korea, with residents researching the Christian faith and visiting China to meet with missionaries there, according to Father Federico Lombardi, spokesman for the Vatican. The early Christians were persecuted and thousands of missionaries suffered death, martyrdom.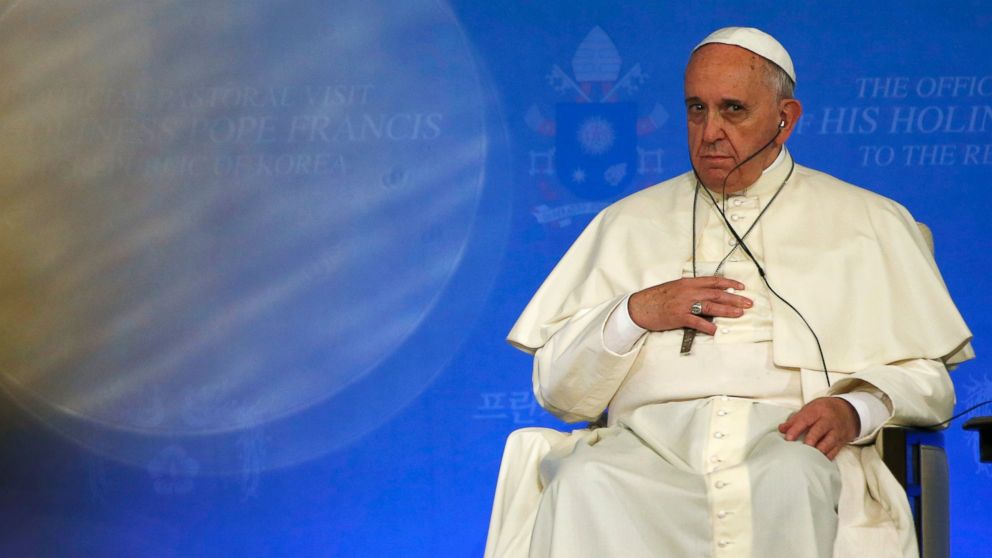 On a broader scope, Asia as a whole offers the Vatican potential for growth and influence. Roughly 60 percent of world population resides in Asia, but it is home to only 12 percent of the world's Catholics.
Catholicism, especially in China, has been growing dramatically in recent years. Official count stands at 9 to 10 million registered with the state-run Chinese Patriotic Catholic Association that refuses to acknowledge the Vatican.
"That number is largely misrepresented because it does not reflect the underground church that grew steadily over many years," Jensen said.
On his way to Seoul passing through Chinese airspace, the pope sent a goodwill telegram message to China in accordance with tradition as all popes do as they fly over countries.
"I extend best wishes to your Excellency and your fellow citizens and I invoke the divine blessing of peace and well-being upon the nation," he said in a written message to President Xi Jinping.
Beijing had refused to allow Pope John Paul II to fly over its airspace in previous visits.
Pope Francis' message on the trip will also be directed at North Korea, where religious freedom is virtually nonexistent. Pyongyang had declined Seoul's invitation for its state-run church members to attend a papal mass for peace and reconciliation on the Korean peninsula scheduled on Monday in Seoul's Myondong cathedral, the symbolic church of the Korean catholic community.
ABC News' Jieun Lee in Seoul contributed to this report.