— -- At least nine people are reported dead and more than 800 injured, after a powerful 6.5-magnitude earthquake shook southern Japan on Thursday evening.
Also, about 44,000 people were evacuated, although some returned home in the morning, according to Associated Press.
On Friday morning, the Japanese government's chief spokesman, Yoshihide Suga, said at least 860 people had been injured, 53 seriously, according to AP. He said 1,600 soldiers had joined the relief and rescue efforts.
Of those killed, five were female and four were male, Japan's Fire and Disaster Management Agency said. One man in his 20s died; the rest of the victims ranged from their 50s to one woman in her 90s. Eight of the nine victims were from Mashiki.
TV reports showed troops delivering blankets and adult diapers to those who took shelter.
Rescue crews are frantically searching to find survivors who may be trapped beneath the rubble of collapsed buildings, authorities said.
At least 19 houses collapsed, according to reports.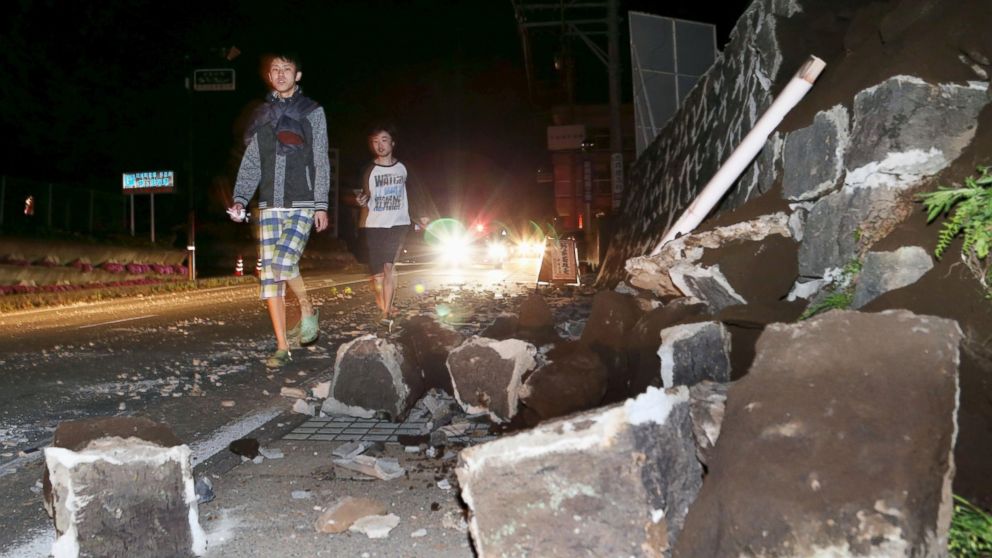 Dramatic footage shows the aftermath of the quake, which struck at 9:26 p.m. local time at a depth of 11 kilometers (7 miles) near Kumamoto city on the island of Kyushu, the Japan Meteorological Agency said. There was no tsunami risk.
There were multiple aftershocks, with the largest one reported at a preliminary magnitude of 6.4 shortly after midnight, the Japan Meteorological Agency said.
The U.S. Geological Survey measured the initial quake's preliminary magnitude at 6.2.