— -- President Donald Trump discussed terrorism with Pope Francis at the Vatican on Wednesday, in a highly anticipated first meeting between the two leaders that went longer than scheduled.
According to Secretary of State Rex Tillerson, the pope and Trump had "pretty extensive conversations around extreme terrorist threats and extremism and radicalization of young people."
"That's one of the reasons the meeting apparently went long," Tillerson told reporters aboard Air Force One flying to Brussels, the next leg of Trump's foreign trip. "They got into quite a good conversation about it."
Tillerson said, "We did have a good exchange on the climate change issue" with Cardinal Pietro Parolin, the Vatican's secretary of state, but added that he didn't know if Trump and Francis discussed the topic.
Parolin encouraged "continued participation" in the Paris Climate Agreement, according to Tillerson.
Tillerson said Trump still has not made up his mind whether he'll withdraw the U.S. from the 2015 deal.
"The president indicated we're still thinking about that, that he hasn't made a final decision. He, I think, told both Cardinal Parolin and also told Prime Minister [Paolo] Gentiloni that this is something that he would be taking up for a decision when we return from this trip," Tillerson said.
According to a statement from the Vatican, the pope and the president held "cordial discussions" that included "an exchange of views on various themes relating to international affairs and the promotion of peace in the world through political negotiation and interreligious dialogue, with particular reference to the situation in the Middle East and the protection of Christian communities."
"It is hoped that there may be serene collaboration between the state and the Catholic Church in the United States, engaged in service to the people in the fields of health care, education and assistance to immigrants," the statement reads.
Later in the day, during his meeting with the Italian prime minister, Trump said his meeting with Francis was "great."
"He is something," Trump said of the pontiff. "We had a fantastic meeting."
He added, "We're liking Italy very, very much, and it was an honor to be with the pope."
After their private one-on-one meeting, which lasted about 30 minutes, Trump and Francis exchanged gifts in front of reporters and the president's visiting delegation, which included his wife, Melania Trump; his daughter Ivanka Trump; his son-in-law, Jared Kushner; Tillerson and other White House advisers.
The president gave the pope a case of books by Martin Luther King Jr., and the pope gave Donald Trump a medal by a Roman artist, inscribed with an olive branch.
Francis explained that the branch is a symbol of peace, and Trump replied, "We can use peace."
The pope also presented Trump with three books that he said he sends to all Catholics: one on family, one on the Gospels and one on "care of our common home, the environment."
"Well, I'll be reading them," Trump said.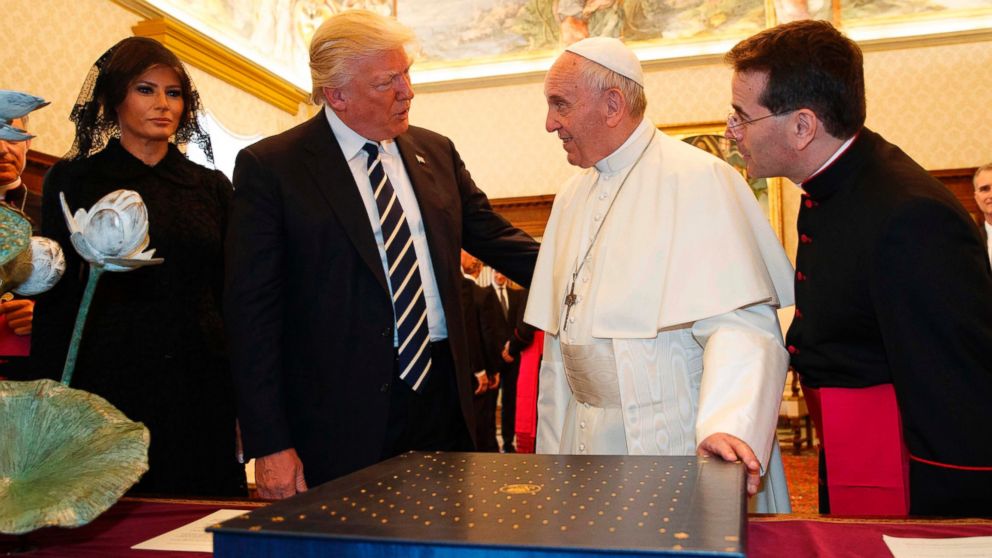 The visit to the Vatican was the third stop of Trump's tour of sites representing three major religions. Over the weekend, he stopped in Saudi Arabia, where he delivered an address to Muslim leaders, and Monday through Tuesday he visited Israel and the West Bank and met with Israeli and Palestinian leaders.
Trump and Francis certainly had differences to iron out during their meeting. In February 2016, the pontiff remarked on then-candidate Trump's key proposal to build a wall along the U.S.-Mexico border, saying it was not Christian.
"A person who thinks only about building walls, wherever they may be, and not building bridges is not Christian," Pope Francis said.
Trump responded with a statement calling Francis' remarks "disgraceful."
"No leader, especially a religious leader, should have the right to question another man's religion or faith," Trump said. "They're using the pope as a pawn and they should be ashamed of themselves — that's the Mexican government — they should be ashamed of themselves for doing so, especially when so many lives are involved and when illegal immigration is so rampant and so dangerous and so bad for the United States."
Asked recently what he expected from his meeting with Trump, given their differing views, Francis replied, "I will tell him what I think. He will tell me what he thinks. But I never wanted to judge someone before I listen to the person first."