Restaurants and bars in Singapore are known for their savvy adaptations of other cultures and new trends. With less than 24 hours before the planned historic meeting between President Donald Trump and North Korean leader Kim Jong Un in this city-state, creative menus and ideas with a touch of humor are luring customers.
The most popular are summit-themed burgers. Wolf Burgers, a popular spot at a food court in Suntec City, offers the "Burger for World Peace" made of Korean marinated bulgogi brisket with kimchi mayonnaise and melted American cheddar cheese.
"It's a very important event for us, because we are celebrating world peace," a high school student who was sampling the new menu told ABC News. "There will be no more World War Three."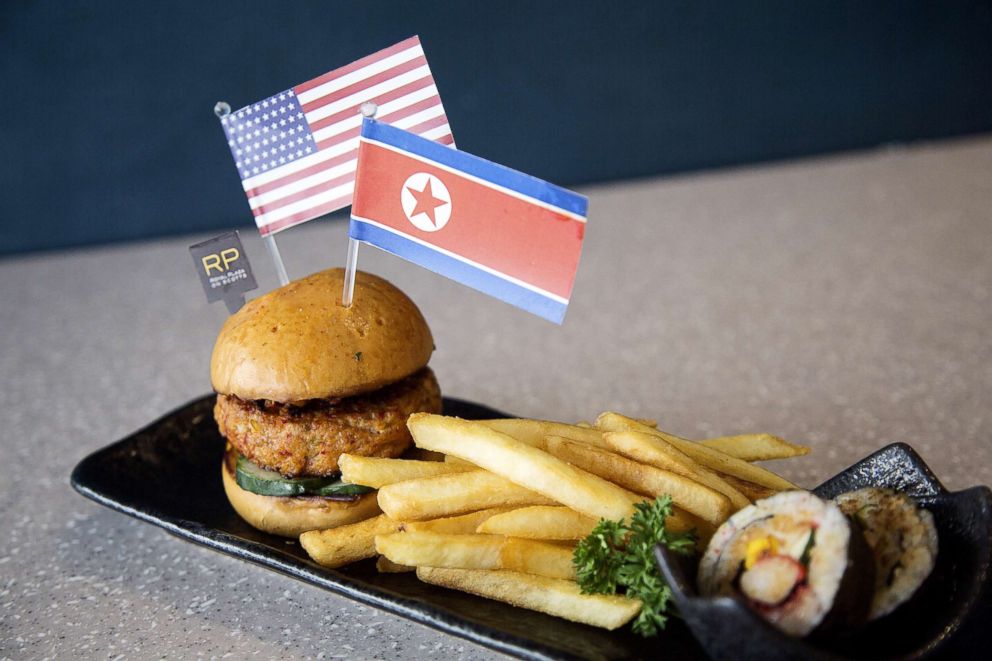 Another burger can be found at a food stall in Makansutra Gluttons Bay. The Old Satay Club Mee Goreng stall No. 4 sells a limited-edition item called "Trump-Kim Peace Burger." The cook includes kimchi for a Korean taste and it sells for about $9.
Meanwhile, Royal Plaza on Scotts Hotel features a grilled "Trump-Kim Burger" with a mix of minced chicken, seaweed and kimchi patty, with Korean rice rolls and fries on the side, also for about $9. To wash it down, the "Summit Iced Tea" is sold for about $4.50 as a mix of Korean honey yuzu and traditional iced tea.
OSG Bar and Kitchen coined a fusion dish to represent the diverse culture in Singapore with a sprinkle of U.S.-North Korea summit on top. "Trump-Kimchi Nasi Lemak" is served in a round bowl symbolizing peace, with U.S. imported dry-aged beef and fried Korean Kimchi on top of chicken rice, and Malaysian chili, selling for less than $16.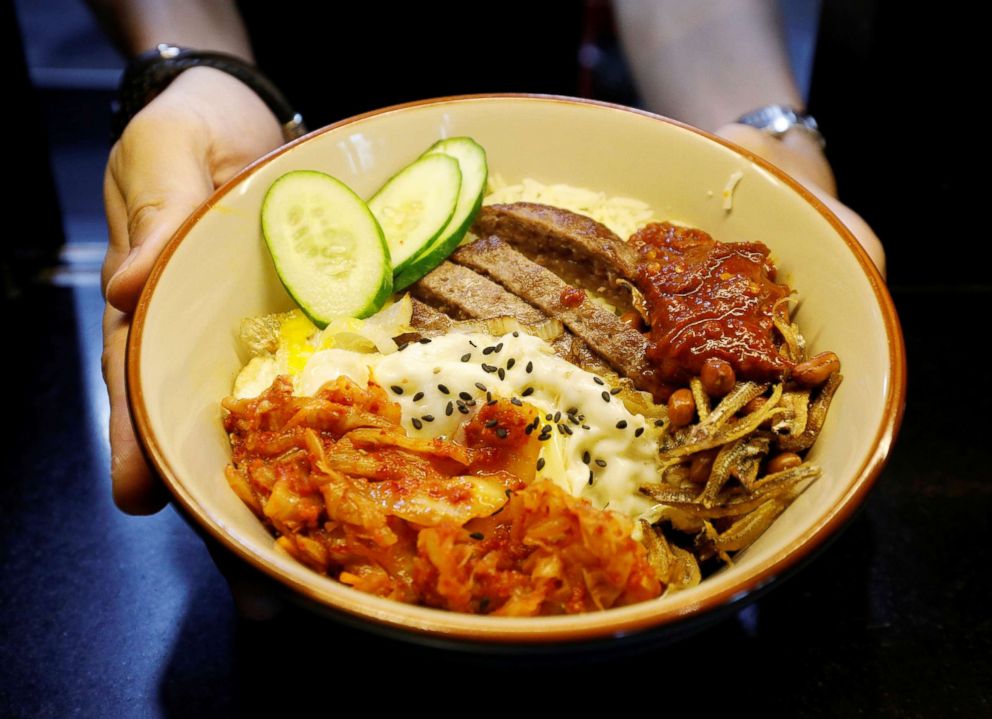 The owner of the restaurant, Zach Wen, made a flier and photo-op board to promote this summit-themed Singaporean rice.
Gastropub Escobar restaurant brought the expected "war of nerves" between Trump and Kim with its summit-special menu. With the "U.S.-North Korea Showdown," customers can play drinking games with 10 blue vodka shots on behalf of the United States and red soju shots for North Korea, at about $45. Those who aren't up for a drinking game can savor a bourbon-based glass of "Trump" or soju-based "Kim" cocktails. They cost around $9.40 a glass.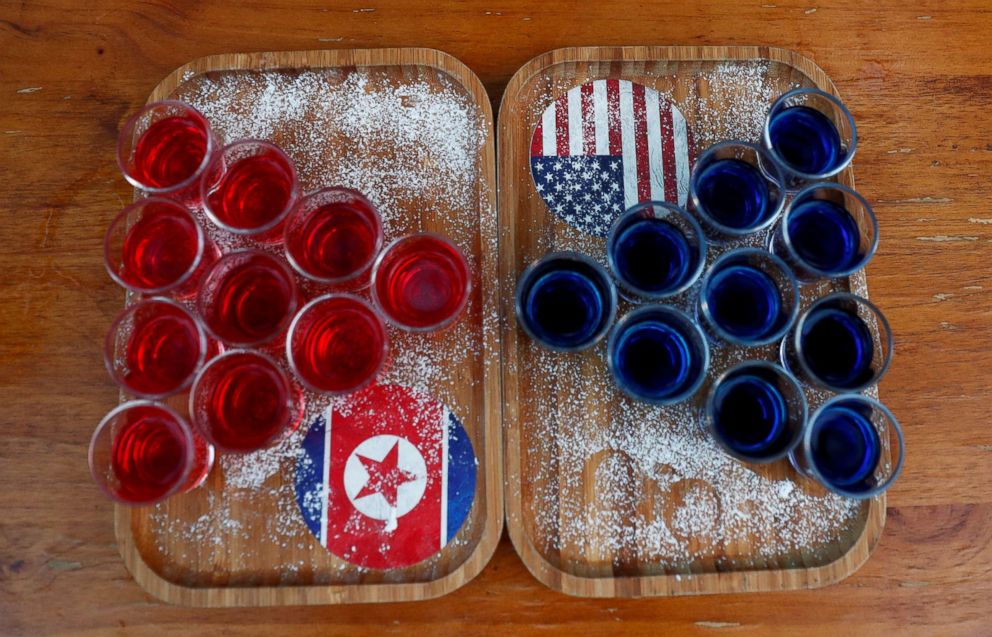 Lucha Loco introduced a seasonal taco menu just for the summit. The Mexican restaurant named summit-season tacos after the two leaders' nicknames. The "Rocket Man Taco" represents North Korean leader Kim, as Trump once referred to him. And there's the "El Trumpo Taco" named after the U.S. president. The price begins at about $7.50.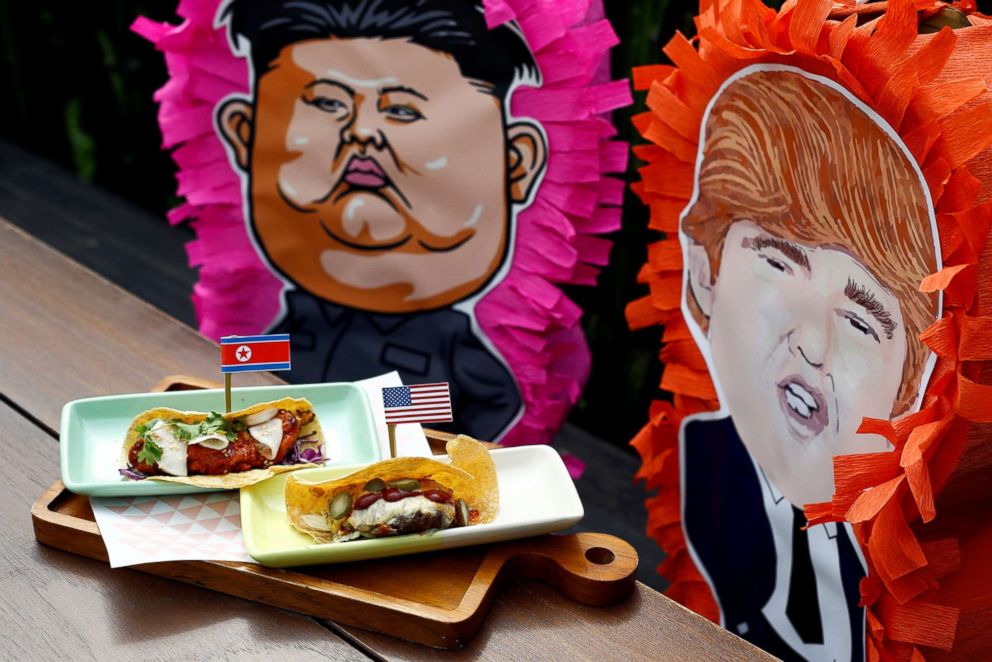 Even fast-food chain KFC is jumping on the bandwagon, offering a four-piece meal in a "Four Peace" box on the day of the summit.