Russia, the Syrian regime's top ally, reacted strongly to the air strikes launched by the United States and its allies on Damascus and Homs early Saturday, warning of "consequences."
The U.S., U.K. and France launched a series of strikes on three locations identified as critical to Syria's production of chemical weapons, including a scientific research center in Damascus, and a production facility and storage facility in Homs, according to U.S. Chairman of the Joint Chiefs of Staff Gen. Joseph Dunford.
The Russian embassy in U.S. wasted no time in reacting to the strikes late Friday in the U.S., with Ambassador Anatoly Antonov saying on Twitter, "The worst apprehensions have come true. Our warnings have been left unheard."
"A pre-designed scenario is being implemented," the statement continued. "Again, we are being threatened. We warned that such actions will not be left without consequences."
Russia has long been an ally of Syrian President Bashar al-Assad. Syria serves as an important access point to the Mediterranean Sea for Russian ships and a hub for Russia in the Middle East. They have also supplied Assad with the military resources necessary to fight back against the rebels who nearly overthrew him in 2011.
President Donald Trump criticized Russia in his address to the country following the launch of missiles on Friday night.
"In 2013, President [Vladimir] Putin and his government promised the world that they would guarantee the elimination of Syria's chemical weapons," Trump said. "Assad's recent attack, and today's response, are the direct result of Russia's failure to keep that promise."
Putin responded to Saturday's attack by calling the strikes "an act of aggression against a sovereign state that is at the forefront of the fight against terrorism."
"The current escalation of the situation around Syria has a devastating impact on the whole system of international relations," Putin said. "History will put everything in its place, and it has already laid heavy responsibility on Washington for bloody reprisals against Yugoslavia, Iraq and Libya."
Putin also called for an emergency meeting U.N. Security Council.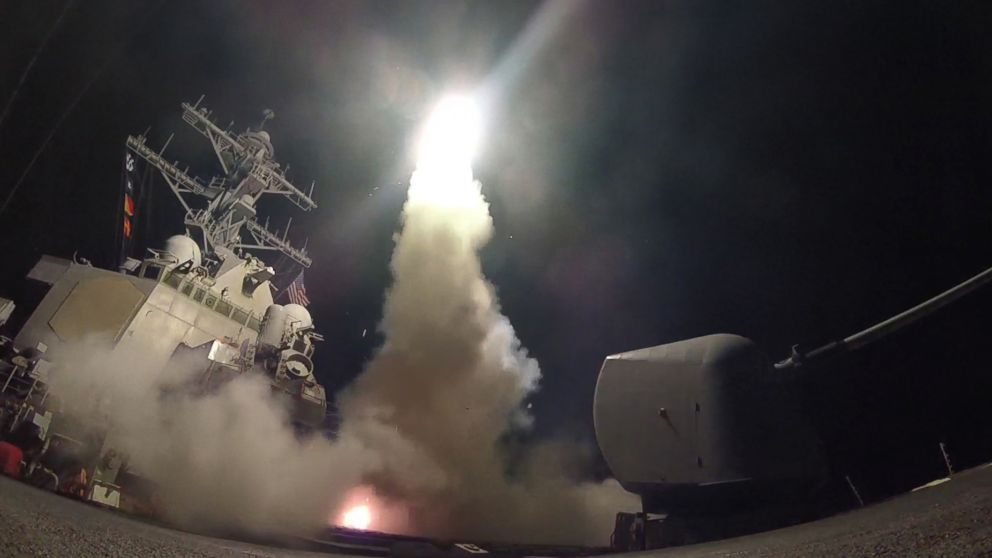 Russian Foreign Ministry spokesperson Maria Zakharova accused the U.S. of attacking Syria when it finally had a chance for peace and likened the evidence of the April 7 chemical weapons attack in Douma -- which precipitated Friday's attack -- to the evidence that justified the 2003 Iraq invasion.
"It takes a very peculiar kind of uniqueness to attack Syria's capital at a time when the country has received a chance for peace at last," Zakharova said, in a statement translated by TASS, the Russian state-owned news agency.
"The White House says its certainty about a chemical attack by Damascus relies on the media, on reports about symptoms, videos and photos, and also on credible information," she continued. "After that statement, the U.S. and all other Western media should be aware of their responsibility for what has happened. Fifteen years ago the White House used a test tube and its secretary of state. Now Washington has used the media instead of the test tube."
Konstantin Kosachev, the head of International Affairs for Russia's Federal Assembly, said, "There can be only one political assessment: It is a blatant violation of international law and it is an attack on a sovereign state without proper grounds."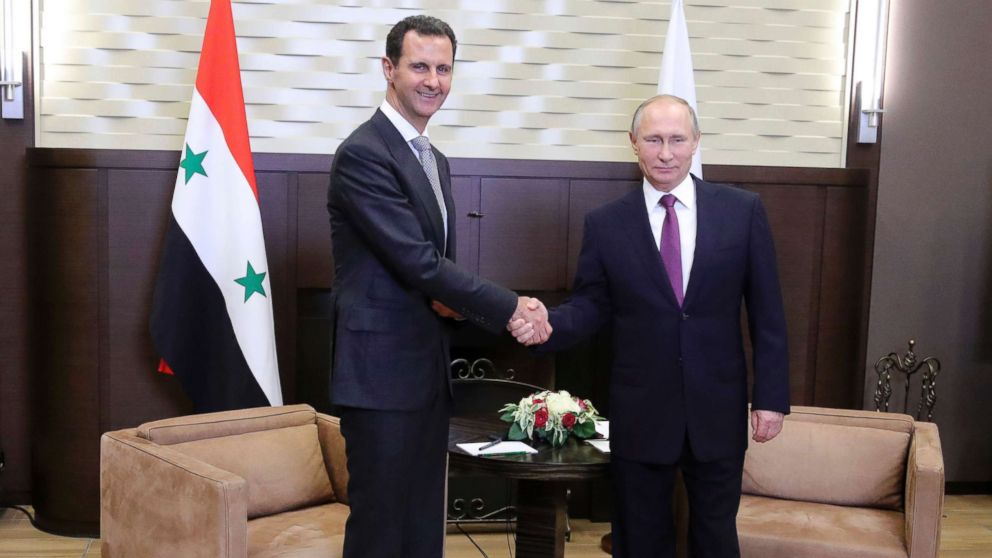 France's defense minister said early Saturday that Russia was warned ahead of the joint attacks on Syria, though Dunford said earlier in the evening that the only warning Russia was given was "the normal deconfliction of the airspace -- the procedures that are in place for all of our operations in Syria."
Russian air defenses, stationed at a naval base and an airfield, were not triggered by any of the allied attacks.
"Cruise missiles launched by the U.S. and its allies did not enter the zone of responsibility of the Russian air defenses, covering objects in Tartus [a naval facility] and Hmeymim [an airbase located in the Latakia province]," the Russian Defense Ministry announced.
According to the Russian Defense Ministry, "over 100 cruise missiles and air-to-surface missiles were fired by air and sea carriers" by the U.S., France and U.K. Both the Russian and Syrian governments said a significant number of missiles were shot down, though neither have offered proof of that.
ABC News' Kirit Radia, Tanya Stukalova, Max Karmen and Luca Balbo contributed to this report.