MOSCOW -- President Vladimir Putin today declared that Russia has tested a new generation of nuclear weapons, including a nuclear-powered cruise missile that he said has unlimited range.
Speaking at his annual state-of-the-nation address in Moscow, Putin boasted about an array of new weapons -- including underwater drones capable of launching nuclear strikes and hypersonic missiles -- that he said would make Russia's nuclear arsenal "invulnerable" to interception.
Putin said the nuclear-powered cruise missile had been successfully tested in late 2017 as he showed a video apparently of the test.
"The missile's test-launch and ground trials make it possible to create a brand-new weapon, a strategic nuclear missile powered by a nuclear engine," Putin told an audience in a hall by the Kremlin. "The range is unlimited. It can maneuver for an unlimited period of time."
"No one in the world has anything similar," Putin said to applause.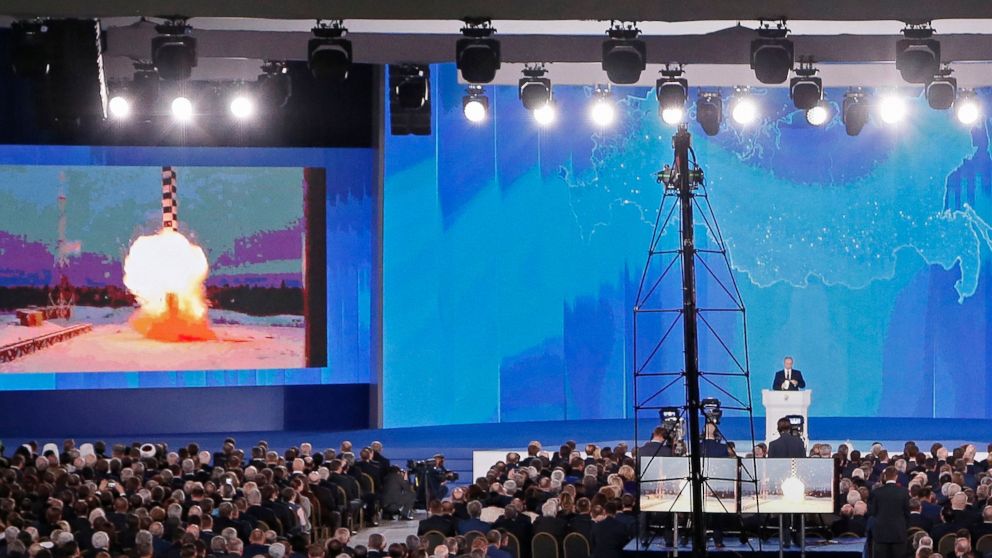 The video showed the missile's firing into the sky and then flying, before switching to a graphic that simulated the rocket's meandering around the globe, headed toward the United States before turning south and flying toward the South Atlantic, and then around South America and ending up somewhere toward the U.S. West Coast.
But U.S. officials say they have been following the missile's development for some time and that, in reality, it was not operational.
The missile was still in research and development and had crashed in testing more than once, including during a test in the Russian Arctic, a U.S. official told ABC News.
The same official said the new Russian missiles did not essentially change the United States' position on deterrence because missile defense had never been considered as the primary guard against Russia's arsenal.
"We're not surprised by the statement," the Pentagon's chief spokesperson, Dana White told reporters. "And the American people should rest assured that we are fully prepared."
Russia is three weeks from a presidential election in which Putin faces no serious opposition and some cautioned that the bombastic claims were likely also intended to burnish his strongman image before the voting and press a favored chord of his, of fortress Russia beset by a hostile world.
Putin dedicated the first three-quarters of the speech to domestic issues, setting out a rosy vision of Russia's development over the next 10 years, but then abruptly shifted to the weapons display. At one point, the screens behind him showed missiles hurtling down toward Florida.
It also comes in the same month that the Pentagon issued a new nuclear arms policy that has specifically warned of Russia's growing efforts to develop weapons capable of overcoming U.S. defenses and follows calls from President Donald Trump to significantly increase and modernize the U.S. nuclear arsenal.
Standing in front of giant screens, Putin made a series of demonstrations presenting the weapons that he said Russia had developed as a direct response to the United States' efforts to deploy a missile defense shield in Europe. Most of the demonstrations showed clunky computer simulations of the weapons, wobbling and changing course around a globe. But overall, the display was an exceptional expression of military bombast even for Putin, who said the weapons' development meant Russia was now in a new era of military parity with the United States.
"I would like to tell those who have been trying to escalate the arms race for the past 15 years, to gain unilateral advantages over Russia, and to impose restrictions and sanctions ... The attempt at containing Russia has failed," he said. "This is not a bluff."
Putin said the array of new weapons was a response to U.S. failure to take into account Russian concerns that missile defense was undermining the nuclear balance between the two countries. The United States' refusal to listen to Russia's concerns about the shield, which Moscow has voiced for well over a decade, had forced it to develop a deterrent that could overcome any conceivable kind of missile defense, he said.
"No one listened to us," Putin said. "Listen to us now."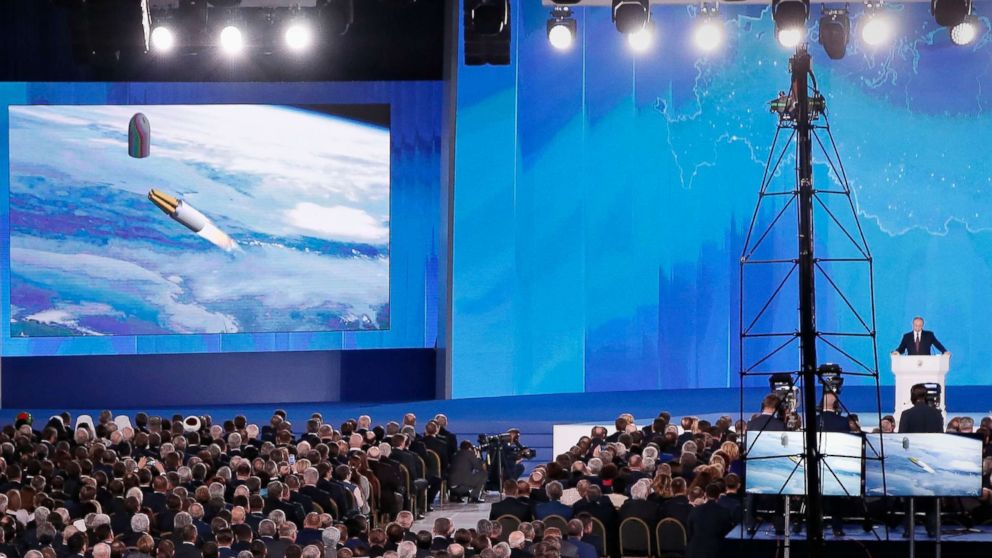 The Pentagon spokesperson, White, rejected that. "They know very well that it's not about them," she said. "Our missile defense has never been about them." The U.S. has always insisted that the missile shield is intended to provide defense against Iran and North Korea, an argument Russian officials have said they don't believe.
State Department spokesperson Heather Nauert criticized the display as "irresponsible" and mocked what she called Putin's "cheesy" computer graphics.
It was impossible to independently verify Putin's claims around the weapons. The U.S. has also previously sought to build a nuclear-powered cruise missile in the 1960s, and China is developing hypersonic weapons.
Some of the weapons were already known to be in development, including the Sarmat heavy intercontinental-ballistic missile, that will replace a Soviet-era predecessor. Putin said Russia is now also in the "active phase" of testing the 200-ton missile, which NATO has christened Satan 2, and that it would able to reach "any point in the world" and could not be stopped by any missile-defense system.
Descriptions of the nuclear-armed underwater drone that Putin said had completed a test cycle in December have also previously been leaked.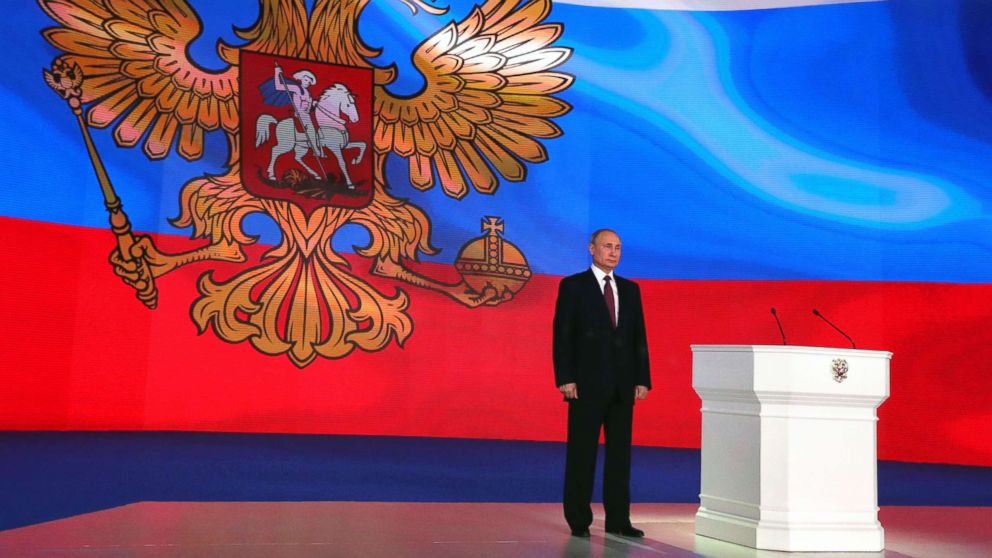 Another weapon, a hypersonic missile carried by aircraft, called "Kinzhal" or "Dagger," had already been deployed in Russia's Southern Military District, Putin said.
He painted a chilling picture of another of the weapons, a new intercontinental-hypersonic missile called "Avangard," which he said could fly at 20 times the speed of sound.
"It comes to targets like a meteorite; like a burning sphere," Putin said.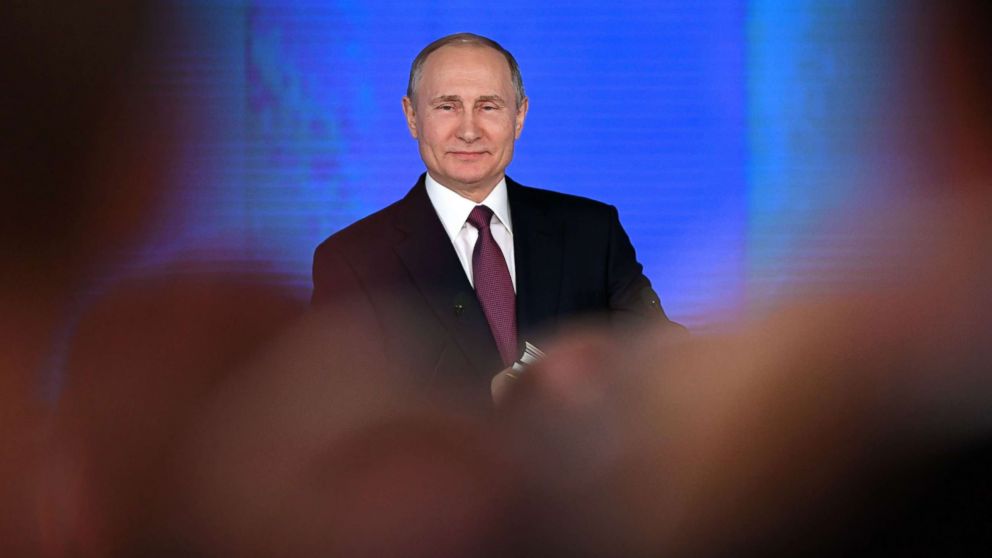 Russia's ministry of defense announced a naming contest for the new weapons, inviting entries online.
Putin stressed that the new weapons were intended to be entirely defensive, saying Russia wants "constructive relations" with the United States and the European Union, which he said Russia would always consider partners.
"I'd like to stress that Russia's growing military might does not threaten anyone, and we have never planned to use this potential for offensive, even more so aggressive purposes," Putin said. "We are not threatening anyone, and have no intention to attack anyone or grab anything from anyone at gunpoint.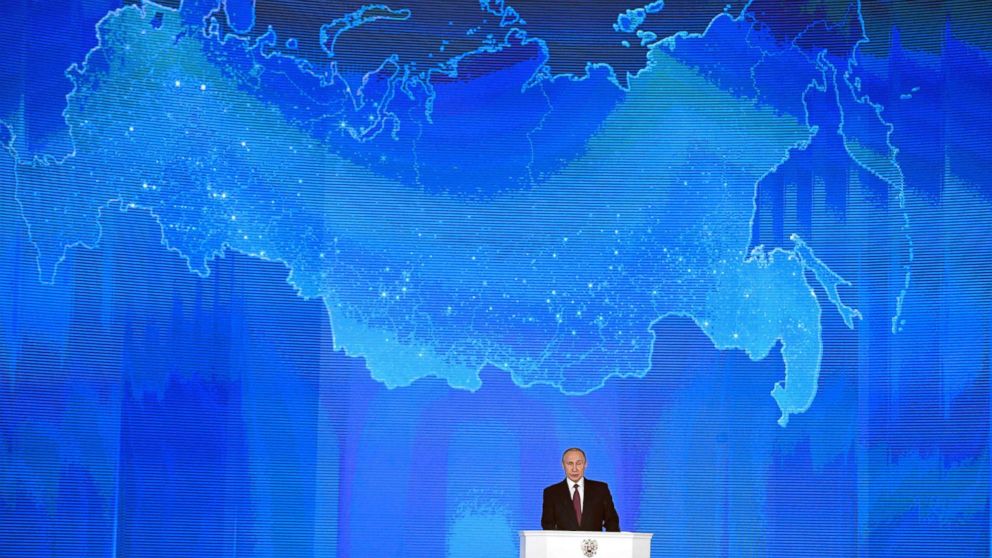 "Russia's growing military might is a reliable guarantee of peace on earth," he added, "because this might continue to help maintain the strategic balance and the global balance of forces, which, as you know, has been a key factor of international security since World War II."
But others warned that it heralded a new nuclear arms race. The International Campaign to Ban Nuclear Weapons, which won the Noble Peace Prize last year for its work pursuing a ban on nuclear arms, condemned Putin's comments in a statement.
"Putin's statement makes it clear we are in a new arms race that will put us under the terror of a new Cold War, in constant fear of death at any instant," Beatrice Fihn, executive director for ICBN, said in a statement. "While Russia and the US compare the size of their arsenals, the rest of the world is joining a treaty that bans them."
The Pentagon warned last year that the United States is falling behind China in developing hypersonic weapons, and the Trump administration has said it will develop new kinds of nuclear weapon, including lower yield weapons that can be deployed on submarines, in part to counter Russia.