How Russia's diplomatic and military tactics are shaping course of war in Syria's Ghouta
Over the weekend, there were reports of field executions by Assad forces.
LONDON -- After what was described as a night of "ferocious regime bombing," throngs of people were finally able to leave Eastern Ghouta, the opposition-held Damascus suburb that forces loyal to Syrian President Assad have been besieging for more than five years.
Nearly 20,000 people from Hammouryeh and neighboring towns headed toward regime-controlled areas, according to the Syrian Observatory for Human Rights, a mere few hours after the regime's bombs stopped raining down on them, embodying the difficult compromises Syrians have been forced to make since the start of the uprising seven years ago.
It also underlined yet again how Russia, and the Assad government it has been propping up, has been able to force a favorable denouement in strategic fronts by paying lip service to the United Nations and international diplomatic efforts while deploying brazen decisive military tactics in total impunity.
Today's evacuation saw the single largest group of civilians leave the enclave since the beginning of the siege. Syrian state television carried the exodus live: Some were in vans and buses but many were on foot, looking haggard from years of siege and war, holding whatever earthly possessions they could carry.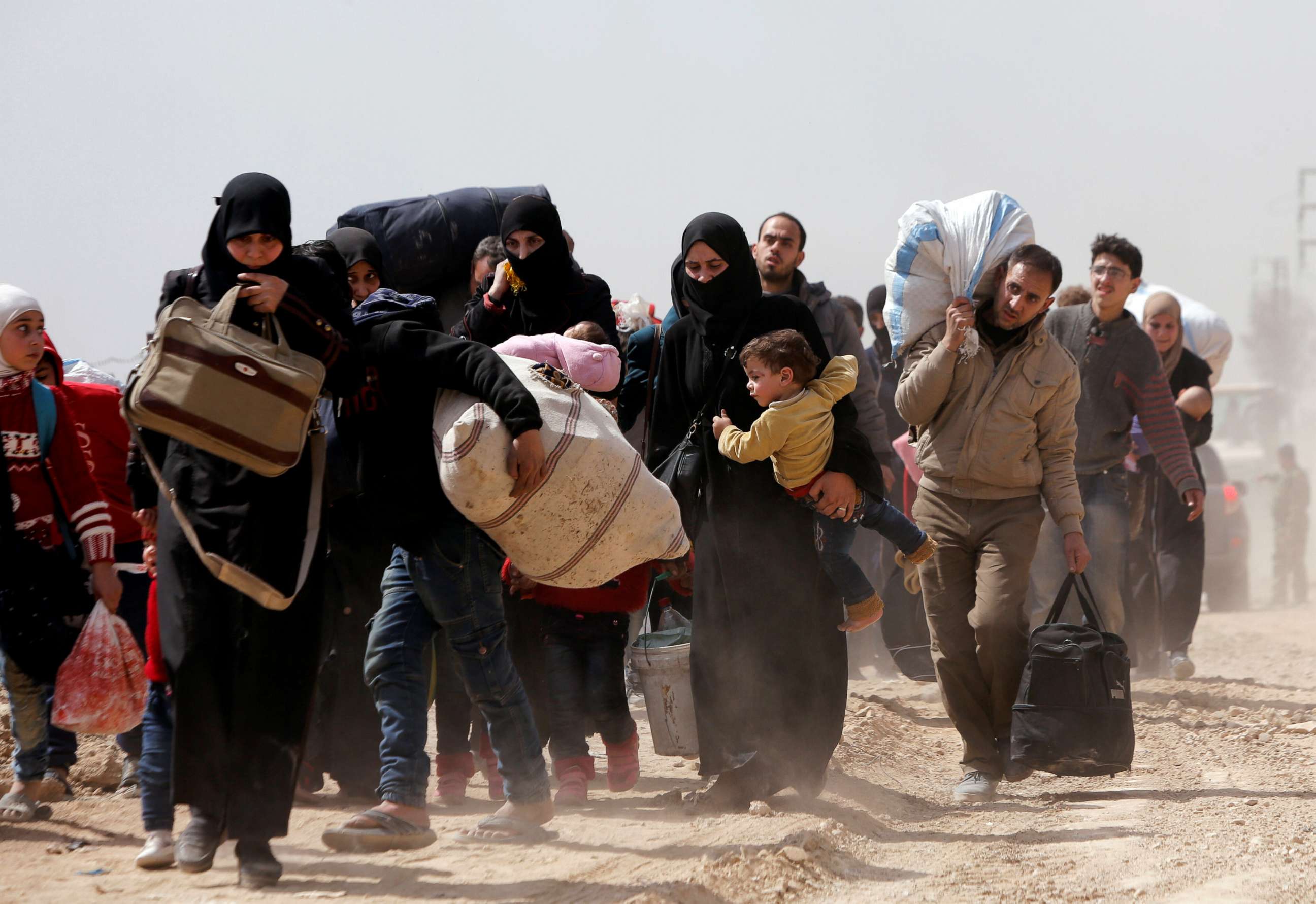 Though control over the town is still contested in light of an ongoing counteroffensive mounted by local armed factions, the intensive bombing overnight allowed the regime to empty the area of civilians, freeing it to unleash an even more violent assault. Long contending he is fighting terrorist jihadists who are attacking the capital, Assad's case is helped in this part of the enclave by the presence of members of the local Al Qaeda affiliate, even though they are a minority among fighters present.
Shelling by opposition armed factions has killed 44 people in Damascus since the current round of escalation kicked off on February 18, while Assad's assault, assisted by Russian warplanes, has killed more than 1,200 people in Eastern Ghouta, according to the SOHR.
By launching their current assault against Eastern Ghouta, the Russians and the regime didn't just disregard a recent UN Security Council resolution - they violated their own de-escalation agreement reached seven months ago. And unlike previous fronts when Iran and its local militias handled much of the negotiating, Russia has taken more of a leading role in the deals being made in Ghouta.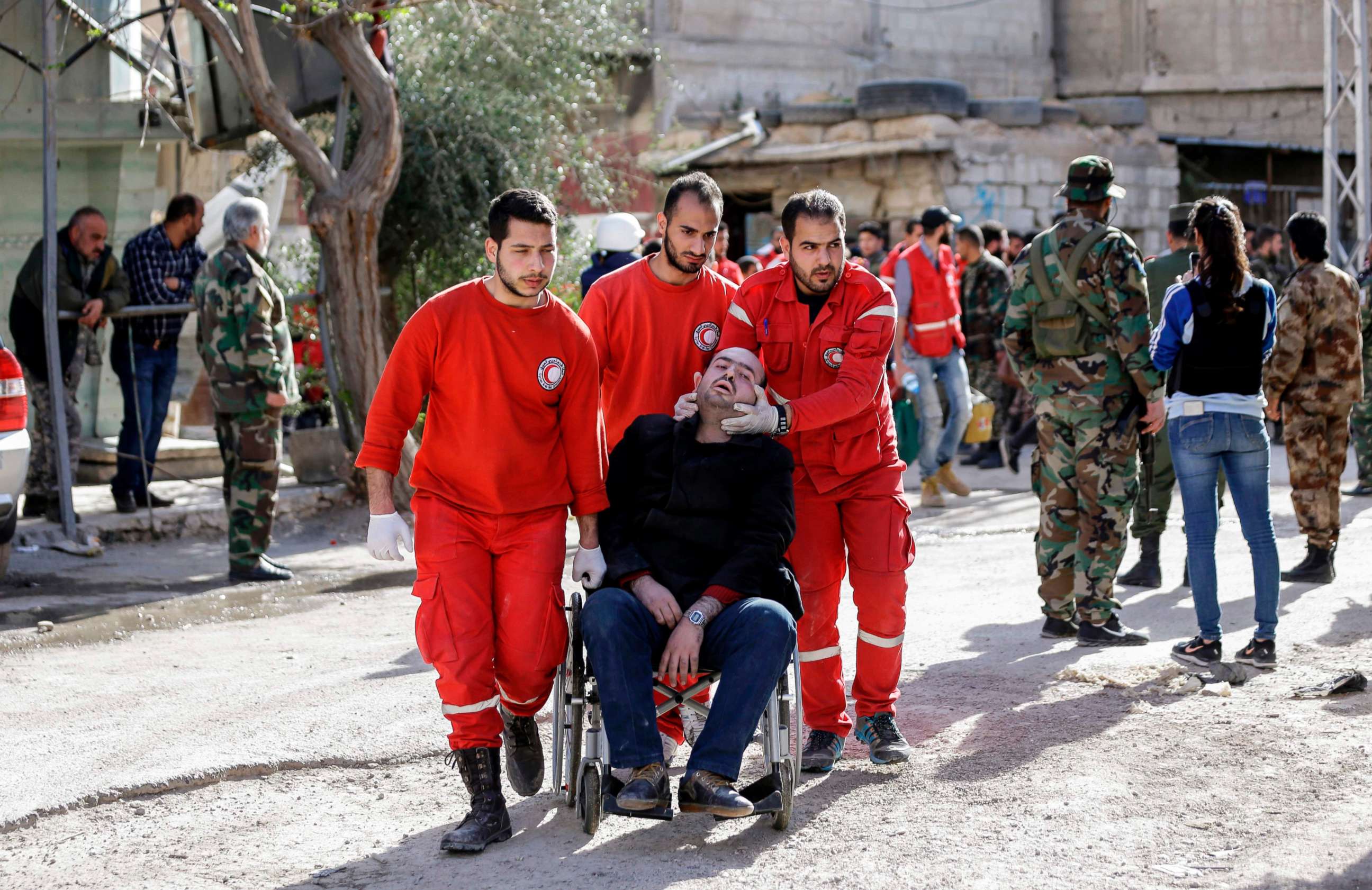 Siege and surrender and the international community's inaction
Events in Hammouryeh, and Eastern Ghouta in general, encapsulate a siege and surrender tactic that has become a tried-and-true regime favorite, seven years after the start of the anti-Assad uprising.
"It's playing out exactly like Aleppo did [at the end of 2016]," a British diplomatic source who works on the Syria conflict but is not allowed to comment publicly told ABC News. "It's the same dynamics in the United Nations Security Council (UNSC) and the same policy discussions back in capitals."
Despite recognizing the déjà vu in Ghouta, countries like the United States, the United Kingdom and France have been unable to enforce a ceasefire. Instead, they have been reduced to asking Russia, whose warplanes are bombing Ghouta, to pressure the regime to stop its assault.
"Russia has correctly concluded that since 2013 the United States won't push back," a Western official who spoke on the condition of anonymity given the sensitivity of the matter told ABC News.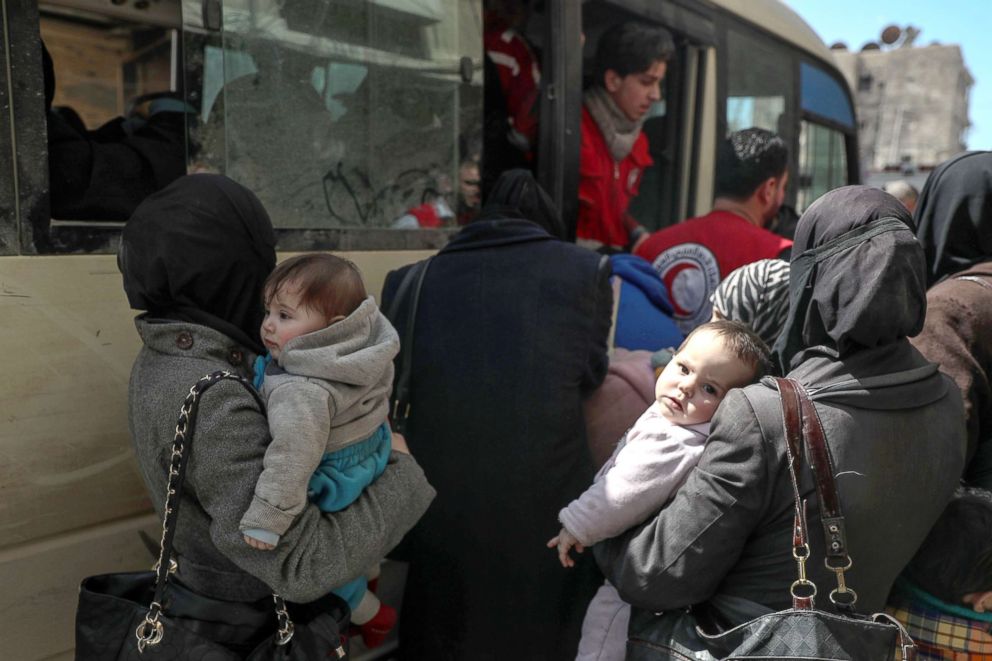 In 2013, after the regime used sarin, a prohibited chemical weapon, against Eastern Ghouta killing as many as 1,400 people in its single deadliest attack, then-President Barack Obama balked at enforcing the red line he had laid down.
Nevertheless, on Monday, American Ambassador to the United Nations Nikki Haley delivered a staunch warning: "We warn any nation that is determined to impose its will through chemical attacks and inhuman suffering, most especially the outlaw Syrian regime: the United States remains prepared to act if we must."
A five-hour "humanitarian pause" ordered by Russia appears to have been the only tangible result of Western diplomatic pressure on Russia. But even that concession was only partial. Aid organizations managed to make three deliveries, reaching a fraction of the total besieged population. A large portion of their supplies, such as insulin and dialysis kits, had been impounded by regime authorities for "security reasons." One of the aid deliveries had to be aborted after a few hours -- the bombing was too close to their warehouses even though they had communicated the locations to Russia and the regime ahead of time.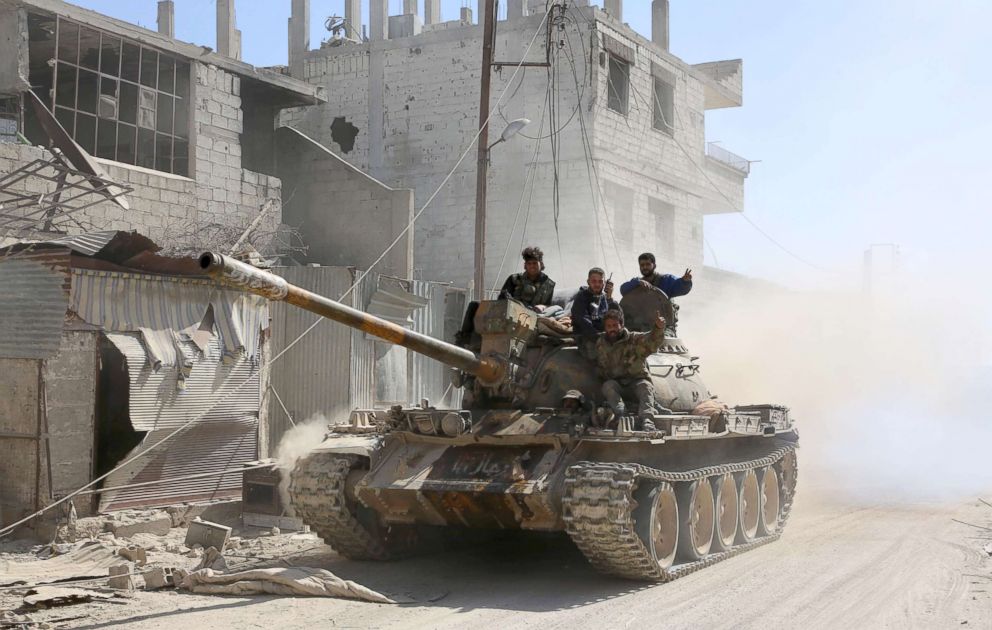 Otherwise, Russia has simultaneously continued to participate in the indiscriminate attack by Assad's forces, repeating that the forces they are fighting are terrorists, while working on piecemeal deals with local armed factions.
Thus, forces loyal to Assad continue to besiege rebel-held territory and subject it to intense bombing campaigns in order to force surrender. Civilians, those who suffer the brunt of the sieges and bombing, are thus faced with a stark choice.
"Stick around and risk conscription or detention [by the regime]. Or leave," said Faysal Itani, an expert on the Syrian conflict at The Atlantic Council.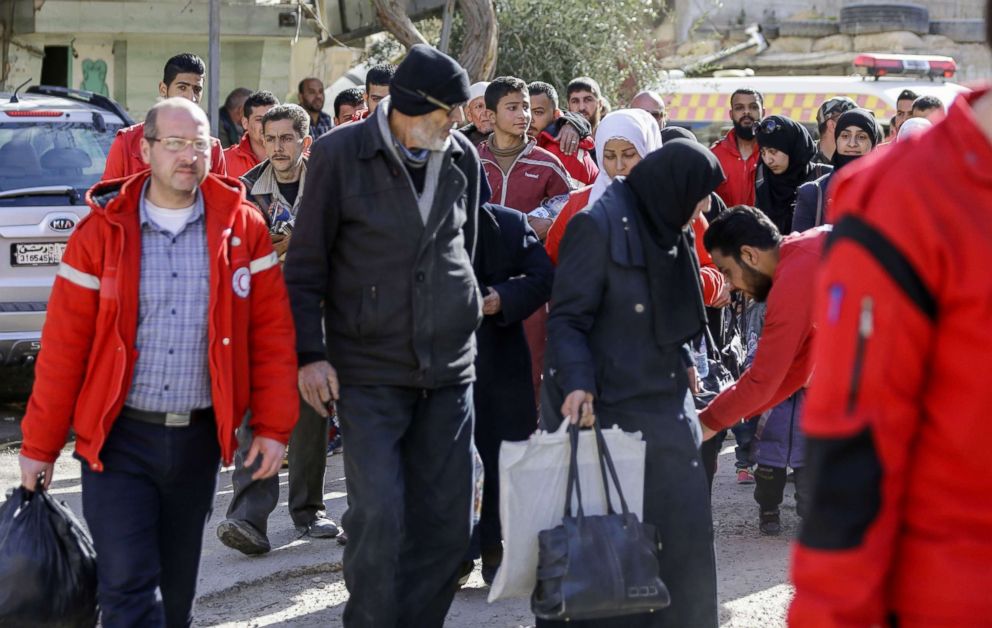 Over the weekend, there were reports of field executions by Assad forces as they took over the town of Misraba formerly held by Jaysh al Islam, an opposition faction.
Opposition groups have also been accused of attacking locals, to maintain their control over areas.
Masked gunmen, believed to be part of another faction, Faylaq al Rahma,n are believed to have fired on a protest by locals in Kfar Batna calling for a truce, killing seven.
Waiel Olwan, spokesman for Faylaq al Rahman, denied the accusation to ABC News.
Russian deals with opposition forces
Despite denials by Jaysh al Islam that any negotiations were taking place with Russia, the United Nations Secretary-General revealed that Russian representatives had met with Jaysh al Islam members four times between March 8 and 12, agreeing on the expulsion of 16 Al-Qaeda fighters who had been held prisoners by Jaysh al Islam after they'd clashed, as well as medical evacuations.
Fearing being perceived as having agreed to the forced displacement of local civilians, Yasser Dalwan, the head of Jasysh al Islam's political bureau handling the negotiations was quick to point out to ABC News that "this is not a permanent evacuation"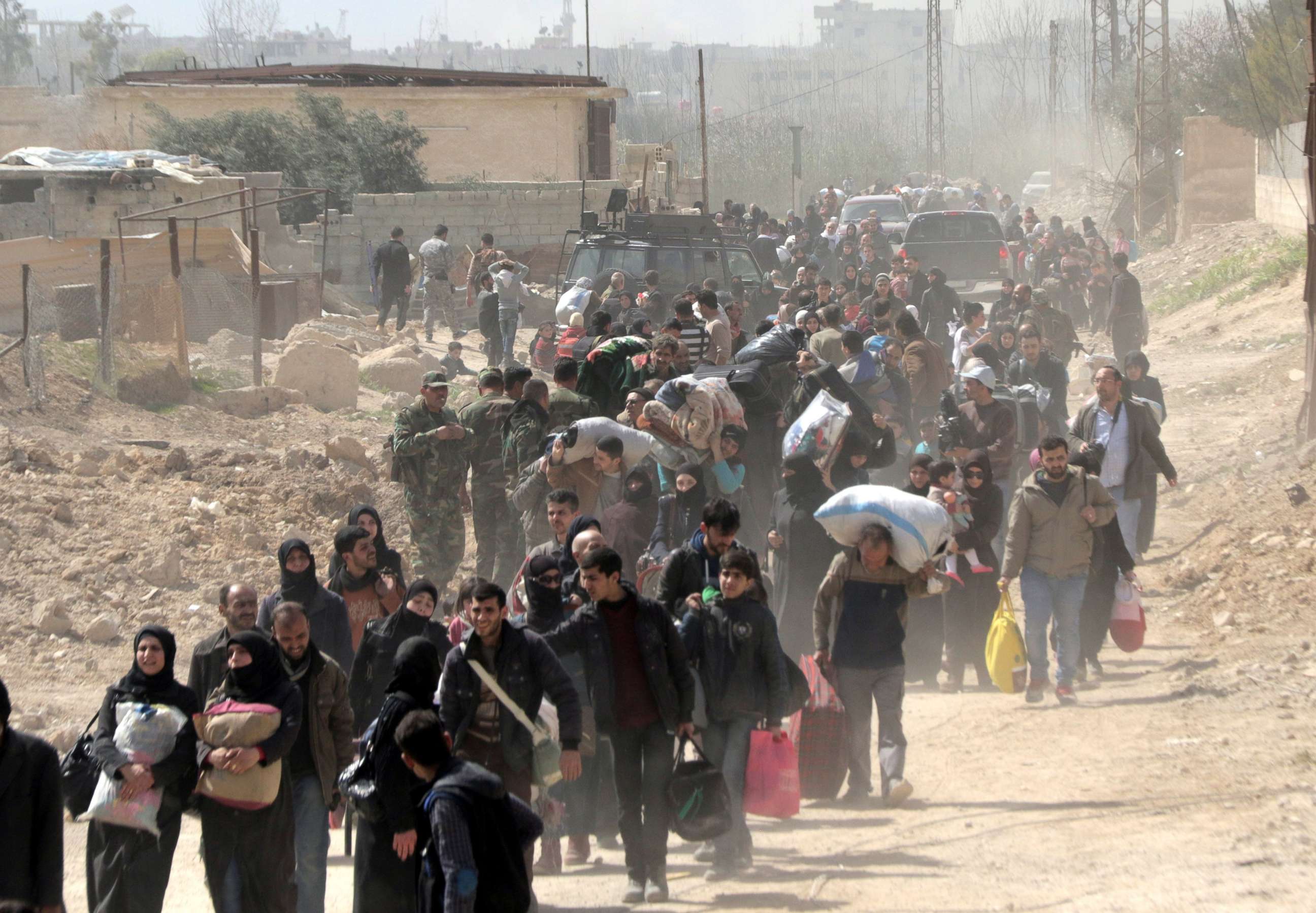 Such contacts though have not taken place between Russia and the other main armed faction in Eastern Ghouta, Faylaq al Rahman, during this cycle of fighting bcause Russia considers them indistinguishable from the Al Qaeda affiliate given its presence in their sector.
"Russia wants surrender, they don't want to negotiate," Waiel Olwan, spokesman for Faylaq al Rahman, told ABC News. He pointed out that Russia didn't have such objections in August and November 2017 when it met with his group and agreed on the expulsion of the remaining 240 Al Qaeda fighters in the area.