Search and rescue crews in Mexico continued the grim task of digging out from Tuesday's massive earthquake as they clung to hope of finding survivors in the mounds of rubble.
Interested in
Mexico?
Add Mexico as an interest to stay up to date on the latest Mexico news, video, and analysis from ABC News.
The epicenter of the 7.1 magnitude earthquake was about 75 miles southeast of Mexico City, according to the United States Geological Survey. The natural disaster caused extensive damage across central Mexico, leveling at least 44 buildings, including homes, schools and office buildings, according to Mexican President Enrique Pena Nieto, who did a flyover of the capital Tuesday afternoon.
The region was engaging in earthquake drills just hours before the quake struck Tuesday afternoon, on the 32nd anniversary of a 1985 earthquake that claimed thousands of lives in Mexico.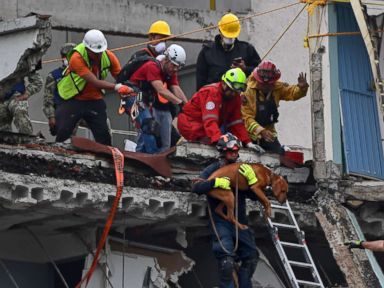 Pena Nieto said late Wednesday night that the priority in Mexico City was still saving lives. Search and rescue crews were working around-the-clock across the capital, with more than 50 people rescued from collapsed buildings there, according to the president.
The death toll following Tuesday's earthquake has surpassed 200 and is expected to continue rising. Pena Nieto said more than 1,900 people have received medical attention thus far.
At least 25 people -- 21 students and four teachers — died when a school collapsed in Mexico City's southern Coapa district. So far, 11 people there have been rescued, but two students and one teacher remain missing, according to Mexican Education Minister Aurelio Nuno.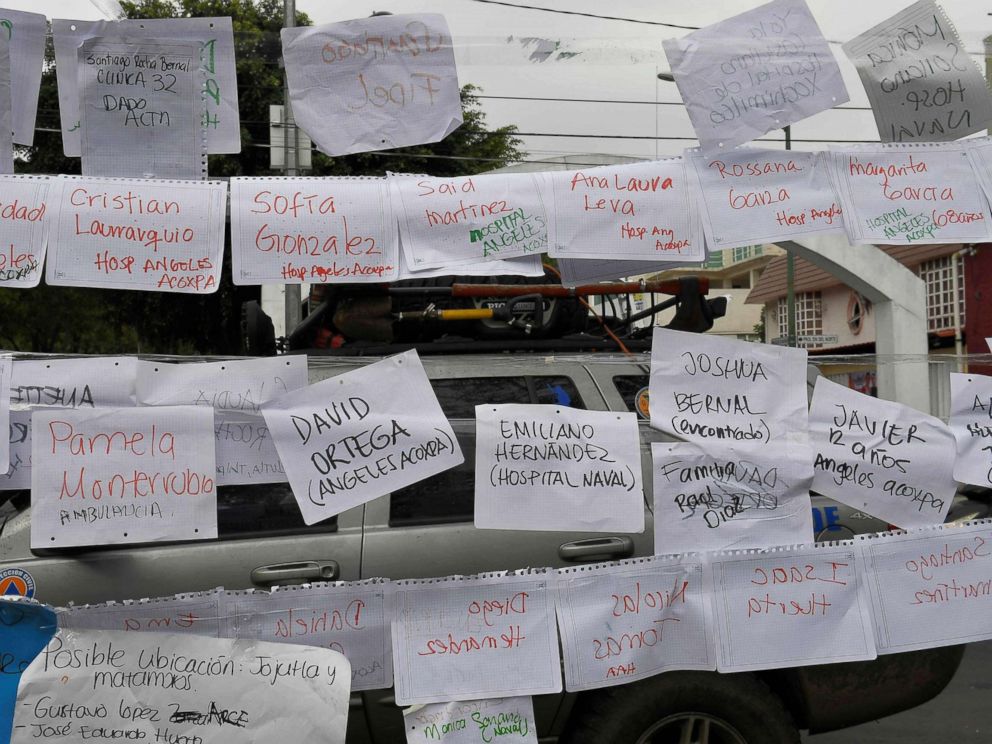 Much of the rescue effort in the capital has focused on the Enrique Rebsamen primary and secondary school.
Neighbors, police, soldiers and firefighters alike could be seen forming an assembly line, tirelessly clawing through the crumbled school all day Wednesday. They, along with anxious parents, are still hopeful after some families said they received text messages from relatives trapped beneath the debris, according to The Associated Press.
Overnight, as sheets of rain poured down on Mexico City, first responders continued an hours-long effort to rescue a student named Frida Sofia, Mexico's education minister told Televisa.
Rescuers managed to contact Sofia and give her water and oxygen, the education minister said. She is trapped under a granite table or desk, which rescuers believe is giving her some protection from the school's collapsed concrete slabs.
Sofia informed workers that there are two people trapped with her. Sofia said she can feel the others but doesn't know whether they are alive.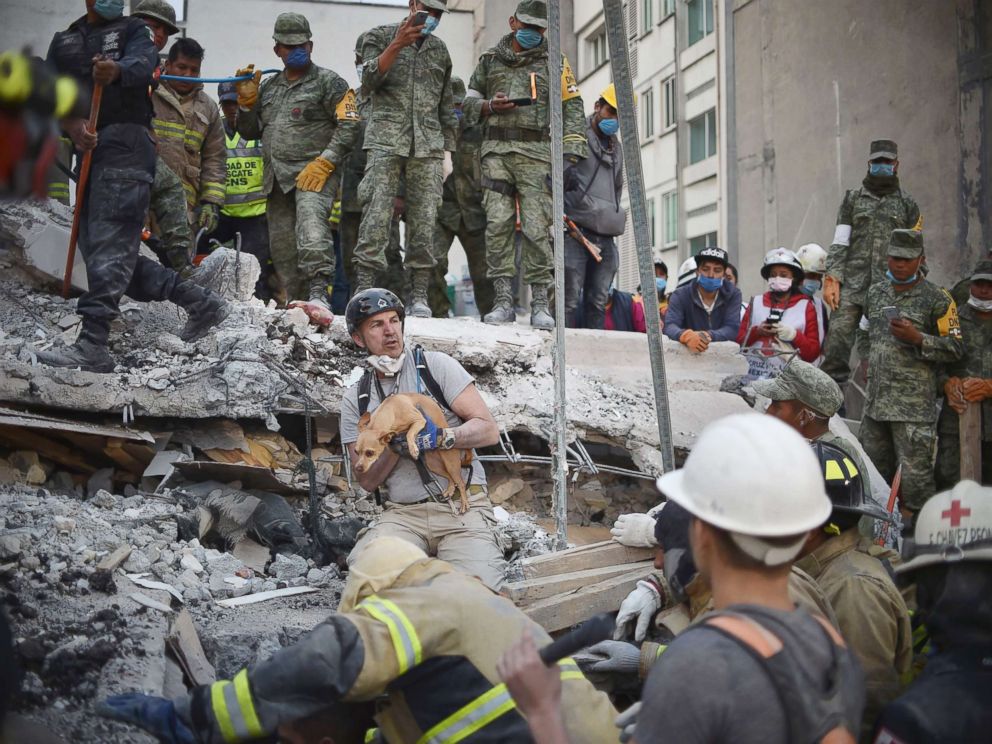 One worker, who was caked with dust after emerging from a pile of cinderblock and rebar that once made up a wing of the Enrique Rebsamen primary and secondary schools, told ABC News early Thursday morning that rescuers were just 3 to 4 feet away from one of the trapped children but were blocked by a chunk of concrete. He's heard knocks and multiple voices, but the noise has grown more faint over the past 12 hours, he said.
The worker said he was tunneling inside when the pile began to collapse, triggering panic to get out. The crawl space for rescuers is only about 16 inches high.
One girl could still be heard beneath the rubble Thursday morning, but officials told ABC News they believe other students may also be alive.
It has become a race against time to save any children buried alive. A pediatrician who is caring for the children once they have been extricated told ABC News hypothermia is the biggest threat facing those beneath the rubble.
As of Wednesday night, Pena Nieto said 95 percent of electricity had been restored to the nearly 5 million customers in Mexico who lost power due to the earthquake.
Mexico has accepted technical and specialized assistance from many countries, including the United States, Spain, Israel, Japan and several Latin American countries.
"We are all one when it comes to saving a life or helping a victim," Pena Nieto said.
On Thursday, the United States Agency for International Development's Office of Foreign Disaster Assistance tweeted a photo of its Air Force plane arriving in Mexico. On board were more than 67 urban search-and-rescue members of the Los Angeles County Fire Department along with five canines and 62,000 pounds of specialized tools and medical equipment to assess damage and conduct around-the-clock missions on the ground, according to USAID administrator Mark Green.
Green said the team from Los Angeles was sent because it has the heavy equipment needed for this natural disaster.
The United States and Mexico are closely coordinating to ensure crews and resources are deployed "in the right place at the right time applying their capacities," according to Green.
"America is and will remain the world's leading humanitarian donor," Green said. "Whether it's responding to an earthquake, drought or conflict, America is committed to standing shoulder to shoulder with people in their hour of need. It's who we are as Americans."
ABC News' Conor Finnegan, Benjamin Gittleson, Matt Gutman, Joshua Hoyos, Kirit Radia and Robert Zepeda contributed to this report.