— -- The U.N. Security Council "condemned" the recent ballistic missile launch by North Korea, calling it a "grave violation" of Pyongyang's obligations, a statement said Monday.
The Council also called on member states to "redouble their efforts" to fully implement the measures imposed on North Korea in those resolutions.
U.S. Ambassador to the United Nations Nikki Haley echoed those sentiments, calling on the Security Council to "hold North Korea accountable."
"We call on all members of the Security Council to use every available resource to make it clear to the North Korean regime – and its enablers – that these launches are unacceptable," Haley said in a statement. "It is time to hold North Korea accountable – not with our words, but with our actions."
The statement did not elaborate as to what those actions entail.
In a statement, the spokesman for the U.N. secretary-general condemned the missile launch, saying North Korea's action "is a further troubling violation of Security Council resolutions."
"The DPRK leadership must return to full compliance with its international obligations and to the path of denuclearization," the statement read. "The Secretary-General appeals to the international community to continue to address this situation in a united manner."
During a joint press conference today with Canadian Prime Minister Justin Trudeau, President Donald Trump spoke about North Korea briefly, calling the country "a big, big problem, and we will deal with that very strongly."
A U.S. official said the missile was a KN-11 sub-based missile. It has a maximum range of 1,400 nautical miles, but only traveled 310. Sunday marked the first time North Korea fired a solid-booster missile from land, the official said.
North Korea launched this type of missile last August from a water location, leading the government to claim a successful sub-launched missile test.
South Korea's acting president and prime minister, Hwang Kyo-ahn, said his country will punish North Korea for the provocation.
The launch came only two days after Trump and Japanese Prime Minister Shinzo Abe strongly urged North Korea to abandon its nuclear and ballistic missile programs and not to take any further provocative actions.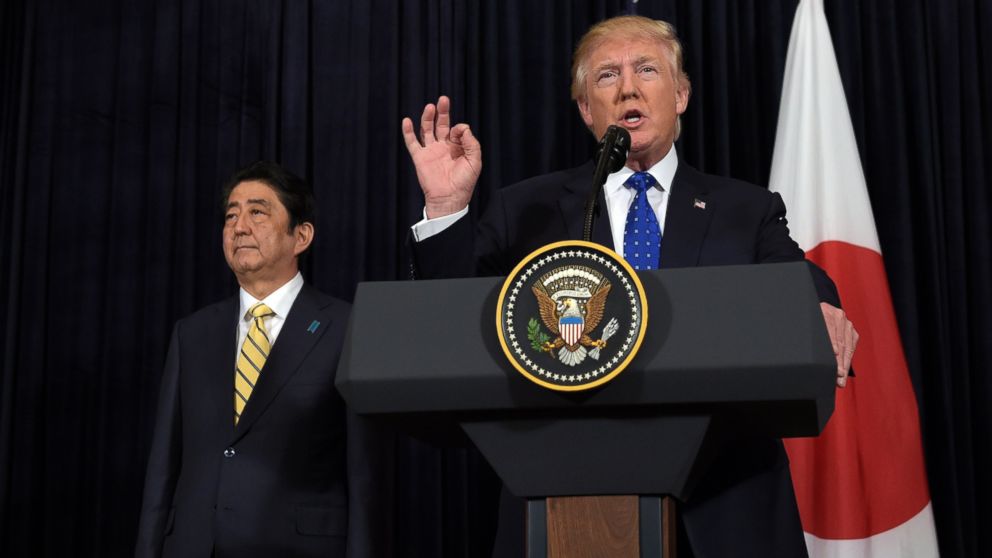 In a brief joint statement with Trump at his Mar-a-Lago resort in Palm Beach, Florida, Saturday night, Abe called the missile launch "absolutely intolerable."
"North Korea must fully comply with the relevant UN security council resolutions," he said.
Abe, who spent the weekend with Trump in south Florida, said that he and the president were dedicated to working together and strengthening their alliance.
Trump echoed the Japanese prime minister, saying, "The United States of America stands behind Japan a great ally 100 percent, thank you." He gave no further remarks, and neither leaders answered questions from reporters.
ABC News' Justin Fishel, Joohee Cho, and Dean Schabner contributed to this report.