Surfers in South Africa will have to find another favorite spot to catch a wave after local authorities decided today to close down a beach that has become notorious for fatal shark attacks.
The decision came two days after a man was killed on Sunday.
Msungubana Ngidi, 25, was the latest shark attack victim on Second Beach in Port St. Johns on South Africa's southeastern coast, where sharks have killed one person every year for the past six years.
According to the International Shark Attack File compiled by a professional organization of workers studying sharks, no other beach in the world has had more fatal shark attacks since 2007.
Port St. Johns is a popular tourist spot, but authorities said they didn't want to take any chances.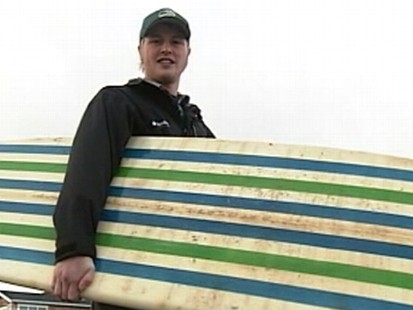 "There will be significant revenue loss, but we believe one human life is worth more than any money," town spokesperson Nonceba Madikizela told ABC News.
Madikizela said police officers would be keeping watch at Second Beach at all times. The beach is expected to be closed for several months at least while an investigation gets under way into why so many sharks strike there.
"I'm not sure what is causing the attacks, but I think once there is a shark attack, the sharks will keep coming back for more," said lifeguard Nqobile Jojo.
Jojo was one of the lifeguards who rushed to help the victim. Jojo said Ngidi was wading in waist-deep water when the shark struck. He said he used another lifeguard's surfboard to try to save Ngidi.
"I took the surfboard and I waved it at the shark with the victim behind me, and it started to retreat. I then put the victim on the surfboard when other lifeguards came and helped me pull him to shore," Jojo said. "The victim was still breathing but you could see he couldn't even cry as he was badly injured."
The shark bit into Ngidi's chest and stomach and nearly severed his arm. Police said he died in the ambulance en route to the local health clinic. Authorities are still investigating what type of shark killed him, but Zambezi or bull sharks have been involved in most of the attacks at Second Beach. Residents have several theories about what draws the sharks to the area.
"There was once the death of a whale on Second Beach, and it is believed that the sharks are attracted by the whale fat in the water," said Bantu Goniwe, a lifeguard.
Madikizela said a preliminary investigation commissioned by the Department of Environmental Affairs in 2009 found the nearby Umzimvubu River is a breeding place for the sharks, and that local traditional healers throw the entrails of slaughtered animals into the sea in the area. Madikizela said the initial investigation by the Natal Sharks Board hadn't been completed because of lack of funding but was recently recommissioned and could be finished later this year.
ABC News' Dana Hughes contributed to this story.