Squash Pro Tells David Muir She Disguised Herself as a Boy to Play Sports in Taliban-Controlled Pakistan
Maria Toorpakai shared her story in a new book due out Tuesday.
— -- Maria Toorpakai told ABC News' David Muir recently that she was just 4 years old and living in the Taliban-controlled tribal regions of Waziristan, Pakistan, when she set her girl clothes ablaze in defiance of the world she'd been born into.
"In that age, I just felt that 'I just want to go out. I just don't want to stay home or among those girls.' ... That's why I burned all my dresses," the professional squash player told ABC News anchor David Muir. "I saw a huge [difference] between the life of a girl and a boy. ... I'm not a very typical girl who's just going to stay among those and just help learn how to [do] home chores and learn to sew."
Toorpakai, currently ranked as Pakistan's top female squash player, is No. 48 in the world.
In 2007, she went professional in the squash world. For years, however, she disguised herself as a boy in order to play and compete in squash so the Taliban would not learn of her.
Toorpakai, who spoke with ABC News at the New York Health and Racquet Club recently, shared her story in a book due out Tuesday titled "A Different Kind of Daughter: The Girl Who Hid From the Taliban in Plain Sight."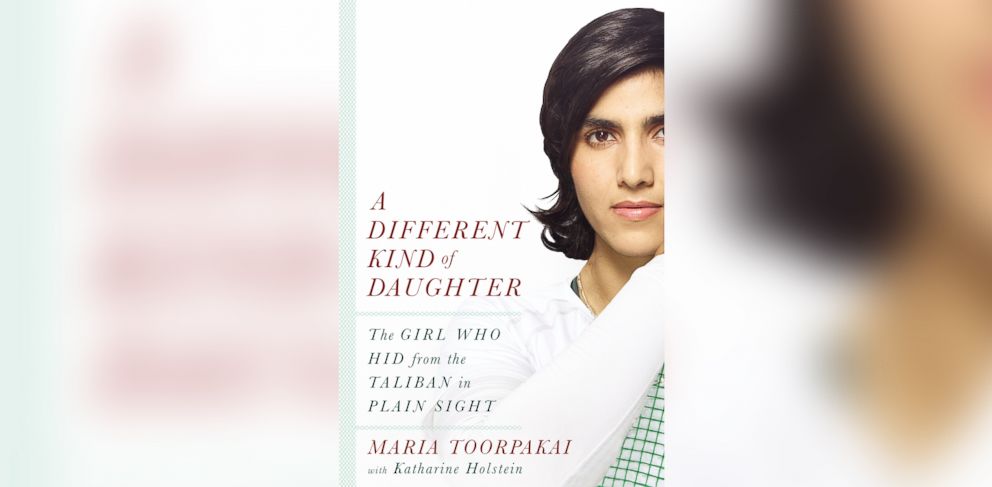 She said through it all, she had the support of her father, who'd also educated her mother and sister.
"At home my father treated us really well, like equally to my brothers," she said. "We have very just environment at home. But when I go outside, I did not find justice in there."
When she destroyed most of her clothing at 4, Toorpakai said that instead of scolding her, her father supported her, letting her wear her brother's clothing and giving her a new name: Genghis Khan for the greatest warrior.
In Waziristan, where women are kept home and not allowed to attend school or play outside, Toorpakai said it was very dangerous for her progressive parents. Only her family knew her secret.
Her father, who was pro-women's rights, was threatened and attacked. Their house was stoned. Her father was forced to leave and was jailed but he escaped. The family moved from one area to another because of the danger they faced. When Maria was 12, the family settled in Peshawar.
"At home, I was Maria. ... At home, I did everything a daughter does. Outside, I did everything like son does so I help my family bring groceries, always escorting my mom, you know, everywhere and my sister," she said. "At home, I'm cleaning the house. ... Making bread. ... Everything. Things like that."
When Toorpakai started getting into fights with the local boys, her father pushed her to get into sports. She started weightlifting and competing throughout Pakistan. Then she discovered squash. In order to enroll in a squash academy, she had to present her birth certificate. Only the academy director knew the truth but the students eventually learned that she was a girl.
"Lots of kids come from the same area where we were living at that time," she said. "They came to know about me, that I'm a girl. ... I was treated differently. ... They were teasing me. ... Extreme bullying started. ... I just didn't know what has changed. I'm the same person. Just only thing is that I'm a girl."
She said she grew depressed and suffered anxiety. Her father noticed how despondent she was and tried sending her to school with her sister. She found, however, that school was not a good fit. Eventually she returned to playing squash and ultimately decided she would not let anyone deter her from being a success.
"I saw a lot of resistance from the community, from the society. I heard people telling my father that, you know, this is not right thing to do. ... But my father is amazing. ... Even in Peshawar market, he would not care about people. ... He said, 'Don't look at people. Just walk and stay focused. And these are just people. They will just walk by your life. ... You would reach your destiny,'" she said.
Toorpakai kept playing squash and training and practicing. In 2007, she earned an award from Pakistan President Pervez Musharraf. In 2009, she was nominated for the Best Player of the Year Award by the World Squash Federation. With the accolades, however, came the death threats to her and her family by the Taliban.
"They were saying to my dad that, 'You are, you know, come from blood. You come from the same region. And your daughter plays sport and, you know, in skirts and shorts. And it's unbearable thing you're doing," she said. "Looking at my father, he was, you know, nervous. My mom was very nervous and depressed."
Toorpakai said for several years she stopped playing squash in public, retreating to her home and opting to play inside and when the sun had gone down. She started sending emails around the world, looking desperately for a place to play. In three and a half years, she received only one reply. It came from Jonathan Power, a world squash champion living in Canada.
In 2014, with Power's help, she moved to Toronto, Canada, where she currently lives and continues to play.
She said she had a message to not only young girls in Pakistan but also the men in their lives.
"The most beautiful scarves, burqa or veil that you can give to your daughter is the love, is the trust that you build with time. ... Give them freedom and they will always come back. ... And to the young girls, never, ever think you are less than any boy or man. We come from the same mother. ... You cannot be less than your brother."
ABC News' Christine Romo contributed to this report.