Wednesday's attack on the U.S. Embassy in Yemen, which left 16 people dead, shows the challenges and limitations faced by the Yemeni government against an evolving extremist threat.
Considered a U.S. ally in the war on terror, Yemen's government faces a broad swath of challenges as it works to keep control of the country and keep terror attacks at bay.
Islamic militants, including groups linked to al Qaeda, have long operated from Yemen. Since the bombing of the USS Cole off the coast of Yemen in 2000, an attack that killed 17 American sailors, jihadist groups have attacked American and Western targets using relatively unsophisticated tactics.
The embassy attack today was a marked change, involving heavy weaponry and gunmen dressed as local police in an attempt to gain access to the compound.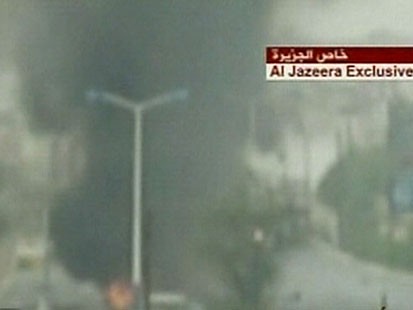 "The attack is the most sophisticated Islamist militant attack in Yemen in recent years and marks a significant increase in jihadist capabilities in the country," wrote Stratfor analysis, a political and security risk assessment firm.
"It's a big shock. This is the first time extremists have the courage to directly attack the U.S. Embassy," Mohammed Al-Qadhi, a Yemeni journalist and commentator, told ABC News. "This is a change in strategy. They want to reach their targets directly."
The sharpening of terror tactics in Yemen runs counter to the perceived decline of al Qaeda, which many believe has lost strength and public sympathy.
"We have seen more terror activity in Yemen lately ... at a time when al Qaeda has faded from the radar screen in Saudi Arabia almost entirely," said Kenneth Katzman, a Middle East expert with the Library of Congress.
Some experts see Yemen as a haven for terrorists, migrating opportunistically toward a state less tightly in control of its own security.
"Given Yemen's geographic position -- sandwiched between the jihadist hubs of Somalia, Iraq, Saudi Arabia, Afghanistan and Pakistan -- and its significant Salafist minority, it was only a matter of time before more skilled, battle-hardened militants made their way ... in search of more favorable conditions to wage their insurgency," Stratfor wrote.
For nearly a decade American landmarks in Yemen have been subject to ongoing threats and attempted violence. In response, the embassy has increased its fortifications with layers of thick security and concrete barriers.
Wednesday's attack occurred at its outer perimeter, with most of the physical damage around the front gate.
Yemen, dominated by a conservative tribal culture, has struggled in its economic and social development. Arguably the oldest and richest culture in the Arabian Peninsula, Yemen is now the poorest country in the gulf.
It faces a water shortage, a booming population and the depletion of the oil reserves that account for much of the country's revenue. Widespread use of a locally grown narcotic called khat holds back productivity and economic growth.
Modern Yemen has existed only since 1990, after decades of a civil war that left veins of sectarian fighting and factionalism running through the country. It is also the ethnic homeland of Osama bin Laden.
Yemenis form the largest group of detainees still held at Guantanamo Bay, according to a local media count in January. Among the public, many support government efforts to crack down on violent extremists. Others find common ground with militant attackers.
"There is some anti-American sentiment among the Yemeni people. Some are religiously misled, manipulated for their sympathy and support. Some people think the extremists are right, especially in tribal areas," said Al-Qadhi, the Yemeni analyst.
But he said even that element has shown resistance to the militants' attacks as they have involved more and more local casualties.
"With the USS Cole attack some people were happy, because it was against a U.S. military target," Al-Qadhi said. "Now they see extremists are just hurting civilians."
A Struggle With Extremism
Along with an ideological fringe that embraces violent Islam, a porous border with Saudi Arabia and pockets of limited government control have complicated joint U.S.-Yemeni efforts in the war on terror.
The partnership, which intensified after the Cole bombing and the attacks of Sept. 11, 2001, has had its problems.
Tension remains over Washington's effort to extradite Jamal al-Badawi, a convicted mastermind of the Cole bombing, who escaped from a Yemeni prison after serving part of a 15-year sentence. Washington has long pushed Yemen to hand over al-Badawi and other terror suspects, while Yemen maintains its constitution prevents the extradition of its nationals.
But after the blast today, U.S. officials expressed praise for Yemen's leaders, crediting their guards with stopping the attack at the embassy gate.
"Fast action by embassy security personnel and host nation embassy forces ... were vital in limiting the harm to embassy employees and to the public," Secretary of State Condoleeza Rice said.
The embassy in Sana'a stressed it would work with Yemeni officials to investigate the bombing and prosecute the attackers.
As part of its struggle to control extremist violence, the Yemeni government is launching de-radicalization and anti-corruption programs. Increasingly, there are calls for Yemen's wealthy neighbors to help with the country's development and security.
"Gulf countries should look at this seriously. They should support the Yemeni troops, police and government. Their troops need to be better trained and funded," said Sultan Al Qassimi, a columnist and commentator in the United Arab Emirates.
"Its strategic location makes its political instability very relevant for the security of the Arabian Peninsula. ... Yemen may not collapse tomorrow, but it is certainly moving in that direction," wrote Ian Bremmer of the Eurasia Group, a political risk consultancy. "The last thing that region needs is a Somalia-type scenario developing just south of the border from a major oil producer like Saudi Arabia."
'Holy War' Defies Holy Month
The terrorists who carried out the attack struck during Ramadan, the holiest month in the Muslim calendar and a time when believers are moved toward acts of charity and reconciliation.
"These people don't respect Ramadan," Al Qadhi said. "If they had, they wouldn't have attacked Yemeni soldiers."
"It is ironic. This is the month where you abstain from any act of violence. Even if you disagree with someone you extend your hand. ... The fact that they'd do such an attack shows that they're not in touch with the rest of the country," said Al Qassimi of militant groups like Islamic Jihad.
"They claim to be Islamic. Obviously they're not."