One day after American special forces launched an attack against an alleged terrorist ringleader inside Syria near its border with Iraq, the United States has yet to offer an official acknowledgement the incident even took place.
"The United States government has not commented on reports about that, and I'm not able to here, either," White House spokeswoman Dana Perino told reporters. The Pentagon and State Department also refused to confirm or deny the attack.
However, several U.S. officials, on condition of anonymity, tell ABC News that U.S. troops entered Syria via helicopter to target Abu Ghadiya, an Iraqi who, for four years, allegedly ran a smuggling ring in Syria to shepherd foreign fighters into Iraq.
U.S. sources say they believe Abu Ghadiya was killed in the attack. They described him as "a major facilitator of foreign fighters in Iraq."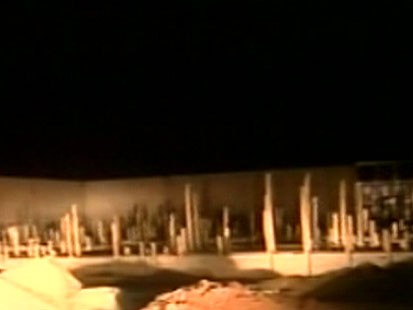 The Associated Press quotes a villager who says he saw U.S. troops grab at least two men and take them away in the helicopters.
The Syrian government, meanwhile, offered a blistering condemnation, calling the attack "cowboy politics."
"We consider this criminal and terrorist aggression," Syrian Foreign Minister Walid al-Muallem said. "If the U.S. does it again, we will defend our territory."
Syria accuses the United States of attacking a building in Syria and killing eight civilians, including one woman. Damascus insists that there was no justifiable terror target for the attack.
A shaky video of the incident surfaced today, providing the first purported evidence of the U.S. raid in progress. The tape, first reported by Syria News, shows what appears to be multiple helicopters circling in what local media says is Syrian territory.
Syria's foreign ministry summoned the top American diplomat in Damascus, Charge' d'Affairs Maura Connelly, to issue a formal diplomatic complaint over the incident and to request further information. Iraq's top diplomat was also called in to discuss the matter.
The State Department declined to characterize Connelly's meeting.
A spokesman for the Syrian Embassy in Washington, Ahmed Salkini, said Syria and Iraq had agreed to meet in the coming weeks to discuss security issues, including border issues. Salkini said that Iraq was planning on inviting the United States to attend as an observer.
The embassy would not say that the meeting has been cancelled in light of the recent attack, but Salkini said the incident "undermines" that effort.
Last Thursday, Maj. Gen John Kelly, the top commander of coalition troops in Iraq's western al Anbar province, which borders Syria, said Damascus had not done enough to prevent foreign fighters from crossing into Iraq. Kelly, perhaps foreshadowing Sunday's attack, said that the United States would have to "redouble our efforts to secure the Syrian border."
State Department spokesman Sean McCormack said the flow of foreign fighters into Iraq remains a problem, but noted that the problem is not as bad as it used to be.
"We read a lot about infiltration over the Syrian border into Iraq quite a bit three, four years ago, a couple years ago; less so now. That doesn't mean that it's not -– there aren't continuing issues in that regard," McCormack said.
Secretary of State Condoleezza Rice met with her Syrian counterpart on the sidelines of the United Nations General Assembly meetings in New York last month. The State Department said Rice raised U.S. concerns about foreign fighters entering Iraq from Syria during the meetings.
ABC News' Jonathan Karl contributed to this report.