The manhunt continues this afternoon in northern France for the two prisoners who used explosives to escape Sunday from a prison in central France.
Described as dangerous by French authorities, the two fugitives were last spotted this morning in Amiens, northern France, where they took two people hostage -- a man and his grandson -- before releasing them unharmed in Arras, near the Belgium border.
Both men are armed and are believed to still be in possession of explosives.
"They have reached the region of Arras in northern France," Gerard Gachet, spokesman for the Interior Ministry in Paris, told ABCNews.com. "Now, they could try to enter Belgium. A lot of police forces -- on the ground and in the air -- have been deployed in that area and at the border with Belgium."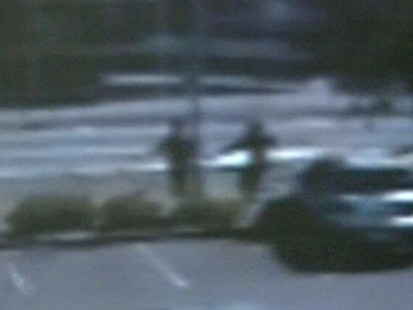 "The police is also leading a certain number of investigations concerning their environment, i.e., their families, friends, former accomplices, to try to determine what contacts they could try to make" to help them in their escape.
It all started Sunday afternoon during visiting hours at the Moulis-Yzeure prison parlor. Christophe Khider, 37, who is serving a life sentence for an armed robbery that left one person dead, and Omar Top El Hadj, 30, who was sentenced to 10 years in jail for a gunfire exchange with the police in 2002, were being visited by family members when they pulled out a gun and took two prison guards hostage.
Using powerful explosives that had been smuggled into the prison, the men destroyed two armored doors and ended up in front of the prison's main gate.
To avoid a blood bath, prison officials ordered the gate to be opened. The escapees stole a vehicle from the prison parking lot and piled in their hostages. They then changed vehicles in Nervers after an accident, before stealing a third vehicle, an Audi A4, and heading north.
They forced their way through a road toll just south of Paris. French police did not intercept them at that point, knowing that the guards' lives were in danger. Both guards were later released unharmed outside of Paris three hours after the escape had taken place.
Previous Escape Attempt
This was not Khider's first attempt to escape from prison. In May 2001, his brother Cyril tried to help him escape from the Fresnes prison outside of Paris using a helicopter, but the rope he threw out was too short and the attempt failed.
Before the helicopter left, a bag full of weapons fell in the prison courtyard. Khider and another detainee took three guards hostage. The hostages were released after a 20-hour standoff. Khider was sentenced to 15 years in prison for this attempt.
Catherine Charles, Khider's mother, told French Television today that he does not have anything to lose anymore. "This is what is called in the U.S. a suicide by cop, to be killed by the authority whatever it is. Rather than hanging himself or taking pills, it's the choice" he has made to end his life, she told France 2 TV.
French authorities are today leading an investigation of how weapons and explosives made it inside the prison, one of the most secure in France. Two relatives of the escapees were questioned by the police this morning, while police helicopters were in the sky over northern France scouting for the two men.