Syrian Refugees Battered by Winter Need More US Help, Agencies Say
Aid agencies urge the US to increase its help to the refugees.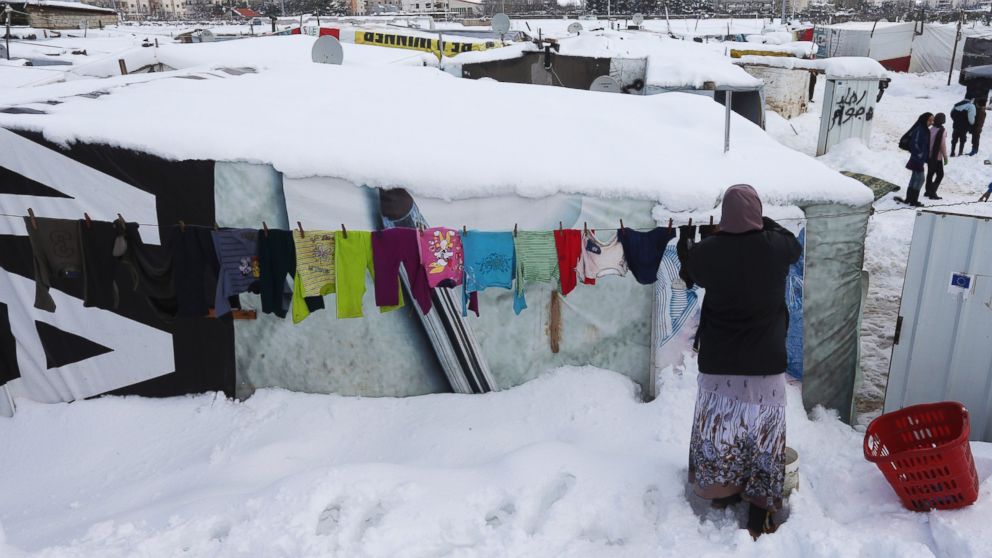 — -- Aid agencies are urging the U.S. to increase its help for Syrian refugees who are struggling to survive a harsh winter without sufficient clothes, food or fuel.
There have already been accounts of children dying in camps in Lebanon from the cold.
American non-governmental organizations told ABC News that the U.S. government could provide additional funds for aid agencies to deliver materials like blankets and sweaters, as well as technical assistance coordinating the response by NGOs on the ground.
The U.S. should also use its position as the largest international donor of aid to the Syrian crisis to get other countries to do more, said Holly Frew, a spokesperson for CARE, an international humanitarian organization.
"CARE would like to see the U.S. government continue to be a leader in providing funding for the humanitarian needs, and also leverage their relationships to influence other countries to follow their lead in prioritizing civilians impacted by the escalating conflict in Syria," Frew said.
Frew said USAID's U.S. Office of Foreign Disaster Assistance provided funding for CARE to distribute 4,000 winter kits to 22,000 displaced people inside Syria. Their work, and that of other NGO's with the same mission, adds to the efforts by the United Nations High Commissioner for Refugees (UNHCR), to which the United States has been the largest donor.
The UNHCR warned in November that a $58.45 million budget shortfall would leave up to 1 million Syrian and Iraqi refugees and internally displaced persons without proper help during this brutal winter.
"UNHCR is having to make some very tough choices over who to prioritize," chief spokesperson Melissa Fleming said at the time.
Because funding has not kept up with the massive influx of refugees, families in camps in neighboring countries like Jordan and Lebanon have not been able to prepare for winter, focusing instead on getting through each day, said Daryl Grisgraber, senior advocate at Refugees International.
Refugees not only need material items, but also organized channels to get those items where they are most needed, Grisgraber said. She said that airlifts of emergency goods by the United Arab Emirates government on Tuesday to Jordan, Lebanon and other nations were critical, but would only help if they were disbursed effectively.
And the U.S. might have a role to play there. "What might be more useful is some sort of technical cooperation in helping the NGOs who do the implementation to find people who can help them" on the ground, she said.
A spokesperson for the State Department indicated that the U.S. government had no intention to more narrowly funnel humanitarian aid for specific purposes.
"Our funding is not typically earmarked for specific items, but is distributed to agencies in such a way that allows them the flexibility to put it toward what they need most," the spokesperson said. "We remain in close communication humanitarian actors on the ground to ensure they have the resources they need to help both Syrians and the communities where they live."
Grisgraber said regardless of how much money or direction the U.S. and other countries provided, the Syrian refugee crisis, especially through the winter, was an exceptionally difficult challenge, given its scale.
"No matter how well-coordinated the response is, it's so enormous that it's going to be so hard for the agencies to keep up," she said, adding, "Certainly there's no reason to stop trying."