— -- It is the last time for the foreseeable future that they will see their mothers and fathers, the homes they were born in, the streets they grew up on.
In the largest displacement wave to occur in Syria since the start of the conflict, a total of 10,000 people, from the four towns of Madaya, Zabadani, Fuaa and Kefraya, boarded buses to start the hours-long journey away from their hometowns, according to the Syrian Observatory for Human Rights.
For those besieged by the regime in Madaya and Zabadani, it comes after weeks of agonizing over their very own Sophie's choice.
"If we leave, we're labeled terrorists and we go to Idlib where the chemical attack happened last week; and if we stay we don't know how the government will treat us," said Madaya Mom, a local mother whom ABC News has been profiling since January 2016.
Only 2,200 out of the roughly 40,000 mainly Sunni people believed to be in Madaya, near the capital Damascus, signed up to leave, per local officials. They include medics, media activists and fighters along with some of their families. At sunrise on Friday they were driven out in 60 buses, leaving their hometown where they have been besieged by the government and Lebanese armed group Hezbollah since the summer of 2015.
Locals described tearful goodbyes and broken hearts. "My land is gone, I've left behind my memories, my childhood, my parents, everything," said Mohamad Darwish, a 26-year old medic in Madaya, told ABC News in a text message as his bus left town. As the bus reached the once lush plains surrounding Madaya, where most inhabitants made a living as farmers, he was overcome with emotion seeing for the first time in four years the toll the siege had taken. "Nothing remains, it's all destroyed, barren and pale," he said.
Fuaa and Kefraya, meanwhile, Shia towns loyal to the government just west of Aleppo, besieged by rebel forces, are set to be fully emptied, stoking fears that a sectarian demographic change is being engineered in Syria, moving Shia Muslims into areas that the regime sees as strategically vital -- in particular, the swath between Damascus and the Lebanese border where Madaya and Zabadani are located -- and Sunnis now living there being exiled to the north of Syria.
Close to 5,000 of the inhabitants of Fuaa and Kefraya, mainly women and the elderly, were evacuated on 75 buses and 20 ambulances Friday at sunrise per local authorities; another 3,000 are expected to leave Saturday, followed by the remaining 9,000, mainly men and fighters, over the next two months. Some are expected to be resettled in nearby east Aleppo, according to Dr. Hussein Ragheb, the member of Parliament (MP) for Fuaa and Kefraya. ABC News was not able to connect with evacuees from Fuaa and Kefraya; local authorities said cellular coverage did not allow communications.
Until the buses started moving, those who chose to leave weren't sure it was going to happen. Rockets were fired onto Fuaa and Kefraya, which opposition forces are besieging, threatening to derail the whole process. In the end, it only postponed the departures from midnight to sunrise on Friday. A second last-minute change occurred. Buses leaving the town of Zabadani, Wadi Barada and neighboring towns south of Damascus were postponed until Saturday as the number of people set to leave Fuaa and Kefraya were too large to transport at once, officials involved said.
"I bid farewell to my family in the morning and spent the whole day hiding from them, waiting for the buses," Darwish said. Taking only "two sweaters, two pairs of pants and my personal papers," he had to go through the heart-wrenching goodbyes four times as the deal that would allow him to leave was repeatedly postponed over the past two weeks "for logistical reasons."
That is all he, like most inhabitants ABC News spoke to, knows. "We're leaving behind an uncertain situation and going toward another unknown," he said. After he and his colleagues from the field hospital leave, only two private practice doctors, still trainees, will remain in Madaya.
Negotiations on the fate of the inhabitants of the four towns involved have been ongoing for months outside Syria, between Iran on the Assad regime side and representatives of two opposition armed groups Ahrar Sham and Hay'at Tahrir Sham through Turkish and Qatari mediation.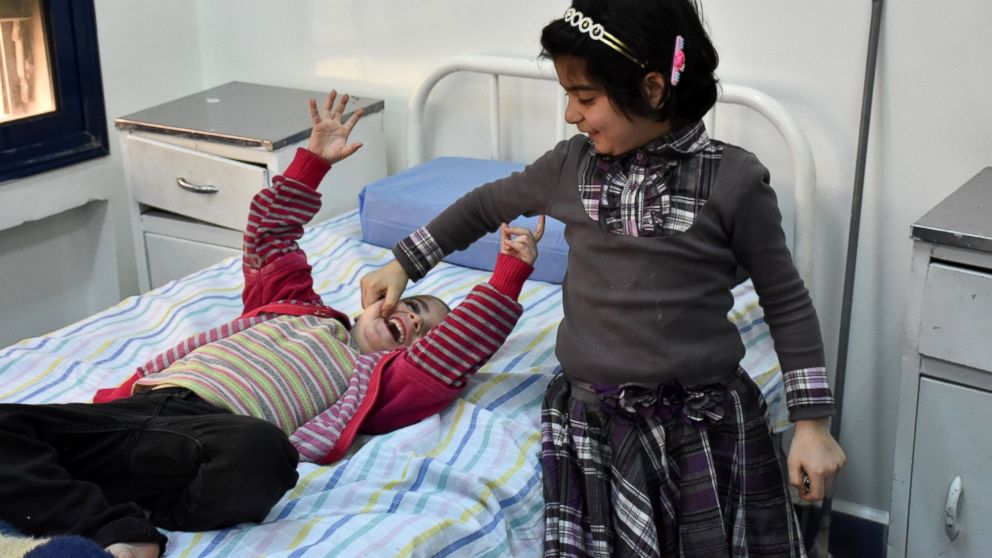 The rough outlines of the current deal include a prisoner swap that took place Wednesday followed by simultaneous evacuations from the four towns. In addition, fighters holed up in the Yarmouk Palestinian camp south of Damascus are expected to exit as well. Once the evacuations are completed a nine months' truce is expected to take effect.
Rumors have also swirled about the release of 18 Qatari nationals reportedly held by Iranian-backed forces outside Syria but ABC News was not able to confirm this information.
Locals in all four towns were not on board with the displacement plan, per the Syrian Observatory for Human Rights, but faced pressure from their respective armed groups to accept the deal. Previous similar deals have been criticized by United Nations special envoy to Syria Stefan de Mistura as a "strategy" of forced displacement.
"Giving people the 'choice' of leaving towns under stranglehold sieges to kettle them in Idlib, a town under intense bombing, is a deliberate policy of demographic change through forced displacement" Toni Brodelle, a member of the U.K. House of Lords task group on Syria and refugees, told ABC News.
The Syrian government disputes the accusation that the displacement is forced, saying anyone who wants to stay can.
"All the people from Madaya who want to stay can sign up with the government and vow never to resume their terrorist activities," Ragheb, the MP for Fuaa and Kefraya, said. Darwish said he was not allowed this option because of the medical care he provided and the international media attention he raised about the starvation caused by the siege.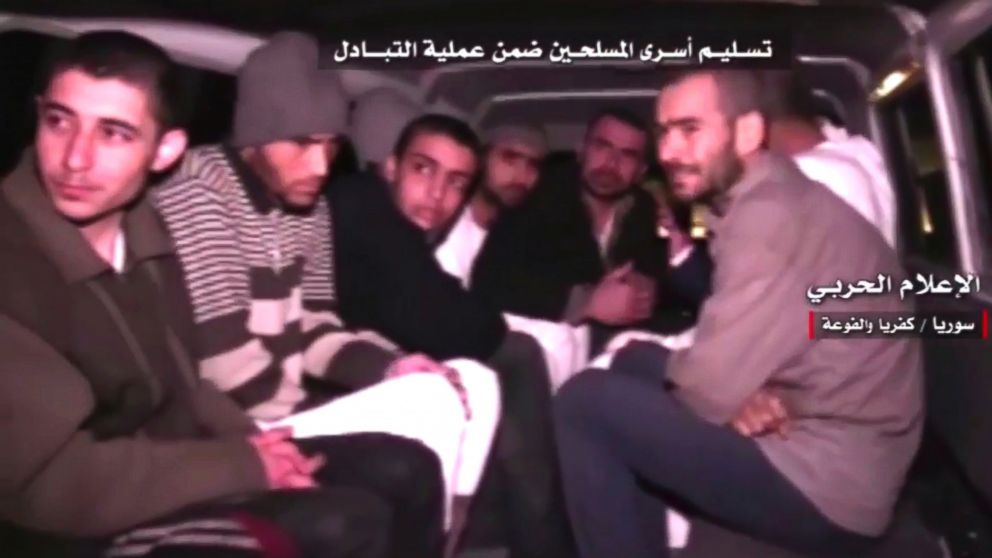 Observers also point to forced disappearances and broken promises by the government in previous such "reconciliation" deals. "Communities that surrender are forced to accept conditions that leave their residents vulnerable to further abuse and persecution," reads a recent report by The Syria Institute.
"There are fears of demographic change, of course, but we've asked for safeguards against that in the negotiations," said Abu Abdrahman, a nom de guerre, a commander of opposition group Ahrar al-Sham in Madaya. He pointed to the fact that the overwhelming majority of people in Madaya are staying put.
Others aren't so sure. "We're hearing of preparations for arrivals of the people from Fuaa and Kefraya to the town of Maamoura in the Zabadani mountains," said an activist from the area who didn't want to be named for security reasons. Dr. Raghed asserts those leaving Fuaa are heading to Aleppo. The government retook east Aleppo from opposition control in December 2016 after a crippling siege and air-bombing campaign that ended with the forced displacement of the remaining inhabitants to Idlib.
Those who take these displacement deals do not have freedom of movement and are considered terrorists by the Syrian government. They are forced to go to Idlib province, the only opposition-controlled province, even though they have no roots there. There, Syrian and Russian air forces carry out quasi-daily aerial bombardments, often hitting schools, hospitals and residential areas per nongovernmental organizations operating in the area. The United States-led coalition also occasionally bombs al-Qaeda-affiliated locations there.
For now, Darwish said he plans on using his time in Idlib to try to get a scholarship, preferably at an English-language university, to continue his medical studies. He was specializing in dentistry before the siege but now plans on pursuing general medicine using the experience he gained in recent years. He said he has no regrets about taking part in the upheaval, which he called his country's bid for freedom and dignity, but feels the world turned its back on them.
"The international community can now rest easy, they won't have to see the starving dying children of Madaya anymore," he said over the phone before his bus left. The air was quiet around him, only pierced by birds chirping. The contrast between that mundane moment of peaceful beauty and the uprooting that lay ahead was not lost on him.