Thousands of women protest against spy cameras, gender-biased investigations
The protestors rallied against spy cameras and gender-biased investigations.
SEOUL, South Korea -- With scorching temperatures peaking at 97 degrees, a sea of red descended on Gwanghwamun Square in Seoul Saturday.
Thousands of women wearing red shirts endured the suffocating heat for the same purpose -- to protest against the illegal filming of women and investigations of sex crimes they say favor men.
Columns of protestors at the square waited to participate well after the afternoon start time. Beginning as far back as the metro station, the crowd of protesters -- which organizers placed at approximately 70,000 -- sitting facing the Gyeongbok palace as well as those waiting to get in created an endless line.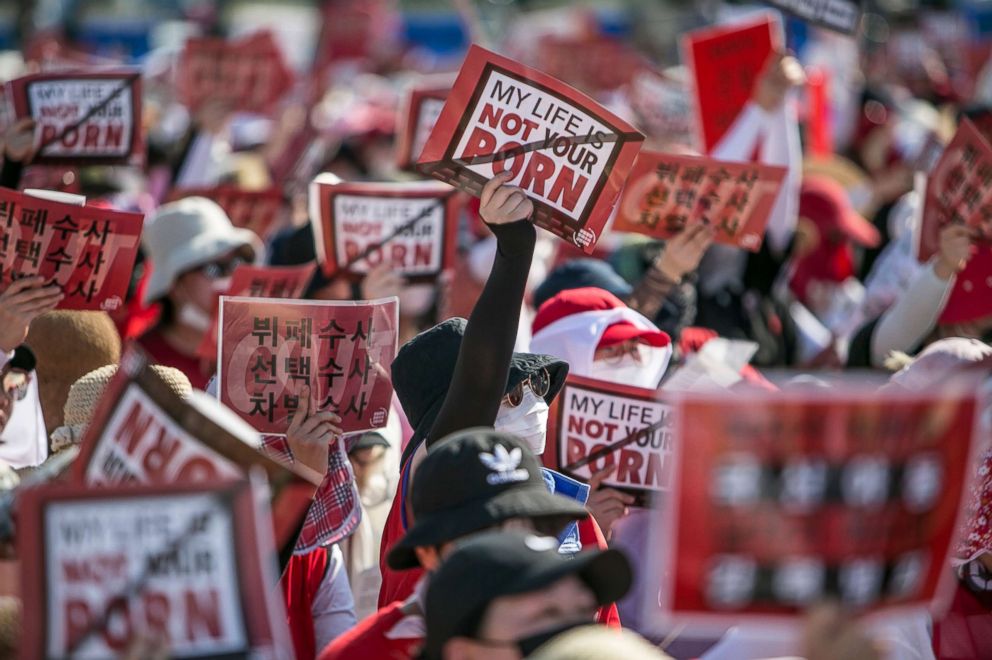 "We will continue our fight to destroy the social barrier towards women and aim for the world in which we can lead!" the protestors, dubbed "Inconvenient Courage," chanted on stage.
Biased investigation refers to the so-called "Male nude model spy camera" case in June. A woman secretly took a picture of a fellow male nude model and uploaded it on a community website.
Police launched an investigation almost immediately, and the perpetrator was placed under arrest.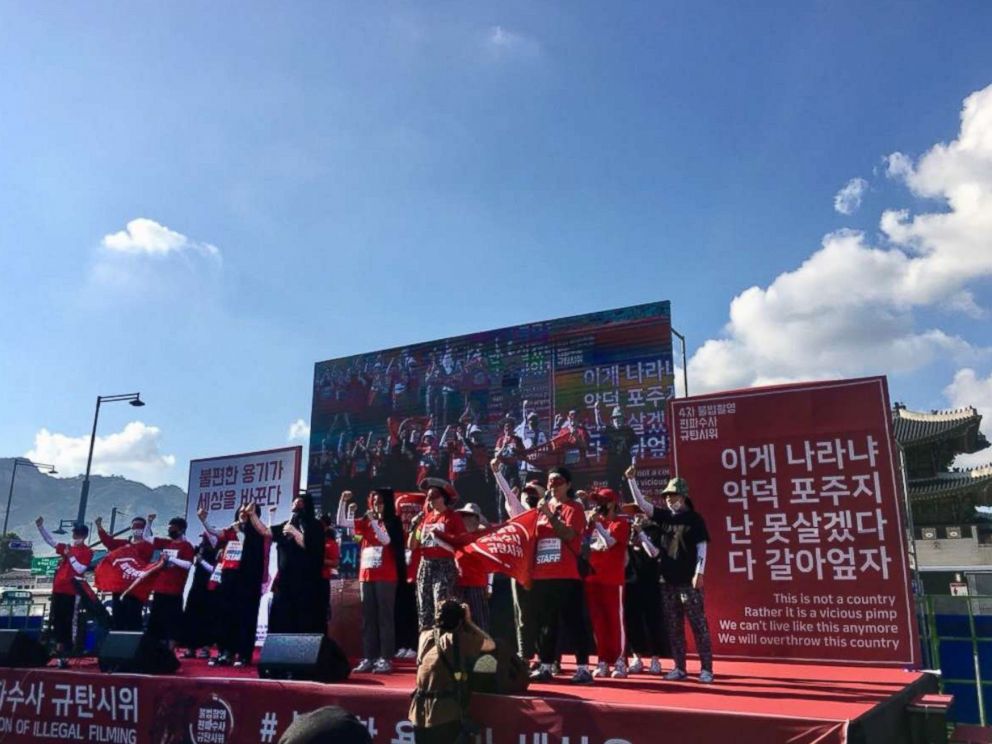 It wasn't the swift justice that angered women across the country, including the protestors who attended Saturday's rally. But what triggered the outrage was how quickly that case was solved compared to thousands of hidden camera cases -- with female victims -- that ended without arrests.
Lee Ju-min, the chief of Seoul Metropolitan Police Agency, responded to claims of sex-biased investigations during a news conference in May.
"There cannot be any discrimination or unjustness regarding gender."
But on Saturday, to urge authorities to acknowledge and stop allegedly bias investigations, the main protesters put up a mock court performance.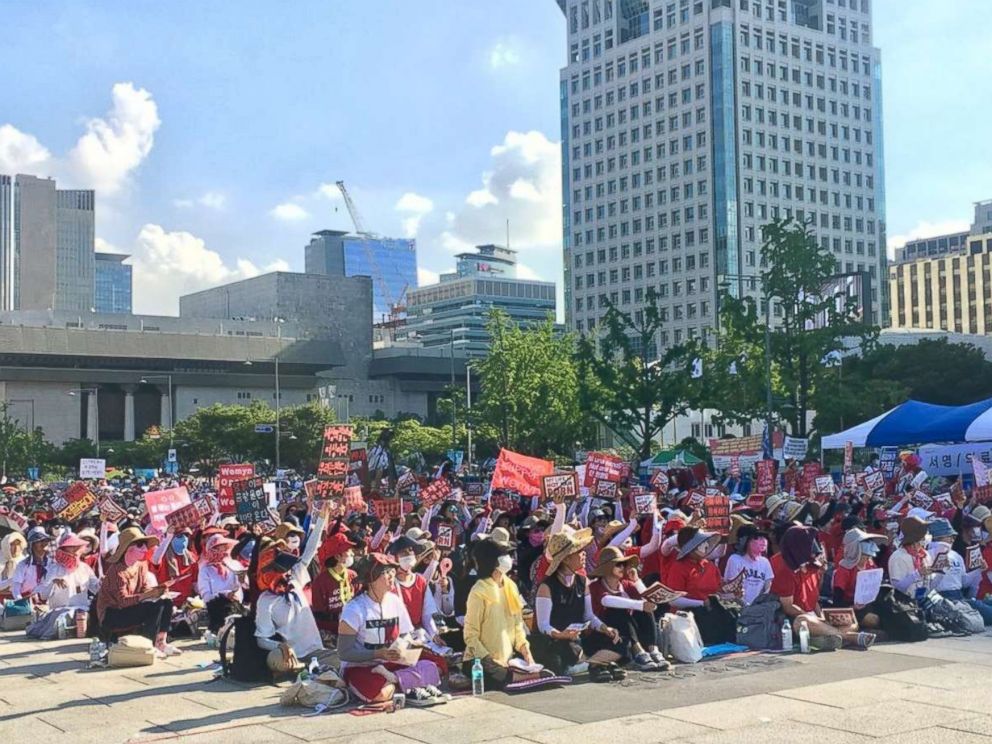 The performance was based on the judgments of real-life illegal filming cases in which the culprits were men. Those in question were a gynecologist who allegedly took pictures of his patients, a student who secretly took more than 100 pictures of unidentified women, and a man who uploaded 3,000 terra bytes of hidden cam pictures on a shareable website.
The mock court pointed out how the men benefitted from their gender in the judgments. A woman playing the role of a juror announced there is no point of punishing these men as it will reoccur -- pointedly criticizing the real court rulings on the three exonerated men.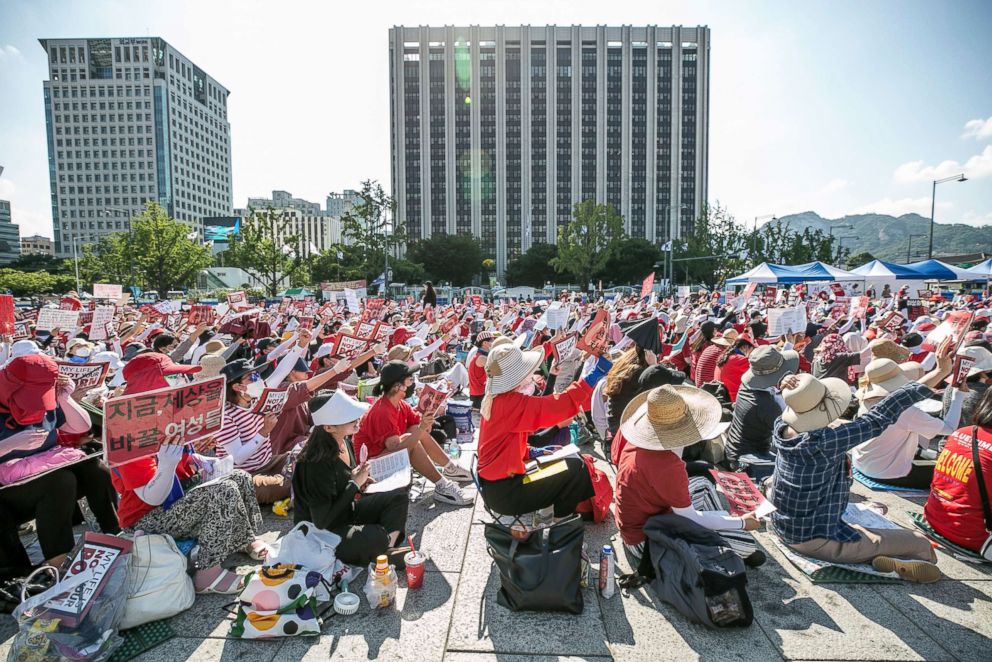 Protestors were advised to dress as cool as possible to endure the heat. At the same time, they were told to wear masks and sunglasses to disguise their identities from pictures taken at the demonstration. That guidance derived from another point protestors wanted to get across -– to eliminate illegal filming, or hidden spy cameras.
According to South Korean police, a total of 5,363 hidden camera crimes occurred last year, and similar crimes are still occurring.
Last month, a high school boy was caught filming in a girl's restroom. Separately, a man in his 30s who sold 2,845 videos illegally filmed in public restrooms was caught as well.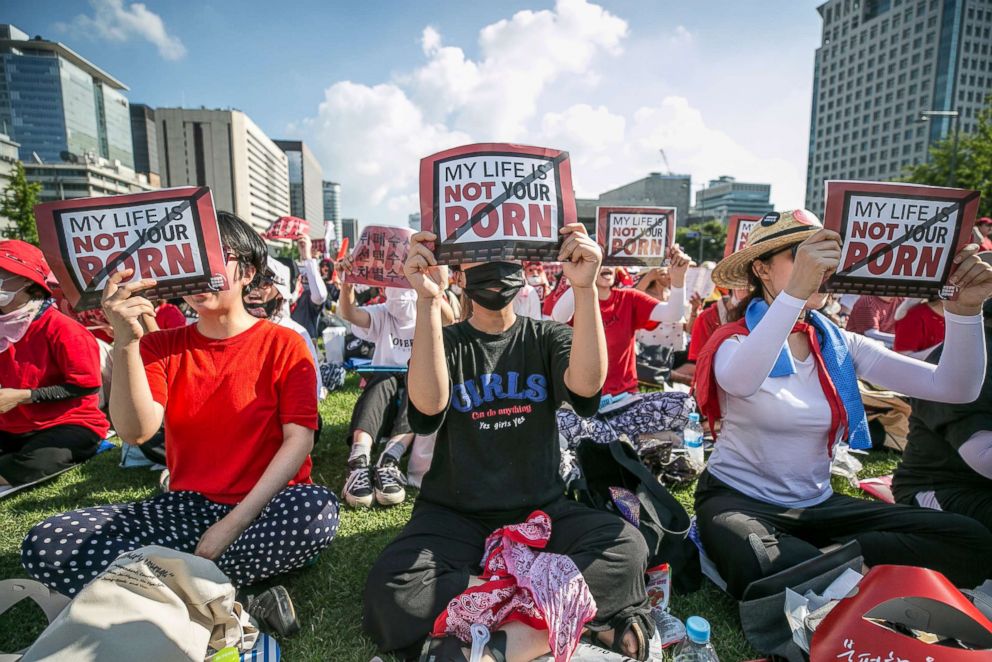 Hidden camera cases coming up over and over again has forced women to become more cautious about using public restrooms. They have come up with ways to spot hidden cameras, such as filling in any holes they find in restrooms and turning off all the lights in bathrooms to check for camera lights.
The organizers, who asked reporters not to ask demonstrators any questions, let their chants and pickets do the talking.
"My life is not your porn," some pickets read.
"Punish those who filmed with spy cameras!"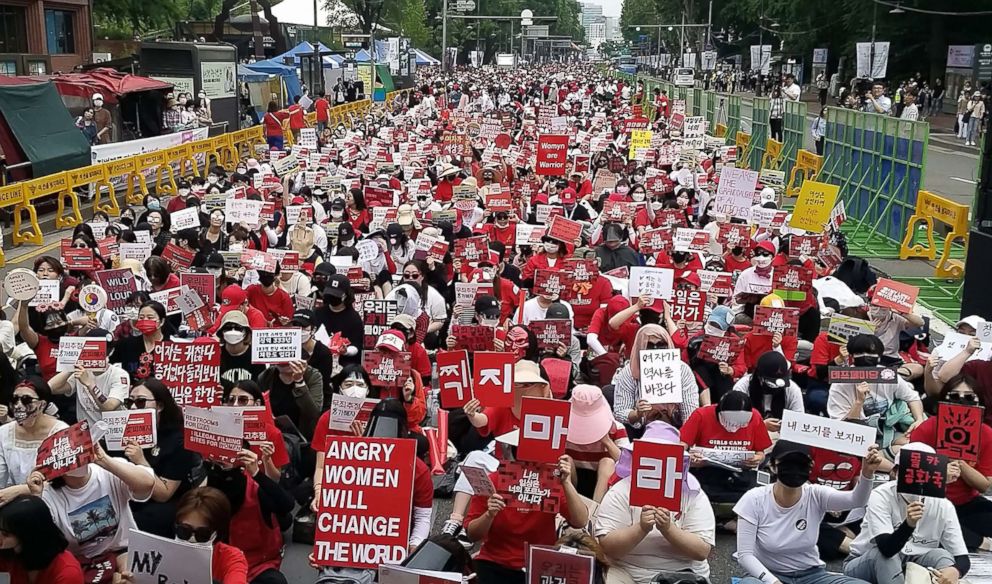 "Punish those who uploaded spy cam videos!
"Punish those who purchased spy cam videos!"
The first protest of the "Inconvenient Courage" kicked off in May, drawing more than 10,000 protestors. And the second and third protests drew another 15,000 and 18,000, respectively.
Saturday's protests, according to the organizers, nearly quadrupled those numbers.
"Do you hear the angry woman's roar?" one of the pickets read at Saturday's rally.
ABC News' Soohyun Kim contributed to this report.