Top South Korean official: Trump comments 'very worrisome,' causing 'confusion'
Trump's threats against North Korea appear to have opened fissures with Seoul.
August 13, 2017, 10:00 AM
SEOUL, South Korea -- President Trump's recent aggressive threats against North Korea appear to have opened new fissures between the United States and its most important ally against Kim Jong Un's regime – South Korea.
While the country's new president Moon Jae-in has largely kept quiet and reaffirmed the strategic alliance with the U.S., his outspoken top aide, Moon Chung-in, openly criticized Trump for his bellicose language.
"This is very unusual. We do not expect that the president of the United States would make that kind of statement," the South Korean ambassador-at-large for international security told ABC News Chief Global Affairs Correspondent Martha Raddatz. "It is very worrisome for the president of the United States to fill [fuel] the crisis."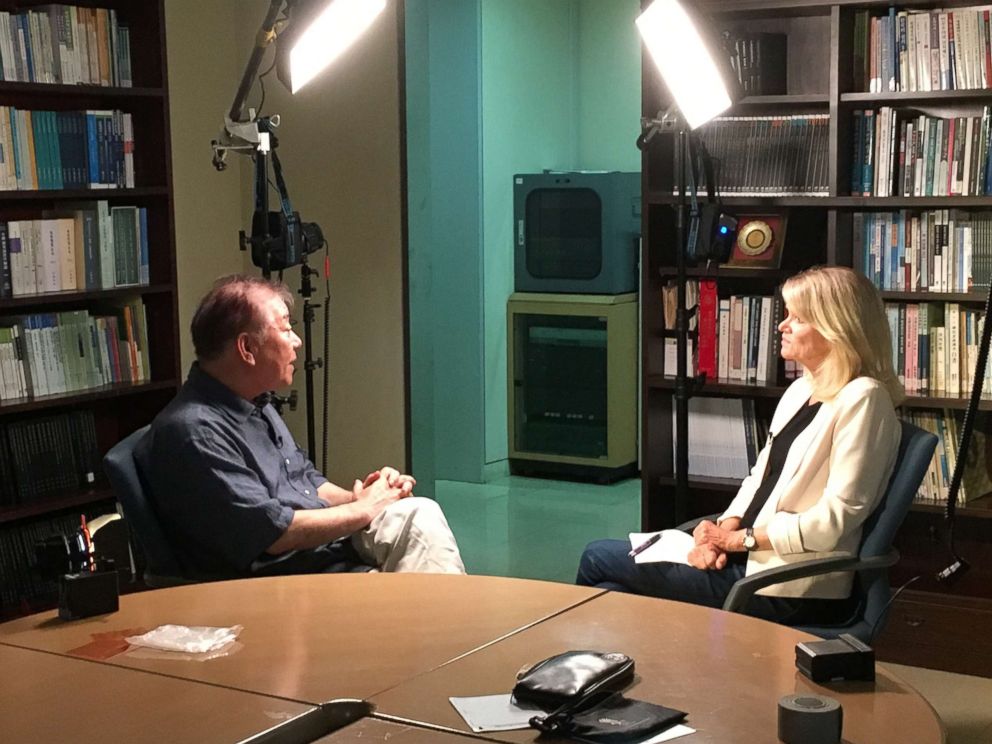 Amb. Moon said the South Korean president – a member of the country's liberal party who was elected in May – wanted the U.S. president to tone down his rhetoric, a message he conveyed to Trump when they spoke on the phone last Monday.
But, 24 hours after that call, Trump vowed to unleash "fire and fury" on Kim Jong Un's regime, leaving President Moon's administration "somewhat concerned," his aide said. What followed was a week of escalating warnings from the U.S., culminating in the president's promise that America's military was "locked and loaded."
North Korea, of course, responded in kind, using the same pugnacious language its propaganda machine has fired off for years – but also specifically threatening to strike around Guam, a U.S. territory in the Pacific that is home to about 200,000 American citizens and a major U.S. military presence.
Kicking the threats made into higher gear the situation more dangerous, Amb. Moon said. He said both sides should rein it in, a rare rebuke from South Korea of its protector, the U.S.
"It is a chicken game, but I think what is needed right now is mutual restraint," he said.
The disagreement between the Washington, D.C., and Seoul, however small, is exactly what North Korea wants, according to experts who say the outlaw regime in Pyongyang seeks to destroy the South Korean-American alliance and unify the two Koreas under its communist rule.
These aren't the first disputes between the two allies.
Trump has angered some South Koreans with his demand that the longtime American ally pay up for U.S. defense, including the THAAD missile system. The weapon system, which could shoot down incoming ballistic missiles from the North, is controversial in South Korea because of its environmental as well as economic impact.
China, too, is concerned about the missile-defense system because of its advanced radar capabilities and has responded with a boycott of tourism to South Korea, impacting the country's businesses.
On a separate note, Trump has also argued that South Korea is cheating the U.S. through an unfair trade advantage, demanding that the two countries renegotiate trade agreements toward equalizing their trade deficit.
Amb. Moon criticized the Trump administration for what he said was a lack of clarity over North Korea. The White House has been knocked for sending mixed signals on North Korea, including on whether the U.S. supports talks with the North and whether it seeks regime change.
"I really don't see a unified message. There is confusion," the South Korean ambassador said. "We are very much confused. We think the American government has moved from 'strategic patience' of the Obama administration into strategic confusion."
For eight years, Obama's policy of "strategic patience" called for ignoring the Kim regime and seeking to increase its international isolation. The Trump administration has derided that strategy, with Secretary of State Rex Tillerson announcing on a trip to the region in February, "The era of 'strategic patience' is over."
But it is unclear what exactly has replaced it. Tillerson has extended an olive branch to Kim Jong Un if he halts his ballistic missile tests, a position he reiterated earlier this month. But, in contrast, one week earlier, Vice President Mike Pence told The Wall Street Journal that the right strategy doesn't involve "engaging North Korea directly."
Amb. Moon is one of the leading advocates of South Korea's "sunshine policy," which favors dialogue with North Korea and peaceful co-existence alongside its regime.
That sounds similar to Tillerson, who has said repeatedly that the Trump administration does not seek regime change in North Korea, even telling Kim Jong Un, "We are not your enemy."
CIA Director Mike Pompeo, however, alluded to plans to eliminate the 33-year old leader, answering a question about regime change by saying, "I'm hopeful we will find a way to separate that regime from that [ballistic missile] system … The North Korean people, I'm sure, are lovely people and would love to see him go as well."
Still, despite the differences, Amb. Moon said the U.S.-South Korean alliance was strong and would remain united against the North's provocations. And, leaders from both administrations have remained in touch throughout the week, with the two national security advisers speaking Friday.
But with millions of South Koreans caught in the crosshairs, Moon suggested the country's leadership hopes to see a change in Trump's approach to North Korea: "We hope that President Trump will come up with the diplomatic skill to deal with the current crisis."