Ex-Trump campaign manager Paul Manafort faces new allegations from Ukraine over 'black ledger' payments
New allegations revive scandal that forced Trump campaign manager to resign.
MOSCOW— -- A Ukrainian lawmaker today said he has fresh proof that Paul Manafort, who went on to be a campaign manager for Donald Trump, received illegal, off-the-books payments from Ukraine's pro-Russian President Viktor Yanukovych before he was toppled.
The announcement, coming a day after the FBI confirmed it is investigating possible links between Trump's presidential campaign and alleged Russian interference in the 2016 U.S. election, revives a saga that has drawn intense scrutiny of Manafort's possible connections with Moscow through Ukraine — which appeared to force his resignation from the Trump campaign in the summer.
At a news conference in Kiev this morning, Serhiy Leshchenko, a member of Ukraine's parliament, presented what he alleged was a contract showing Manafort received $750,000 in a fake deal from a company connected to Yanukovych's party.
Leshchenko said the allegedly phony deal, which he says channeled money through offshore accounts, was meant to conceal what was in reality an illegal payment for Manafort's work as a political consultant for Yanukovych.
Leshchenko said the contract, which he says bears Manafort's signature and company stamp, provides possible proof of allegations raised by investigators in August that Manafort received illegal cash from Yanukovych, who is accused by Ukrainian prosecutors of large-scale corruption.
Manafort denied the allegations at the time, and a spokesman for him told ABC News today, "The allegations against Paul Manafort are baseless, as reflected by the numerous statements from NABU [National Anti-Corruption Bureau of Ukraine] officials who have questioned the validity of the so-called ledger evidence against Mr. Manafort. Any new allegations by Serhiy Leshchenko should be seen in that light and summarily dismissed."
Leshchenko today published scans of the alleged contract, but ABC News was unable to immediately verify the documents' authenticity.
His allegations return the spotlight to a corruption inquiry that appeared to cost Manafort his job last year. The case drew attention then to the time that Manafort spent advising Yanukovych, whom Moscow for years backed as its preferred leader for Ukraine — highlighting Manafort's long, tangled history with the region's elites.
Manafort's name turned up last August in what Ukrainian anti-corruption investigators call the black ledger, a handwritten accounting book they say details the illegal secret payments of Yanukovych's political party, the Party of Regions, discovered in its ransacked offices after the country's 2014 revolution.
After The New York Times broke that story, Leshchenko published pages he said were from the ledger that included entries with Manafort's name appearing alongside alleged payments. Amid intense media scrutiny, Manafort resigned from the Trump campaign. But he has denied that he ever received any of the payments mentioned in the ledger and argues the records are fake.
Leshchenko, however, said the contract possibly offers proof Manafort received the illegal cash. The five-page contract , printed on letterhead for Manafort's political consultancy, Davis Manafort, promises to deliver 501 computers to the firm Neocom Systems Limited, which is registered in Belize, in return for $750,000. The agreement bears a signature that resembles Manafort's on other available documents.
The contract's date and amount to be paid match one of the payments recorded next to Manafort's name in the ledger: for $750,000 on Oct. 9, 2014.
Leshchenko said the contract is highly suspicious and asked why Manafort, a political consultant, would be involved in supplying computers. The payment setup is also suspect, Leshchenko said, with payment for the computers coming from AsiaUniversalBank, a bank in the central Asian country of Kyrgyzstan that was seized in 2012 by regulators over widespread money-laundering allegations. The bank has been linked to numerous money-laundering schemes involving offshore companies, Ukraine and Russia.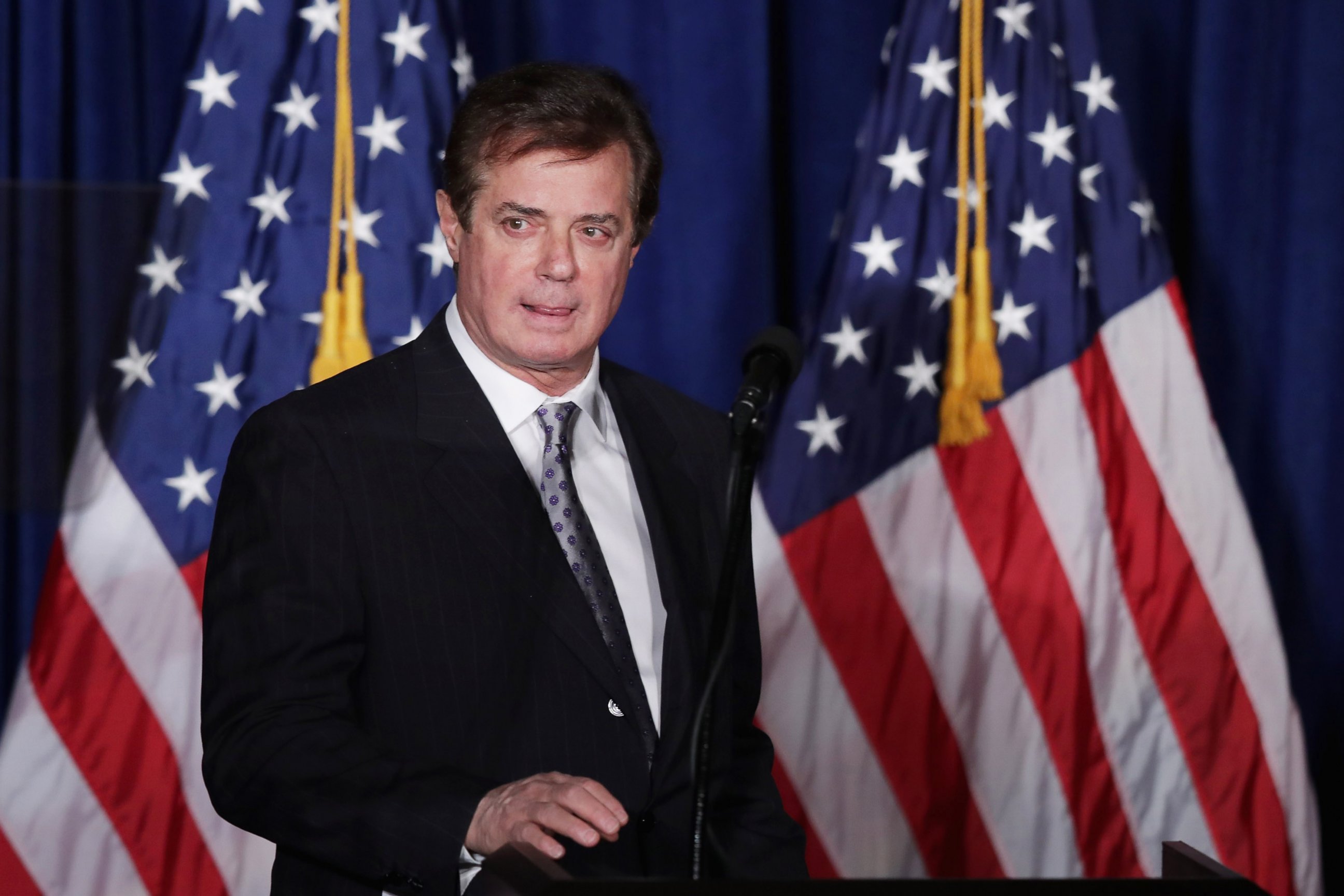 Leshchenko alleged the computers were never delivered and that the supposed contract was cover to allow Yanukovych to pay Manafort from his party's illegal slush fund. The suspicious setup of the alleged payment means it should be investigated by Ukrainian and U.S. law enforcement, Leshchenko said.
He called on the FBI to investigate Manafort because the contract contains the number of a U.S. bank account through which Manafort purportedly received the payment, registered to an address in Alexandria, Virginia.
Ukrainian law enforcement bodies "are not able to get this information about banking secrets," Leshchenko said at the news conference. "And we know that the FBI can get this information. This is the jurisdiction of the FBI, and I believe that this investigation will be done by American law enforcement bodies, and we will support this."
Manafort worked for years as a political consultant to Yanukovych and his party, credited by party representatives with engineering Yanukovych's comeback after he was pushed from the presidency for a first time by pro-Western protests during Ukraine's Orange Revolution in 2004. After Yanukovych was toppled in Ukraine's second revolution in 2014 and fled to Russia, Manafort said he no longer works with the Party of Regions or its postrevolutionary successor.
He has also done business with one of Russia's richest men, Oleg Deripaska, an influential metals magnate. The two eventually fell out.
Manafort's unusual connections with power brokers in Ukraine and Russia have prompted Trump's opponents to seize on him as one of the most likely points of contact with the Russian government.
FBI Director James Comey on Monday confirmed at a House Intelligence Committee hearing that the agency is probing possible links between Russia and the Trump campaign. The New York Times has reported that Manafort is one of four Trump associates under investigation by the FBI, citing anonymous officials.
Manafort has called the allegations against him baseless and politically motivated and said he has not been informed by U.S. authorities of any investigation.
"I had no role or involvement in the cyberattack on the DNC [Democratic National Committee] or the subsequent release of information gained from the attack, and I have never spoken with any Russian government officials or anyone who claimed to have been involved in the attack," he told ABC News on Monday in response to Comey's testimony. "The suggestion that I ever worked in concert with anyone to release hacked emails or sought to undermine the interests of the United States is false."
Doubts have arisen around the case involving the Ukrainian black ledger, which has become the subject of a murky political battle in Ukraine. There have been suggestions that Ukrainian politicians, worried about Trump's friendly statements toward Russia, released it last summer with the goal of harming his campaign.
Ukraine's anti-corruption bureau, however, has not suggested it doubts the ledger is real, and one case has already been submitted to court based on the ledger's evidence.
Leschenko said the new document was found by tenants in Manafort's former office in Kiev and passed to him in January.
Whether Manafort is subject to an investigation in Ukraine is still unclear. The anti-corruption bureau has said it is investigating the ledger as a whole and that it is, therefore, looking at how Manafort's name appeared there. But it has refused to say whether there is an investigation of him specifically.
CNN reported last week that Ukrainian law enforcement officials have for months submitted requests to the FBI for assistance in questioning Manafort but that those requests have so far gone unanswered. U.S. authorities confirmed to CNN that the requests were made but declined to comment further. Comey declined to comment on the case when asked about it at Monday's congressional hearing.
Leshchenko today said he could not comment on whether U.S. authorities have reached out to him about the new document.