— -- President Trump's first visit to China has cast a new spotlight on what he has framed as a growing kinship with the country's President Xi Jinping.
Despite their language barrier, the two have been regularly seen through the president's state visit laughing together in exchanges and repeatedly emphasizing a growing friendship and mutual respect.
Trump beamed with pride as he showed off a video today at an opulent Chinese state dinner of his granddaughter Arabella Kushner's singing a poem in Chinese.
Arabella, 6, became somewhat of a celebrity in China after she first sang for Xi in his visit to Trump's Mar-a-Lago club this past April. In the newly recorded video shared by Trump, she greets Xi and his wife, Peng Linyuan, as "Grandpa Xi and Grandma Peng."
"Our children so often remind us of our shared humanity and true dignity," Trump said during a toast at the dinner before airing the video of Ivanka Trump and Jared Kushner's daughter.
The chemistry between Trump and Xi is not exactly surprising, but still serves as a highlight in what has become a major shift from the fiery rhetoric of Trump prior to his taking office to his actions after he assumed the presidency.
For years prior to his presidency, Trump paralleled his reputation as a skilled dealmaker with repeated inflammatory attacks regarding China's ability to "rape" the United States on economic issues and trade deals.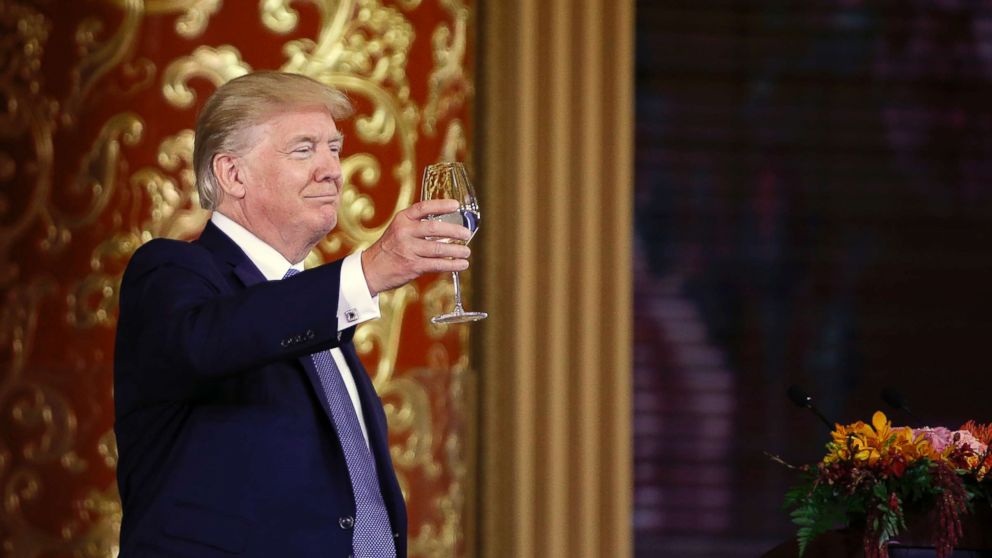 Such hostility seemed all but forgotten as Trump said alongside Xi at a signing ceremony today that he blamed the United States rather than China for the trade deficit between the two countries.
"After all, who can blame a country for being able to take advantage of another country to the benefit of its citizens?" Trump said to applause in the room.
Despite the president's vocal commitments to try to aggressively tackle the trade deficit and other imbalances, that assertiveness has been largely absent in Trump's public statements while in China. He also contrasted with previous presidents in avoiding mention on issues such as China's crackdown on protests and an independent press.
Xi said in his state dinner toast, "China and the United States, once involved in animosity, have grown into a community with our interests converging."
It's a message echoed by Trump, who similarly painted a rosy forecast of future U.S.-China relations through his remaining time in office.
"To the people of your country and to a friendship that will only grow stronger and stronger in the many years to come," Trump said, closing off his toast at the state dinner today.