WASHINGTON— -- The United States has released images that, it says, prove Russian military forces have fired artillery from Russian territory into Ukraine.
The Office of the Director of National Intelligence (ODNI) released a series of overhead images that, it says, show evidence of artillery fire from the Russian side of the border directed at Ukrainian military positions in Ukraine.
ODNI claims the images prove Russian military -- not Russian-backed separatists operating from across the border -- were responsible.
"The following images provide evidence that Russian forces have fired across the border at Ukrainian military forces, and that Russia-backed separatists have used heavy artillery, provided by Russia, in attacks on Ukrainian forces from inside Ukraine," ODNI wrote atop a four-page file that includes four images ODNI says were taken July 21-26.
The newly released images back up the claim of direct Russian involvment made Thursday by the State Department and the Pentagon, as international tensions have risen sharply over the conflict in eastern Ukraine since the downing of Malaysian Airlines flight MH17 in rebel-held territory.
READ: US Says Russia Fired Artillery Into Ukraine
READ: Ukraine Launches Offensive to Retake Donetsk
READ: Bigger Russian Artillery Moving Into Ukraine Soon
"We have new evidence that the Russians intend to deliver heavier and more powerful multiple rocket launchers to the separatist forces in Ukraine, and have evidence that Russia is firing artillery from within Russia to attack Ukrainian military positions," State Dept. spokeswoman Marie Harf told reporters at a daily press briefing on Thursday.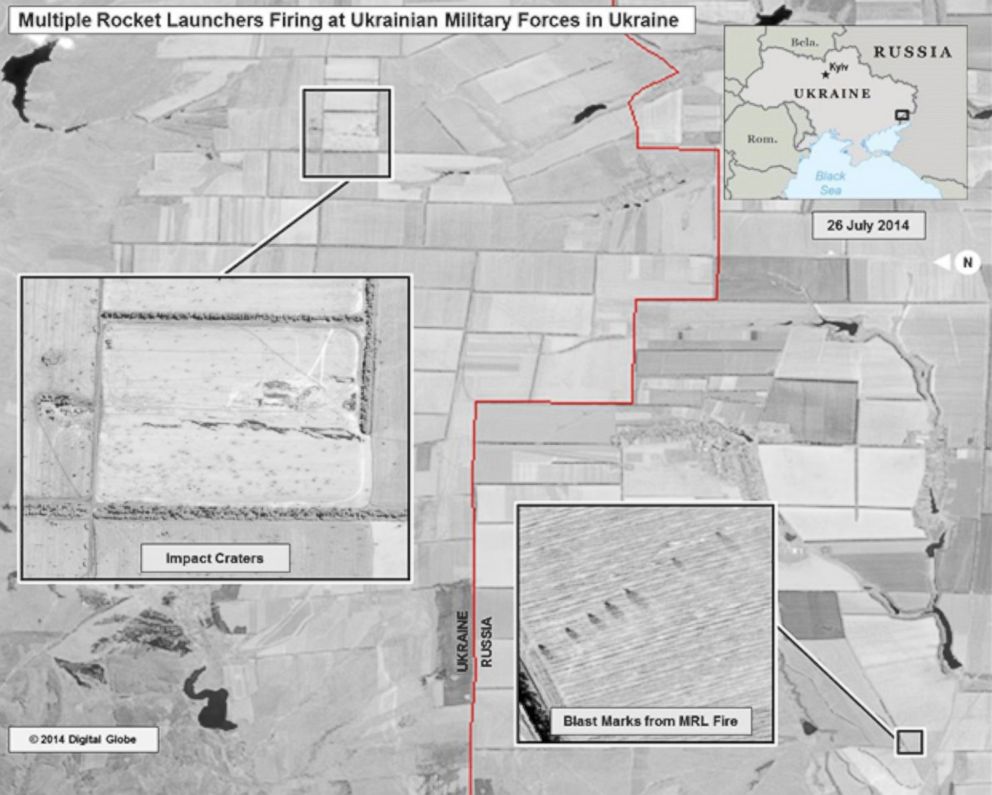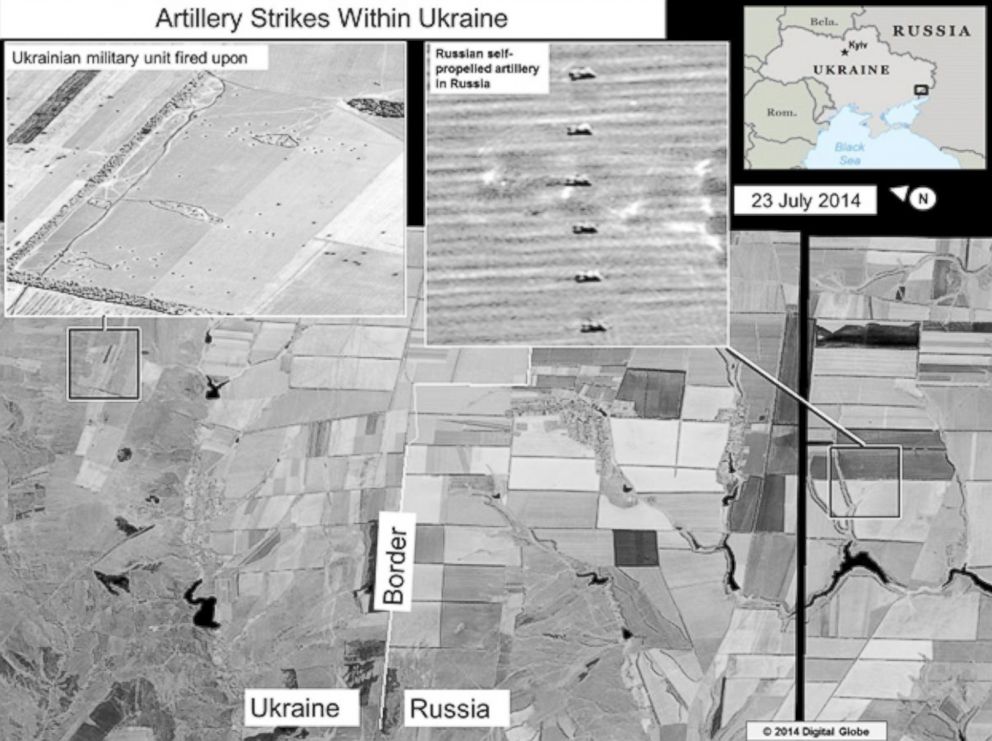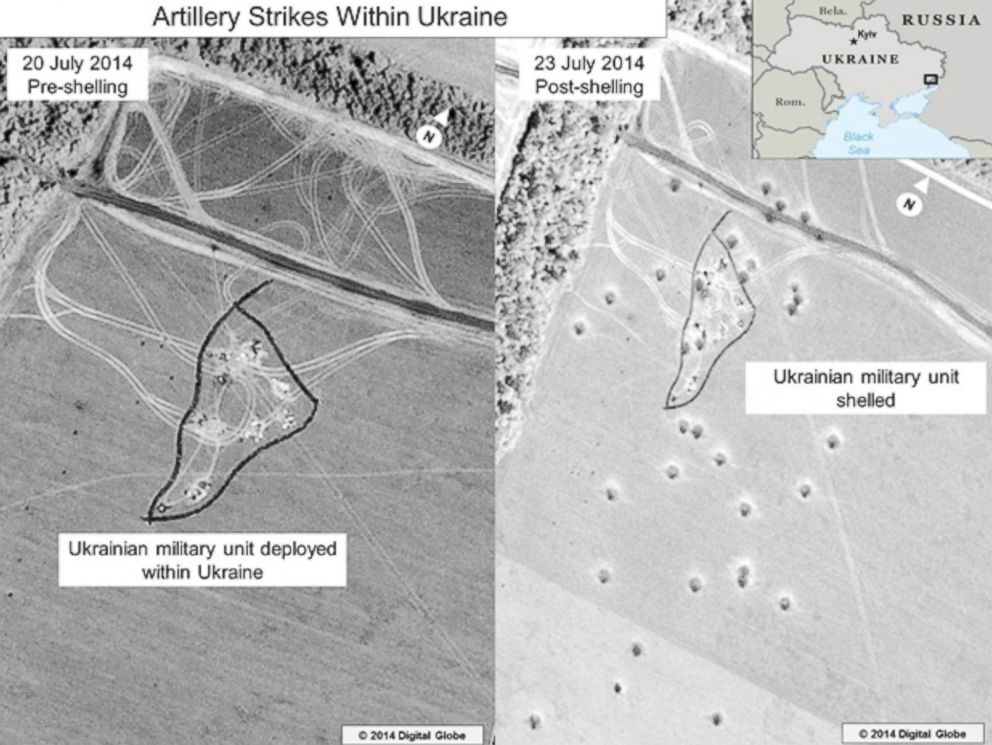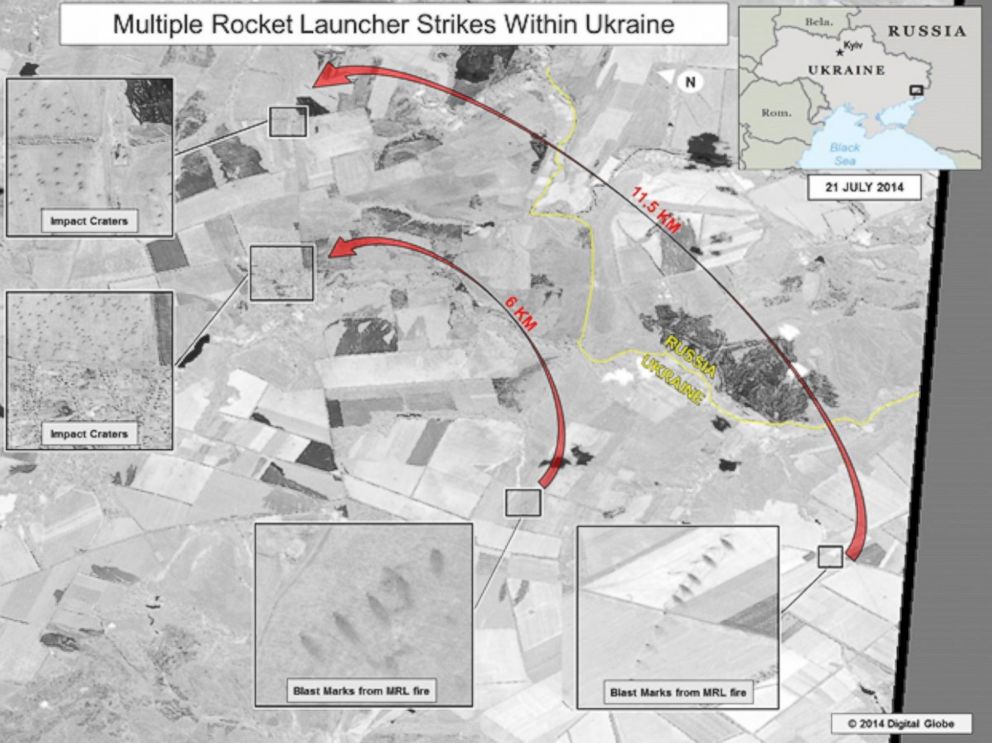 The U.S. has alleged Russian complicity in the downing of the Malaysian Airlines jet, pointing to Russian support for separatists and alleged supplying of heavy weaponry. Recordings of phone conversations released by the Ukrainian government purportedly show separatists telling Russian officials they shot down the airliner.
Russian President Vladimir Putin has not directly addressed recent allegations of Russian military support for the rebels, or that rebels downed the plane with a missile system provided to them by Russia.
In a statement on MH17 released through the Kremlin on July 21, Putin warned that "no one should and no one has the right to use this tragedy to pursue their own political goals" and promised that "[f]or its part, Russia will do everything within its power to move the conflict in eastern Ukraine from the military phase we see today to the negotiating phase, with the parties using peaceful and diplomatic means alone."