— -- Prince William, Princess Kate, and Prince Harry put their hands together to push the red button that started the London Marathon. The royal trio, who founded a charity that aims to break the stigma surrounding mental health, were on hand to support the runners at the starting line this morning.
Their charity, Heads Together, is the Virgin London Marathon's official charity partner this year and 700 runners are participating in support of mental health awareness. The royal trio gave hugs to some competitors ahead of the race and, after the event got underway, clapped, cheered and handed out water along the route.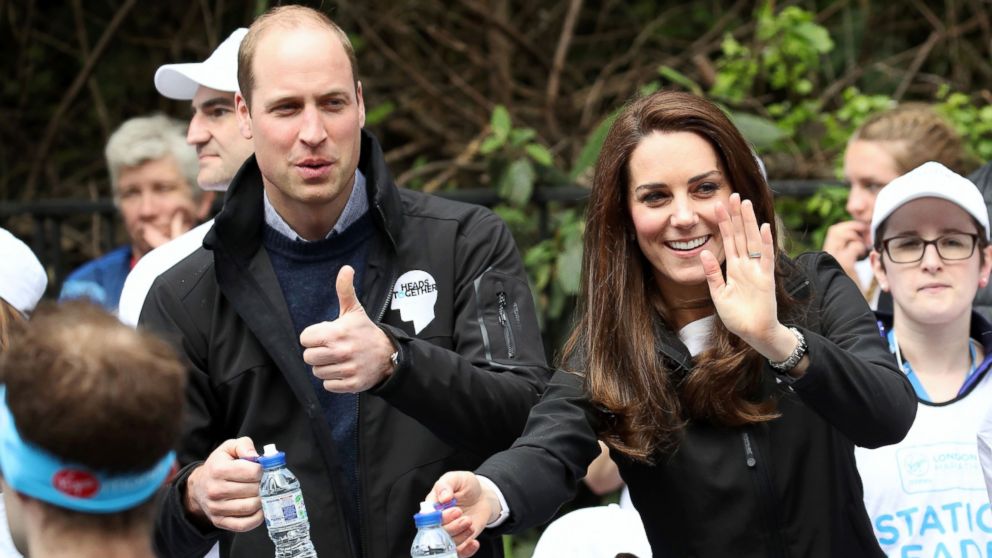 An unprecedented security operation is underway to protect the runners and royals just weeks after a terror attack in Westminster left five dead and scores wounded. Hundreds of armed police with automatic weapons, sniffer dogs, and concrete and steel security barriers have been positioned in strategic locations along the route to prevent another Westminster-style vehicle attack. There are also major security checks in place surrounding St. James' and the Mall leading to Buckingham Palace where more than 40,000 runners are vying to complete the grueling 26-mile course.
WIlliam, Kate, and Harry dubbed the event the mental health marathon and many racers sported blue Heads Together headbands to support the cause. The young royals' campaign to break the taboo surrounding mental health has had William, Kate, and Harry open up to the public about their own struggles. The normally stoic and reserved royals have shared some of their most intimate emotions to encourage others to seek help during moments of grief.
Earlier this week, Prince Harry,32, revealed for the first time that he sought counseling at his brother's advice after nearly two decades of grief and difficulty coping following the death of his mother, Princess Diana, in 1997.
The fifth in line to the throne participated in a podcast with Bryony Gordon of The Telegraph newspaper. Prince Harry admitted shutting down all his emotions after his mother's death. "My way of dealing with it was sticking my head in the sand, refusing to ever think about my mum, because, 'Why would that help?'" he shared.
The weeklong campaign leading up to the marathon also saw Prince William discuss in a Facebook video with Lady Gaga her struggles with post-traumatic stress disorder. The prince and the pop star's emotional chat encouraged young people to seek help for mental health challenges when they need it.
The young royals have worked with prominent doctors, educators and health care professionals across the spectrum as they engage in their most high-profile campaign to date
On Friday, William, Kate and Harry released a candid new video for their Heads Together campaign that shows them discussing some of the most personal issues they have faced, including parenting and coping with Princess Diana's death.
Kate, 35, and William, 34, the parents of Princess Charlotte and Prince George, have opened up about the profound effects of becoming parents and the challenges they faced in the first few weeks after George was born in 2013.
William, Kate and Harry 's foundation has vowed to carry on their message beyond the marathon to benefit any young people, parents or veterans struggling with mental health issues and other challenges.