— -- Let the squeals rip and the countdown begin: American Girl is set to release its newest doll this month.
The Melody Ellison doll, representing the civil rights era, will make her debut on Aug. 25. Melody will mark her place in history as the third African-American doll from the company's BeForever line. And one lucky girl has been chosen to be the voice of Melody.
Here are 10 things you should know about Melody Ellison:
1. Sanaa Gray will be the voice of Melody Ellison
Eleven-year-old Sanaa (SaNAW) Gray has been selected to be the voice of American Girl's newest doll. She's been singing since she was 3 years old. But Melody is Sanaa's big break and she couldn't be happier about her new role.
"I was so excited because this is my first thing that I've ever done," Gray told ABC News. "And it was like really cool that I got it. And there were so many people competing. I was like, 'I got it? That's so awesome!' I was very excited."
Gray is following in the footsteps of her only sibling, her older sister Faith.
"My sister is a singer. And I haven't been copying, but she's inspired me to sing," Gray said. "So it's very awesome that she has that gift and we can share it together."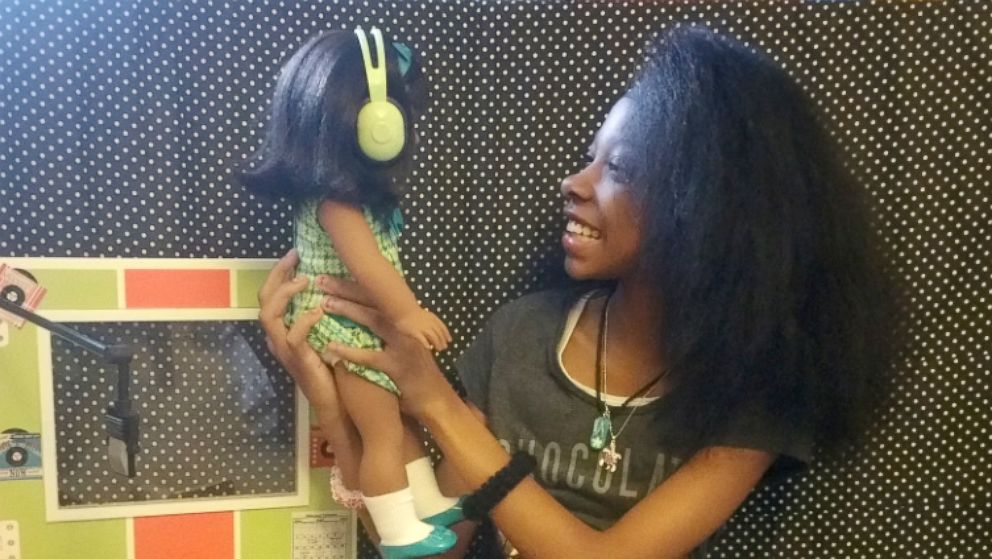 2. Closed auditions were held to find the voice of Melody
Gray found her way to the American Girl auditions via a camp she attends.
"It's called Amazing Grace Conservatory," Gray said. "And they told me that I could audition."
At the time she thought she was simply auditioning for a singing role. But it turned out to be much more. American Girl executive producer Julie Ann Sipos surprised Gray with the news that she had been chosen from the girls who participated in the closed auditions to be the voice of Melody. Sipos shared the stunning news with Gray via video chat. And Gray's reaction was priceless.
Watch the moment Sanna Gray found out that she'd be the voice of Melody Ellison:
3. Melody Ellison will be the third African-American doll released by American Girl in its BeForever historical line
Melody is a 9-year-old growing up in Detroit during the civil rights era. Her story offers a glimpse at life during the 1960s.
"American Girl's historical characters have long been celebrated for their educational value and for helping girls discover strength of character through things that truly matter -- like helping others, being a true friend, and standing up for what's right," said Katy Dickson, president of American Girl in a news release.
Watch video of American Girl's Melody Ellison:
Melody set to make her debut this month at American Girl stores everywhere.
4. A special board was formed to ensure historical accuracy
A six-member advisory board was selected to review and provide input on all aspects of Melody's development to ensure historical accuracy. The board's oversight included everything from the doll and books to her outfits, accessories and story setting.
5. Melody's story was written by award-winning author Denise Lewis Patrick
The Melody Ellison books "No Ordinary Sound" and "Never Stop Singing" were both penned by author Denise Lewis Patrick. Patrick has written at least eight other books.
Patrick said of Melody Ellison that "singing is almost an extension of herself. It's one of those things she was born to do."
Watch author Denise Lewis Patrick talk about writing the story of Melody Ellison:
6. Melody's first book has already been released
In an unprecedented move by American Girl, the first of the Melody Ellison books, "No Ordinary Sound," has already been released. Typically the book and American Girl doll are released on the same day. This time, the American Girl team wanted to give girls the opportunity to get know Melody ahead of time. American Girl has also committed to providing one free Melody book to any child in the Detroit area (Melody's hometown) who wants one through the end of 2016.
7. "No Ordinary Sound" reveals that Melody is a singer from Detroit
In the book, we learn that Melody is a young aspiring singer raised in Detroit during the 1960s. All American Girl dolls are paired with an assortment of accessories available as separate purchases. One of Melody's accessories will be a recording studio.
Take a close look at Melody Ellison's recording studio:
8. Gray's voice will be featured in Melody's recording studio
Gray's voice will be used in the Melody recording studio. In addition to recording your own songs, the sound studio will have three pre-recorded songs. One of those songs will feature a solo of Gray singing, "Lift Every Voice and Sing."
"I was very excited when my doll and everything came," said Gray. "And I thought I was just going to get the doll. But it showed up as a big box. And I was like, wait, what is this? And then I opened it. And the studio was really big. And it's so fun to play with. And that was really cool."
Watch Gray competing in a singing competition at the Boys and Girls Club of Southwest County, California, at 9 years old:
9. Melody will not be featured in a movie
But there's still great news! Melody will be featured in a live-action special produced by Amazon and airing later this year. The release date for the special has not yet been announced.
10. Melody's launch event
Special events are planned at the American Girl stores in New York and Los Angeles on Aug. 25 and 26, when Melody Ellison is set to make her debut. For the first time, the doll and all of her accessories will be available for purchase.