— -- A 10-year-old girl has smashed the kids' national record for the most sit-ups after surpassing the previous record by 109.
Kyleigh Bass, a fifth-grader at Fox Hill Elementary School in Kansas City, Missouri, completed 2,110 sit-ups on May 7 in her school gymnasium.
The feat took her one hour and 37 minutes to accomplish.
Kyleigh's mother, Michelle Leer-Bass, said her daughter is extremely active in softball and competitive gymnastics. Kyleigh also holds last year's record for the longest time walking on stilts.
But this year, Kyleigh told her mom that she wanted to break a new record by doing over 2,001 sit-ups.
"I laughed, but I said, 'You know, Kyleigh, you can do anything you put your mind to," Leer-Bass recalled. "She wanted to do it and sure enough, she did it. I'm just so proud."
Kyleigh worked for a while with her gym teacher, Coach Bill Lentz, to train for the event.
Kyleigh's sister Jordyn, 12, helped Coach Lentz count the crunches until she went well over the former record.
"She was really shakey, but it was more of the accomplishment and that was the biggest thing," Leer-Bass said. "The school has been awesome. It's a pretty big thing."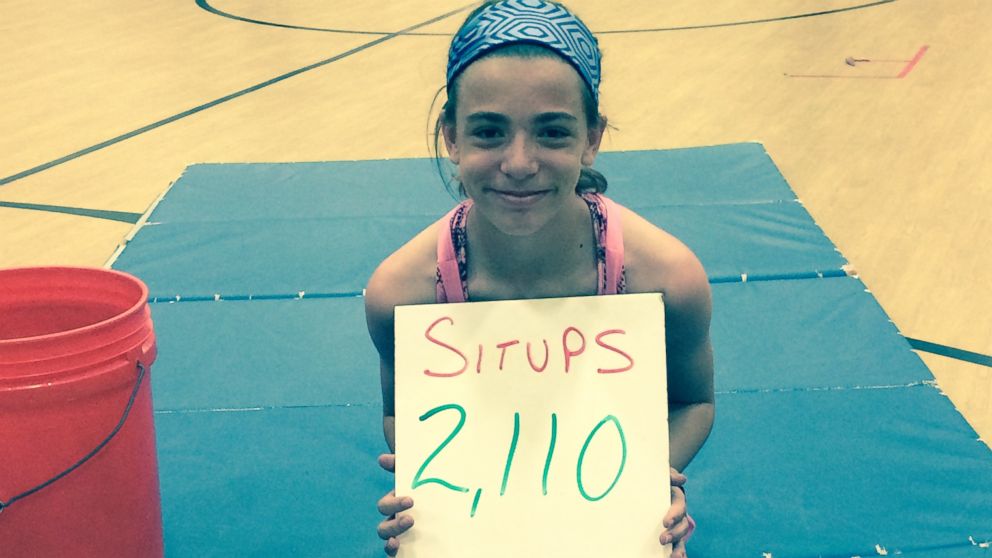 The national record for sit-ups among elementary and middle school kids is tracked by Project Fit America -- an organization that promotes fitness at schools across the country.
A spokesperson at Project Fit America told ABC News today that the children break athletic records voluntarily and the event must be documented before each title holder is named.
Kyleigh's name is currently featured on the organization's website for performing the most sit-ups.