— -- An 11-year-old girl inspired by the Flint, Mich., water crisis has been named "America's Top Young Scientist" after she developed a device that can quickly detect lead levels in water.
"I had been following the Flint, Michigan, issue for about two years," Gitanjali Rao told ABC News. "I was appalled by the number of people affected by lead contamination in water and I wanted to do something to change this."
In Flint, elevated levels of lead were found in the city's water supply after the city disconnected from Detroit's water line as a cost-cutting measure and began drawing water from the Flint River in April 2014.
Gitanjali, a seventh grader, also saw firsthand how complicated it can be to test water for lead by watching her parents, Bharathi Rao and Ram Rao, try to test the water in their Lone Tree, Colo., home.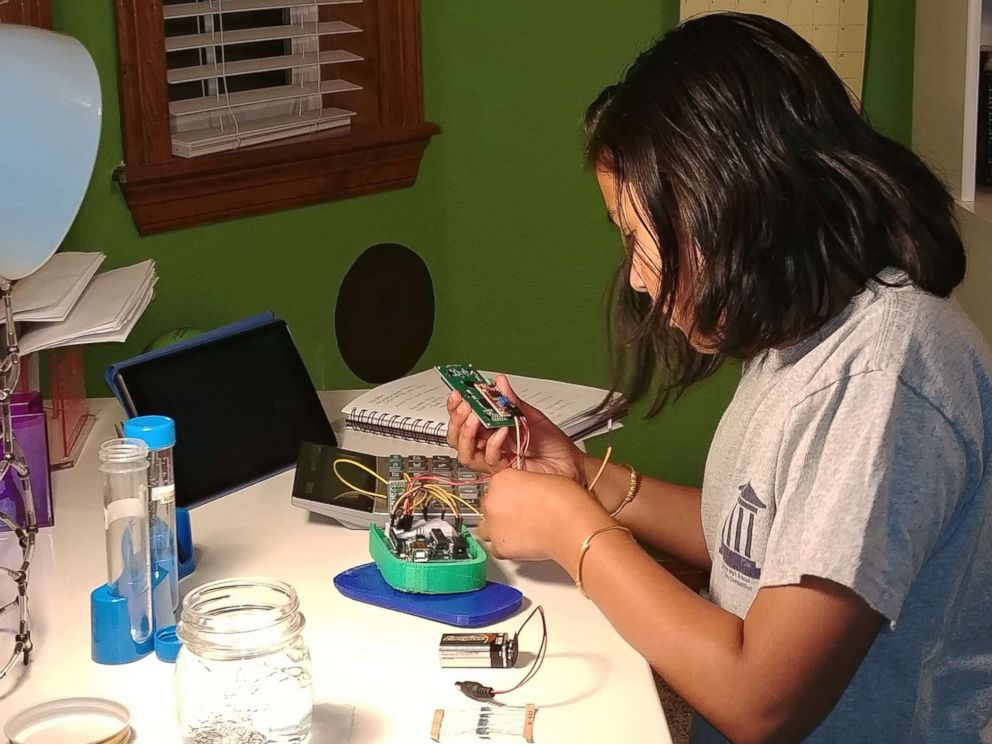 She said she found a way to help solve the problem while browsing the MIT Department of Materials Science and Engineering's website, a site she said she checks weekly to see "if there's anything new."
The website featured an article on new technologies used to detect hazardous substances, which Gitanjali figured she could adapt to detect lead.
Gitanjali reached out to her parents, both engineers, her teachers and experts at local colleges and universities for help.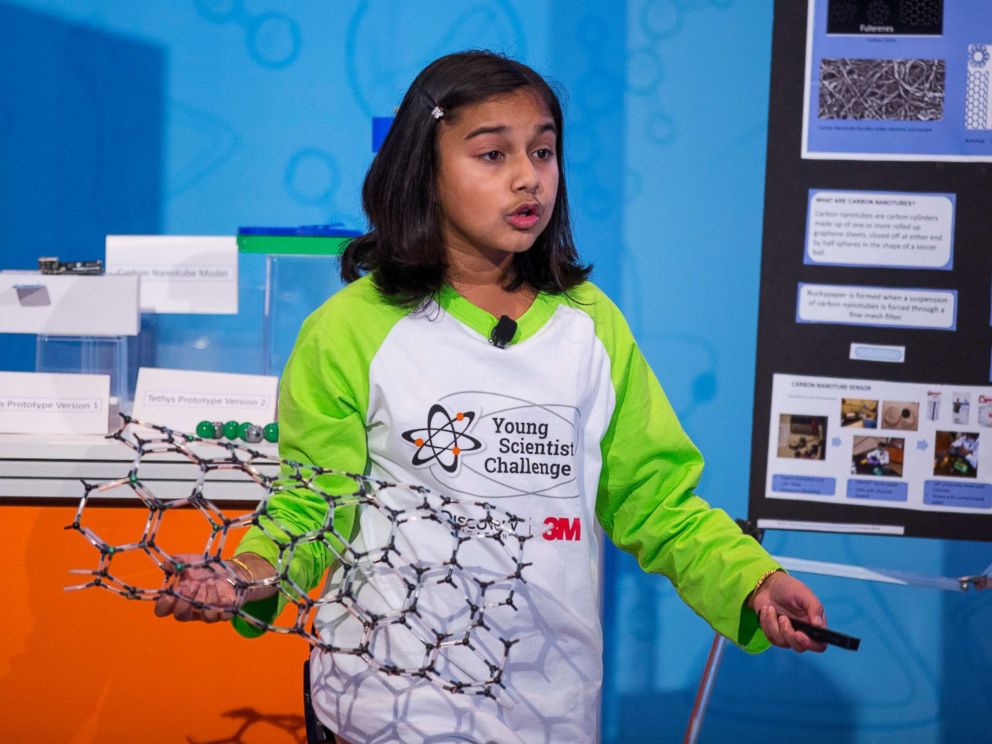 "We had to learn as she asked questions," said Ram Rao. "Our first question was, 'Is this what you really want to go after? Because it's a sizable problem.'"
He continued, "Then you go one day at a time. There was no real expectation that she would necessarily finish, but the journey itself would be the learning experience. It turned out she had a lot more determination."
Gitanjali spent months trying to convince local high schools and colleges to give her lab time to continue her experiment.
At home, Gitanjali worked on her project in the "science room" she asked her parents to create for her when they moved from Tennessee to Colorado.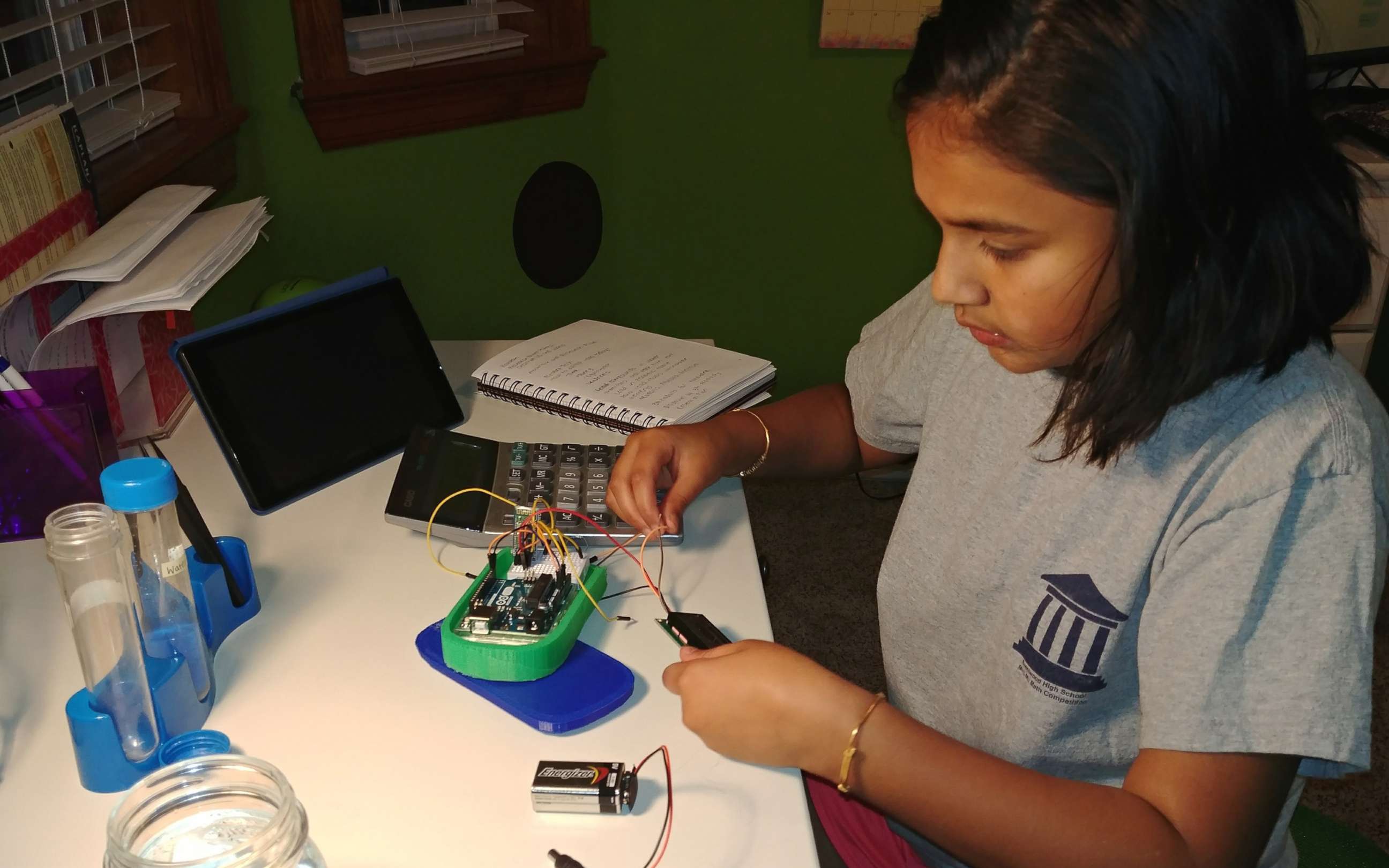 "I have a room with green walls and black polka dots and a huge white table for all my experiments," said Gitanjali, who also plays piano, swims, fences and dances. "Most of my code was done there. Most of the spills and failures were made there."
When Gitanjali was named one of 10 finalists in the 2017 Discovery Education 3M Young Scientist Challenge earlier this year, she was able to partner with a 3M scientist to help develop her innovation.
The result is Tethys, a sensor-based device designed to detect lead in water faster than other techniques currently on the market.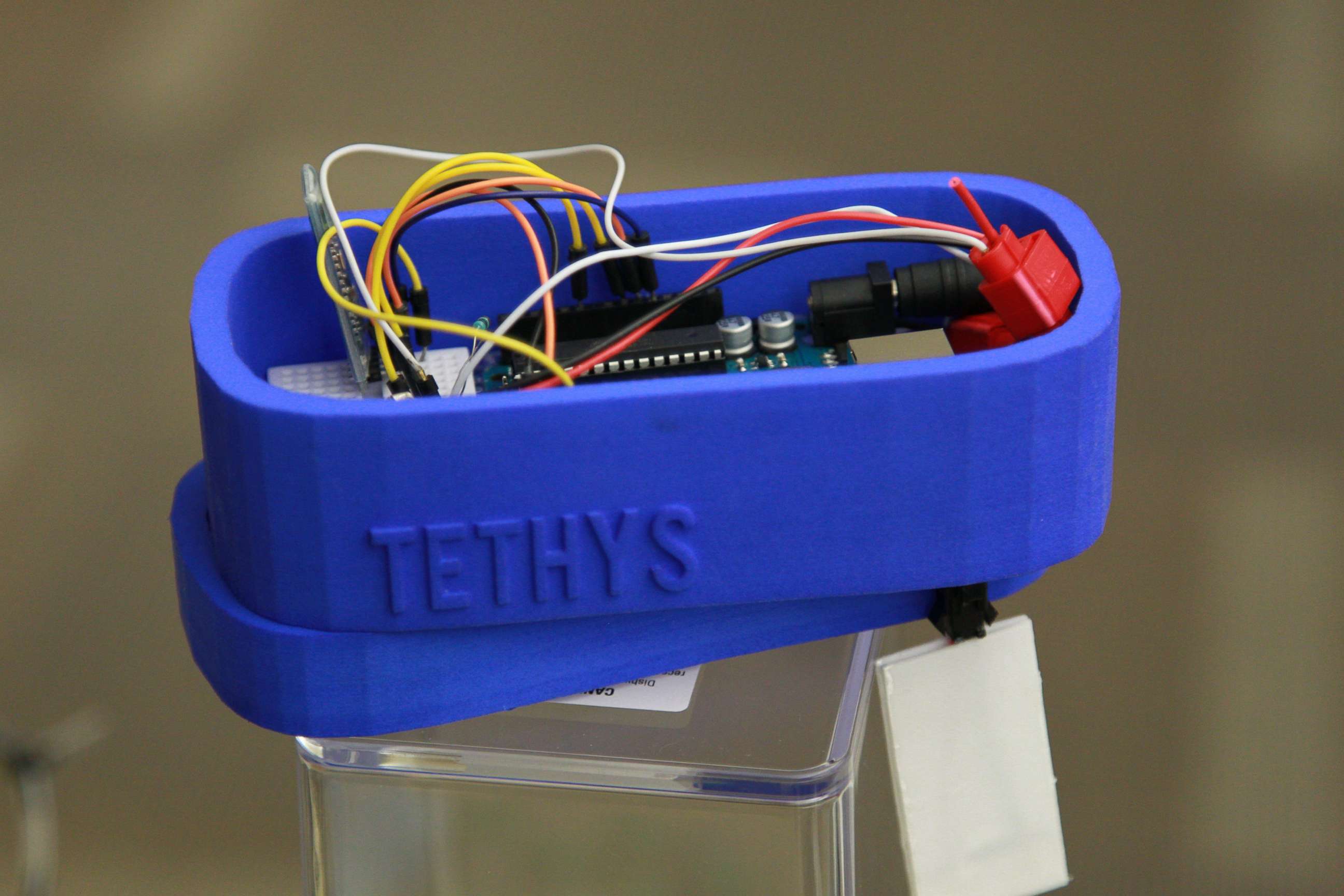 The device utilizes carbon nanotube sensors –- similar to the technology Gitanjali saw on the MIT website –- to detect lead. It can then send the results to a smartphone.
Gitanjali presented Tethys to a panel of judges this week in a live competition at the 3M Innovation Center in St. Paul, Minn.
She was named the grand prize winner and received a $25,000 prize.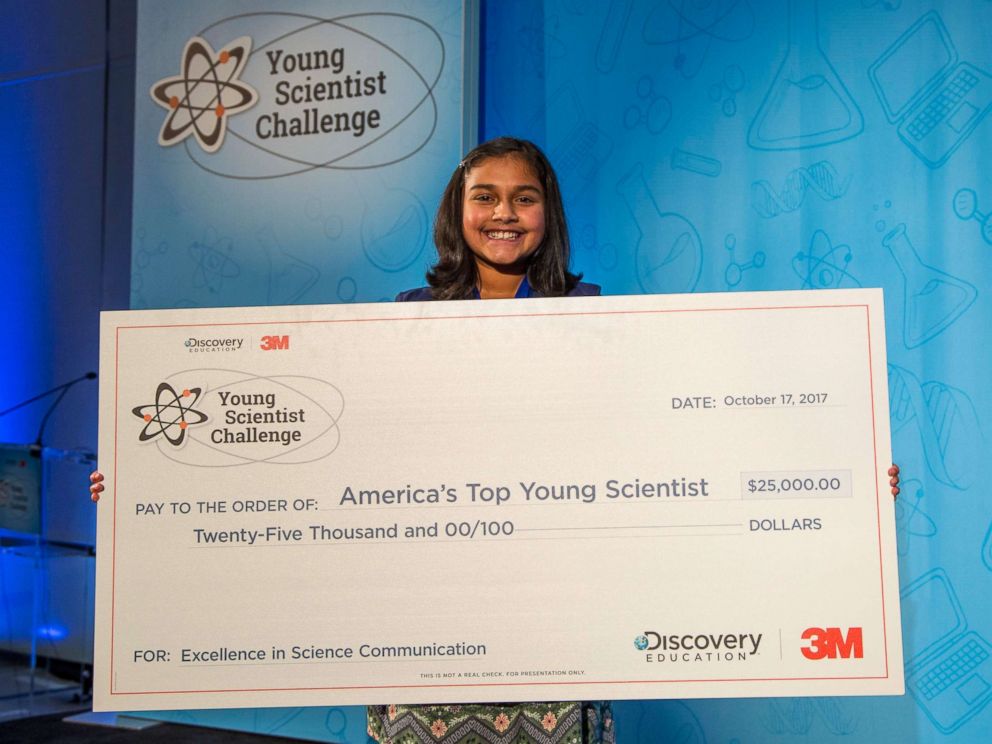 "It's not hyperbole to say she really blew us out of the water," said Dr. Brian Barnhart, an Illinois school superintendent and one of the seven 3M judges. "The other nine kids, they were also such amazing kids, so for her to stand out the way she did with a peer group like this is like an exclamation point on top of it."
He added, "She is the kind of young person that we can all look forward to what she's going to do for society."
Gitanjali plans to continue on her goal "to save lives and make the world a better place."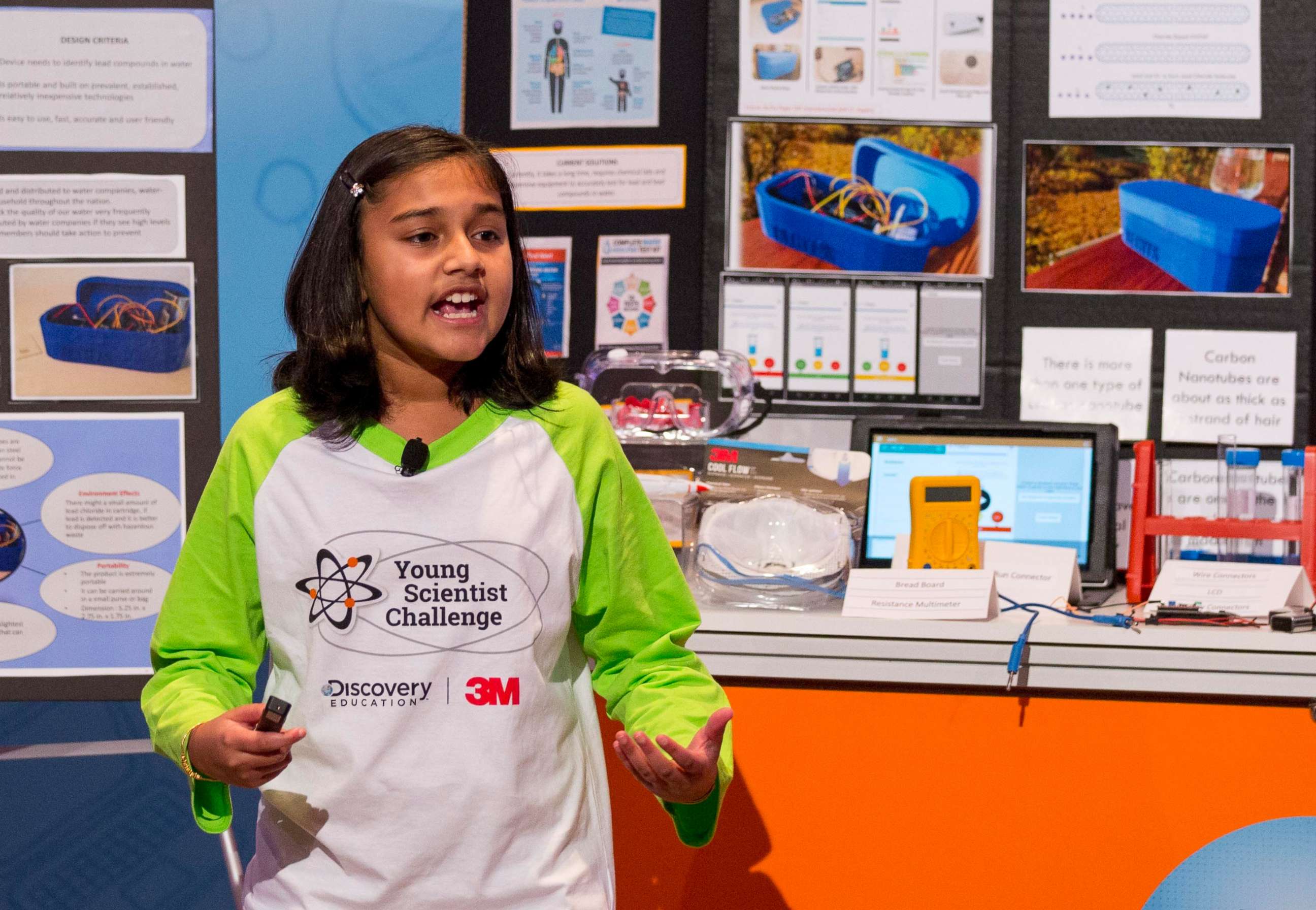 The woman whom Gitanjali said inspired her to pursue science and follow her passion to develop the lead testing kit believes Gitanjali can do it.
"She really wants to change the world," said Jennifer Hartsell Stockdale, an attorney who was Gitanjali's STEM program teacher in Tennessee. "She has the intellectual capacity to learn anything she wishes, the confidence to take on every project ... and the perseverance to complete anything she starts."
Gitanjali plans to invest most of her 3M prize money back into her project to make it commercially available. She also plans to save some of the $25,000 for college.
"Advice I would give to other kids would be to never be afraid to try," Gitanjali said. "I had so many failures when I was doing my tests. It was frustrating the first couple of times, but towards the end, everything started coming together."
"I knew all these failures, which were learning experiences, would make my experiment better."